Below is an article in what we hope will become a regular series of interviews of our App Providers - the companies and people that develop the amazing stock market Apps on the App Platform we launched last week.
In this series, we'll get App Providers to describe their applications in their own words, tell us which aspects of their apps they're most enthusiastic about, and share some of their future plans. Please use the comment stream below to share your own experiences with the featured App, and feel free to suggest to the Providers any improvements or changes you'd like to see (or write a review!)
This interview is with YY Lee of FirstRain - whose App, "equips users with up-to-the-minute investment research and analytics on the latest developments that impact their investment decisions."
FirstRain -- why did you choose that name?
We get asked this question all of the time. When our company was founded back in 2000, it was in the early days of people trying to harvest the web for valuable intelligence. As a metaphor for the value of our technology, the "first rain" of the season is the key to a bountiful harvest.
Tell us a little about how FirstRain combs the web for interesting news and commentary, and how it decides which stories are of relevance for a given theme or stock.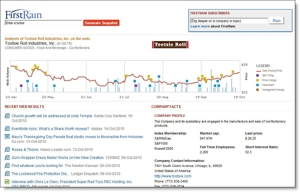 FirstRain's technology engines find and index millions of documents every day from across the web. Our system finds business-relevant content about companies, markets, and trending topics from a vast variety of sources spanning: mainstream & business news, blogs, local and global sources, in-depth industry and specialty sources, as well as government, regulatory and even academic sources.
As FirstRain processes this document stream, it is extracting and understanding the business content of each of the documents: Which companies is the document mainly about? Which are mentioned in passing? Is this document effectively a duplication of something else – perhaps a press release, or another press story?
Are there people quoted or mentioned? Is there business-relevant information discussed? Is there a mention (whether formal statement or comments in passing) of executive moves, deals or financial transactions, customer wins and losses or a myriad of other possible business shifts? What business or industry topical issues are being discussed?
The FirstRain system utilizes hundreds-of-thousands of highly sophisticated conceptual models of companies and topics, so that it can effectively recognize and understand discussions of over 70,000 private & public global companies, and thousands of continually changing types of business and industry-specific topics with great precision, far beyond keyword matching of names & tickers.
In the FirstRain Snapshot, Seeking Alpha users can see what topics and issues are currently trending related to specific companies within the Quote Page component, on the Company Brief, and then dig deeper into those topics as well.
As a result, the FirstRain system can also dynamically model and adjust its understanding of the market ecosystems around companies and industries. For example: what business lines the company is active in, based on what we see on the web (not a static list of reported subsidiaries or a months-old financial filing); which companies are most actively competing with each other; if company management are coming and going (whether announced or not). Seeking Alpha users can see this dynamically-generated market map around companies in the FirstRain Company Brief.
The end-result for our users is that FirstRain distills the vast unstructured open-web into high-relevancy highlights of the key implications, relationships, changes and trending events related to a given company, industry, issue or topic.
How long does it take for an article to appear in FirstRain once it's been published to the web? Would you consider FirstRain a reliable tool for people who monitor breaking news? If not, are there plans to become more real time?
FirstRain is not meant as an up-to-the-second real-time tool. Our system does discover and process huge amounts of content in real time, but it is focused on de-junking, de-duplicating and discerning trends & relevance in the content. So, the FirstRain system holds the content long enough to do some comparative analytics on it. And depending on the types of sources, content is delivered through the FirstRain system in anything from under an hour to a few hours.
We are currently experimenting with more real-time and streaming types of sources. What we see in those sources even more than the traditional web, is that the needed added value is to de-junk, find patterns, and identify trends & anomalies rather than to re-post the same content as quickly as possible.
Our internal stats show us that well over 50% of the web content (perhaps as high as 70%), even from supposedly "business-oriented" sites, is effectively duplicative without adding any information.
On the FirstRain canvas page, there are two thematic modules: "Dow 30" and "Eye on the Economy." Are there other thematic modules that break down news into specific areas of interest? If so, how does one access them?
Yes, the Dow 30 and Eye on the Economy are two examples of fairly broad monitors that can be set up using FirstRain. We have thousands of users of our institutional and professional product, who make use of pre-configured and completely personalized monitors. We are offering free 14-day trials of the professional version.
When looking at a specific stock, how do you decide what constitutes a "significant event" as opposed to a regular news event?
We've designed the FirstRain system to try to use logic very much like a person would to try to detect significant events around a company, industry or issue. For example, what it looks for is a concentration or spike of discussion related to a company, which all seems to be about one particular topic, addressed different ways (not just duplicates, reprints and syndication), but which seems to be topically distinct from the general background discussion about that company.
So, in effect it is a spiking discussion about a new issue or event about that company. The same kind of trend and event detection is also applied to hundreds of industries and thousands of topics within FirstRain.
You describe using FirstRain to prepare for an earnings call or a company presentation: How would you suggest one use FirstRain to prepare in advance of significant corporate announcements?
The FirstRain Company Brief, which is generated when you enter a company ticker in Seeking Alpha, provides a 360-degree view of the key developments and market forces that are affecting a company at any given time.
Our institutional users have told us that using this brief during earnings season is extremely helpful for highlighting and reminding them about the key issues affecting a company, its specific business lines, and what's happening beyond the mainstream news.
We've also gotten feedback that this is a major time-saver as analysts are going from call-to-call during earnings season. During this busy period, it is logistically not possible to compile in-depth summaries that cover not only the company, but what is happening around it, its management team, and so forth, which are also timely and up-to-date.
For corporate announcements and executive meetings, the FirstRain Company Brief is also very valuable as an instant tool for our users to quickly gain expertise about a company and what drives its business, before going into any discussion. There really is no other tool that summarizes intelligence on the web quite like the FirstRain company brief.
Do you have, or have plans for, a premium app? If so, how would/does it differ from your free tool?
FirstRain has been a leading institutional-grade intelligence tool for financial and corporate professionals for years. Our full professional solution provides configurable monitors, management turnover analysis, industry-level research and a powerful research engine.
We are excited to be able to offer our Company Briefs and Trending Topics research to the Seeking Alpha community through the FirstRain Snapshot, and intend for that to remain a free service. We do see the opportunity to provide more in-depth monitoring, analytics and research capabilities as a subscription within Seeking Alpha in the future.
Have there been times when using FirstRain has helped you or your users make a completely different and more successful investment decision than they would have made on their own? Describe what happened.
There are such a wide range of uses of FirstRain by investment professionals – from broad portfolio monitoring, to teams that use the system to uncover very specific opportunity triggers from little-known places.
One interesting example of how the "business awareness" of the FirstRain system can be used to track very high-impact information that we all know is out there, but is hard to get otherwise: A user was following the privatization trend of municipal emergency services (i.e. local ambulance and fire departments, etc.). This user was able to easily use FirstRain to uncover and highlight the trends of privatization contracts, bids, local referendums as they were happening all over the United States – where they were happening, who was winning and losing, what kinds of contracts were being considered.
These pieces of information were in the public domain, but only covered very sporadically in local or obscure community or news sources. And the concepts and issues related to "Emergency Service Privatization trends" were not easily matched to a simple set of keywords.
Without FirstRain, it would have been very difficult for him to find the relevant source information and connect-the-dots in any consistent way. But for FirstRain this was a set of business concepts and topics that could be easily tracked & trended – so FirstRain created instant visibility into this very specific business & investment idea, pulling from a plethora of local sources.
Although we don't really promote or count on these kinds of "intelligence nuggets," we do hear about them from users from time to time.
Another fun example of how FirstRain helped a user to make a more successful investment decision: One of our users was following a set of chip (semiconductor) companies, and was particularly watching triggers that may have indicated surprises or bad news – for example, production delays.
The FirstRain system delivered to this user an entry from a personal blog of a design engineer at a chip company, complaining that he had to postpone a planned family vacation because of a delay in completing the design. This was not a source that any investor or business person would have been following, nor was the person blogging in official or technical terminology, but it did contain this one particular piece of information which the FirstRain system matched to the concept of production delays for the company in question.
Thanks YY!
Have any thoughts, suggestions, or comments for YY and her team? Tell them, and other SA readers, what you think in the comment stream.