It's been an interesting couple of weeks for Apple (NASDAQ:AAPL). Since the split, the company pulled back to around $90/share, and then this week hopped up to about $94/share. Since the company's last earnings beat and the announcement of more buybacks coupled with the stock split, the stock has had a terrific run. Thus, I took profits off the table a couple of weeks ago so that I could realize my gains from $520/share ($74.28) and allocate a little more funding for BlackBerry (NASDAQ:BBRY) for the time being.
I expect to be back in Apple soon - if not this week. My plan is going to be to watch how the technical picture holds up for the next couple of trading days. If Apple can take down $94 with some authority, there's no doubt that the next major resistance is going to be somewhere right around $100 - where some profit taking will be taking place again.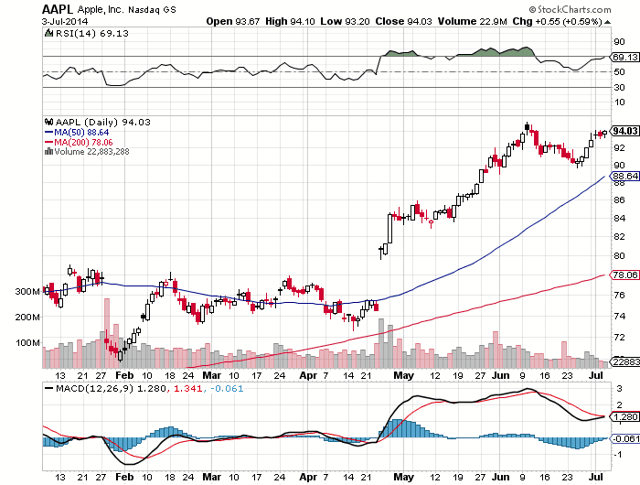 Having a discussion this weekend with Mr. Whitney Tilson prompted, of course, the topic of high momentum stocks versus value stocks. Apple is no doubt considered now to be a value stock - especially after its split. It's modestly priced, trades at a low P/E, and pays a respectable dividend. But, my predictions for Apple of running to and through $100 as soon as it split never materialized. One reason for this, in my opinion, has been the consistent focus on high momentum stocks versus looking at conservative dividend payers.
The market right now is in a state of euphoria. There will be a time to try your hand at shorting high momentum stocks, as I spoke with Mr. Tilson about - that time is just not now.
We've just reached Dow 17,000 and the bulls - despite headlines claiming uncertainty - remain in the driver's seat. What better way to press bullish momentum than to go after high P/E stocks that continue to seemingly move without rhyme or reason - but advance upwards as the market does simply because everything is looking green.
It occurred to me that Apple is a stock that will likely thrive a lot more in relatively uncertain market conditions than it will is a "melt up" like the one analysts are arguing that we're having now. I don't mean the stock is likely to rocket in the event of geopolitical catastrophe, but I mean that the stock could ascend during tumultuous times when the market is getting ready to "change gears."
The focus now is on the fast running momentum stocks - Apple is all grown up. And, as you can see, it's performing like a "grown up" stock. Look at its nice, safe, 3.24% yield over the last month, compared to how some high momentum stocks have performed.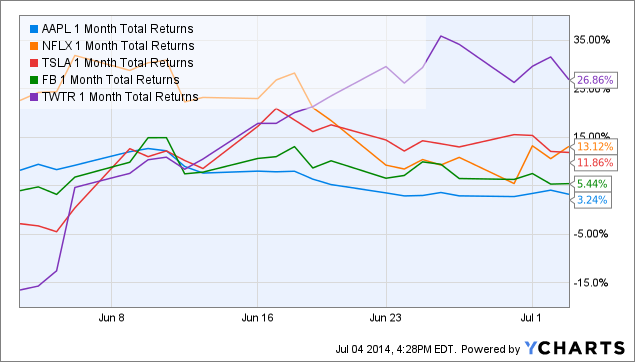 AAPL 1 Month Total Returns data by YCharts
I incorrectly assumed that retail was simply going to pour into Apple due to the split. Instead, retail is completely enamored with stuff I would never touch, like GW Pharma (NASDAQ:GWPH) - which trades at a forward P/E of somewhere between a million and a billion (joke) - but is being pumped every 45 seconds or so on CNBC by anchors as the only "pure marijuana" play.
Investors sure do love when the people on CNBC tell them to do stuff. It takes the thinking out of trading.
Additionally, high multiple stocks like Netflix (NASDAQ:NFLX) and Zillow (NASDAQ:Z) continue runs upwards. Stocks like athenahealth (NASDAQ:ATHN) continue to be prime examples of high multiple speculative names that just continue to run up without rhyme or reason, sometimes in spite of their fundamentals.
Apple has its fundamentals in place, yet can't seem to garner sustained, long-term upward momentum thus far. It's just now heading back up towards its all-time highs.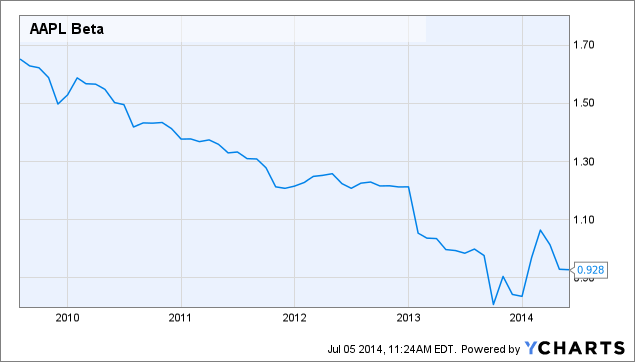 AAPL Beta data by YCharts
As you can see over the last 5 years, Apple has become a more defensive and lower beta stock.
What Apple has on its side is its fundamentals. The stock trades at a valuation as if it were a dividend paying oil and gas commodity stock and the bottom line for Apple - even with releasing all of this cash to shareholders - is rock solid and extremely impressive.
When we get to a point where the market wants to correct - whether it's healthy or it comes as the result of some unwanted news, people are once again going to look at Apple as a value stock and will likely allocate money for equities back into the technology company.
Meanwhile, back at the ranch, the company has continued progress with keeping themselves a "luxury" technology brand - a label that has served them well, regardless of how the macro markets have been. To further contribute to the success that the company has had in China, Apple has gone out of its way to bring in another luxury executive from Tag Heuer to help launch the iWatch. USA Today reported:
Apple reportedly tapped the sales director from Swiss watch maker Tag Heuer as chatter over the tech giant's potential jump into the smartwatch business continues to build.

According to CNBC, the new hire will help with the launch of Apple's smartwatch, which has been reported to launch this fall. The move was confirmed by Jean-Claude Biver, head of LVMH, the company that owns Tag Heuer.

"If it had been a direct competitor, I would have felt a bit betrayed, but if he goes to Apple I think it is a great experience for him," Biver tells CNBC.

The report also says Apple has been trying to scoop up experts from Swiss watch companies to market its smartwatch as "Swiss made."

The exec addition is the latest pointing to Apple's eventual jump into the smartwatch space. Last month, multiple outlets reports Apple planned on launching the device as early as October. With the introduction of HealthKit, a suite of health apps, for mobile operating system iOS 8, the smartwatch will likely include features to bolster its fitness appeal.
The luxury element to Apple's products was always one of the items that I thought helped them sell well. It especially helps them out overseas, where initial research when the 5s/5c launch happened showed that consumers vastly preferred the more expensive option and found gaudy colors like gold and silver to be more attractive than the bright colors of the 5c.
As you remember, this is just about 8 months after Apple hired Burberry's (OTCPK:BURBY) CEO to run retail:
Ahrendts, 53, will lead a new unit overseeing both Apple's brick-and-mortar retail chain -- which as of June 30 included 408 stores worldwide -- and its e-store atapple.com. It will be the first time that all non-iTunes retail will be combined under one executive. Ahrendts will report directly to CEO Tim Cook and will be part of the company's leadership team. She will be the sole woman on the team.

In hindsight, Apple and Burberry last month offered a clue to her hiring when the latter used several then-new iPhone 5S smartphones to film its Spring/Summer 2014 fashion show in London. Apple did its part by issuing a press release to highlight Burberry's iPhone 5S use.
So, while Apple does what it can to build value and prestige behind its brand name, investors are likely to continue to treat it like a consumer goods stocks versus a technology innovator.
Apple remains a great buy for a couple of reasons here - it's fundamentally sound, has brand new products coming this fall, and can likely be a good hedge if the markets start to get a little shaky. I think that a bear market, believe it or not, could bring more people out to realize the actual value that Apple's stock holds intrinsically.
I continue to remain bullish on Apple in the long-term, and wish all investors the best of luck.
Disclosure: The author is long BBRY. The author wrote this article themselves, and it expresses their own opinions. The author is not receiving compensation for it (other than from Seeking Alpha). The author has no business relationship with any company whose stock is mentioned in this article.