Gold's had a strong run in 2014 as its price [represented by the SPDR Gold Shares (NYSEARCA:GLD) ETF] has risen by 9.51%, which has outperformed the S&P500 by over 2%.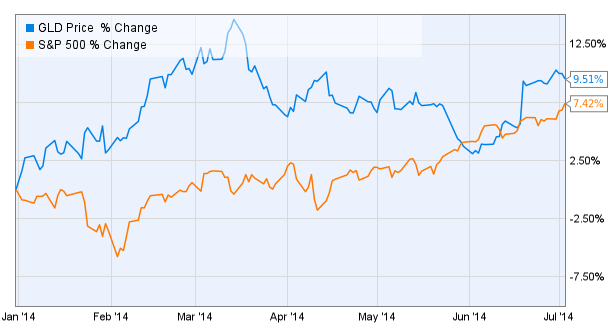 But we believe gold has a much brighter future ahead and is one of the least risky investments available in the current financial marketplace.
It is pretty well-known that gold outperforms when financial markets stumble and investors flee to "fear-type" assets (golds, bonds, cash, etc), but we believe that gold offers investors strong performance even without a fearful financial environment because its physical supply and demand fundamentals are very strong at the current price.
Listen to Mark Bristow
This past week Randgold's (NASDAQ:GOLD) CEO Mark Bristow recently told media at a company luncheon that the industry is "fundamentally broke" at a gold price of $1300 per ounce. This isn't really particularly unusual for gold industry CEO's to warn about the gold price being too low to be sustainable, and we actually believe that they aren't just scaring people into gold. But Mr. Bristow is very different than the average gold CEO - and that is why we think this warning should not be taken lightly.
Mr. Bristow is absolutely not a gold bug and is one of the few CEOs that were grounded in 2011 when gold hit its all-time highs. In fact, he is on record in 2011 warning that the gold price was too high and due for a correction that would "wipe out a lot of players" who couldn't survive at a lower gold price.
In fact, he believes that the gold industry is a destroyer of value:
Over the years, the gold mining sector has been a destroyer of value. Now is no different. The quality of gold is going down because operators know they can make money with less and less gold per ounce. Ultimately, that will erode the viability of much of the industry.

Again, this was back in 2011 when everyone was celebrating the miners and in euphoria over gold. So when as CEO of one of the lowest cost major miners he says the gold industry is unsustainable at $1300 gold, we believe investors should listen and act appropriately.
Conclusion for Investors
There are two major conclusions that we take from his comments regarding gold, gold ETFs, and gold miners.
First, investors should accumulate physical gold and the gold ETF's [SPDR Gold Shares (GLD), (NYSEARCA:PHYS), (NYSEMKT:CEF)] as it is best to own assets which are being produced at unsustainable levels. If you believe Mr. Bristow, and we do, then that means that either the gold price will rise in the short-term to much higher levels OR it will stay/drop from current levels and force many industry participants out. That would mean much lower production levels of gold which would result in a supply crunch - and a much higher longer term price in gold.
So in the first scenario gold would rise quickly and reward investors in the short-term, while in the second scenario it would drop in the short-term, wipe-out a chunk of the miners and production, and then rise in the medium to long-term. This is regardless of what happens to the markets, the Fed, the dollar, or anything else related to the "gold fear trade". As long as the world's population continues to increase and people maintain their 5,000 year affinity for gold then that is what investors can expect.
As for the miners, it's a bit trickier. In the first scenario where the gold price rises in the short-term they would obviously benefit with a higher gold price and thus higher profits. But in the second scenario where the gold price remains at current levels or drops, miners may struggle quite a bit and some may go bankrupt. Thus it is extremely important for long-term investors looking to hedge themselves in this second scenario to pick mining companies with low or no debt loads (debt leads to bankruptcy at lower gold prices), high cash levels, and relatively low-cost projects.
This would include companies like Goldcorp (NYSE:GG), Randgold, Eldorado Gold (NYSE:EGO), and a few others - we haven't released our report on the true all-in costs of gold producers for the first half of 2014 but that would be a start for investors (those who are interested can subscribe to our free Weekly Gold & Silver Newsletter). We expect a bit of a pullback in the miners for reasons that we've covered previously, so investors may want to wait to initiate positions in the miners.
Gold investors should be confident that an investment in gold at the current $1300 price level should be a very strong and safe investment in the long-term. It is simple economics as either gold goes up now, or the miners go out of business and gold goes up later - the Fed and the stock markets really don't matter except to influence which scenario plays out.
Disclosure: The author is long SGOL. The author wrote this article themselves, and it expresses their own opinions. The author is not receiving compensation for it (other than from Seeking Alpha). The author has no business relationship with any company whose stock is mentioned in this article.