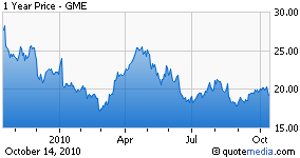 Click to enlargeGameStop (NYSE:GME) is one of the largest retailers in the world. The company conducts business through the sale of new video games and software, and resale of used video games and software. The used game business is a huge one for GameStop, as used game sales accounted for 31.4% of it's revenue in the second quarter. The used game segment also has much higher margin, as GameStop is able to purchase the games back at a much higher discount than what it resells it for. Now that practice threatened by a recent ruling by the 9th US Circuit Court of Appeals which that software publishers can prohibit resale of their software by buyers under their licensing agreements.
The case at hand is an eBay (NASDAQ:EBAY) merchant, Timothy Vernor, versus Autodesk Inc. (NASDAQ:ADSK). Timothy Vernor was accused of selling used copies of Autodesk's software on eBay, which Autodesk claims was against it's license agreement. Autodesk's claims were quickly rejected by a district judge in Washington State, citing that under the First-Sale Doctrine, the buyer has the right to transfer the product, either through a sale or as a gift, after the product has been lawfully purchased, and no additional copies were made. Autodesk appealed the case to the 9th US Circuit Court of Appeals, which ruled that the licensing agreement stands over the First-Sale Doctrine.
If the ruling is allowed to stand, this means no more garage sales, no more used copyrighted products being sold on eBay, and most importantly for GameStop, no more used games. Now the ruling of this case effects many party outside of GameStop, as the ruling would then hold for anything and everything that has a copyright and a license agreement of no resale. However, in GameStop's case, this will be a significant blow for the company, as the company heavily relies on its used game segment. GameStop would no longer be able to give its customers credit for bringing in used games, one of the perks that drives consumers from other retailers to GameStop.
Expect this case to be appealed to the supreme court. Many business will be hurt by this ruling as they depend on the First-Sale Doctrine for their business. Netflix (NASDAQ:NFLX), GameStop, book stores, video rental businesses, and many other all depend on providing products that are protected by copyright and license agreement. GameStop argues that its used game segment actually leads to new game sales. For example, many of GameStop customers come in with used copies of their old video games that they do not play anymore for trade in, and use that credit towards pre-order or purchase of a recently released new title. Even if the ruling stays, I don't see many game publishers enforcing this ban on GameStop as many of the depend on new game sales through the above mentioned technique. GameStop offers it's customers additional trade in credit if they use the credits received from used games towards pre-order of an upcoming title. Therefore game publishers will see a significant decline in sales of new games if this ruling is to stand.
However, I don't see how this case won't be appealed to the Supreme Court. If it is appealed, I believe there is no chance for the ruling to stand in the Supreme Court because the First-Sale Doctrine, which was recognized by the Supreme Court it self in 1908, clearly gives the purchaser of a copyrighted product to resell it. The case that first saw signs of the First Sale Doctrine was Bobbs-Merrill Co. versus Straus where Bobbs-Merrill's licensing agreement was violated with the sale of one of it's book for under $1 by one of its buyers. Bobbs-Merrill Co. claimed that it's licensing agreement prohibited the sale of the book for under $1. I believe GameStop's recent decline over the ruling of the 9th US Circuit Court of Appeals is over done, and I honestly see the Supreme court ruling in favor of Vernor, holding the First-Sale Doctrine over licensing agreement which should see a significant rebound in GameStop's shares.
Disclosure: Author long GameStop