When this story about the NSA bugging the products of Cisco Systems' (NASDAQ:CSCO) and of other technology providers' came out in mid-May, a strange development occurred between the shares of CSCO and Alcatel-Lucent (ALU). They diverged, but not in the manner you might have expected. However, through the course of the rest of the year and perhaps beyond, I expect Alcatel-Lucent to make up lost ground.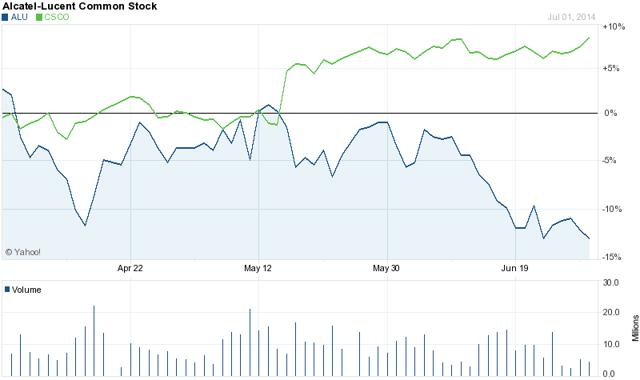 3-Month Chart at Yahoo Finance
The stunning revelation was first revealed in Glenn Greenwald's book No Place to Hide and then the news was widely disseminated through this article at Ars Technica. It showed how the NSA's Tailored Access Operations (NYSEARCA:TAO) unit intercepts servers, routers and other network gear destined for places the NSA wants to know more about. The NSA then reportedly installs covert implant firmware onto the gear and resends them on their way. The NSA internal document detailing how the spy agency does this included within it photos of agents in action working on a Cisco router, installing beacon firmware. Here's how the NSA manager detailed the operation:
Here's how it works: shipments of computer network devices (servers, routers, etc,) being delivered to our targets throughout the world are intercepted. Next, they are redirected to a secret location where Tailored Access Operations/Access Operations (AO-S326) employees, with the support of the Remote Operations Center (S321), enable the installation of beacon implants directly into our targets' electronic devices. These devices are then re-packaged and placed back into transit to the original destination. All of this happens with the support of Intelligence Community partners and the technical wizards in TAO.
The news drew a sharp response from Cisco's General Counsel and also from its CEO, which seemed to reassure investors. Around the same time, Alcatel-Lucent released its quarterly EPS results, so there was some company specific information at play perhaps in the stock price movement. Probably playing a more important role in CSCO's rise thereafter, Cisco reported strong results that were followed by increases in analyst estimates for its future.
But this revelation about the NSA is something that appears investors are not paying enough attention to. I'm relatively certain, global buyers of network gear have a different perspective. Obviously, the NSA could have been intercepting gear from all the network providers, but being France based is certainly a positive for Alcatel's forward orders. No matter how the spotlight has shown on the matter or the fact that Cisco did not appear to work in concert with the NSA, wouldn't you agree that global buyers of gear, especially those sensitive to privacy, will be more likely to turn to the France based Alcatel-Lucent now, or the Sweden based Ericsson (NASDAQ:ERIC)?
I expect that delivery methods will change between sellers and buyers, with some buyers perhaps even choosing to pick up products themselves. Even so, there will be ongoing mistrust of U.S. based technology providers, and I think that will materially benefit Alcatel-Lucent.
The evidence of the impact of these developments will only start to be seen from this point forward, as new orders are reported and as revenues are generated in the months ahead. It's just another reason to favor the recovering Alcatel-Lucent, which has been benefiting from its new leadership's turnaround efforts. I've been following the stock regularly, so you may want to follow my column as I continue to report on ALU.
Disclosure: The author has no positions in any stocks mentioned, and no plans to initiate any positions within the next 72 hours. The author wrote this article themselves, and it expresses their own opinions. The author is not receiving compensation for it (other than from Seeking Alpha). The author has no business relationship with any company whose stock is mentioned in this article.