Executive Summary
Wynn Resorts (NASDAQ:WYNN) is a developer and operator of high end luxury hotels and casinos based in Nevada. Properties held by Wynn Resorts Limited include Wynn Last Vegas Resort and Country Club in Las Vegas, Wynn Macau Resort in Macau China, Encore at Wynn Las Vegas, and Encore at Wynn Macau. The company went public in 2002 after Steve Wynn (who the company is named after) sold Mirage Resorts to MGM. Wynn would later become a billionaire from the public offering.
Why I Like Wynn Resorts
The latest job report shows that the economy is continuing to improve, which is a great sign for vacation destinations and the travel industry. Wynn Resorts has seen substantial growth and appreciation in its stock price as a result of the economic recovery of the past five years. Although the S&P has recovered over the past five years as well, you can see below on the chart found on Morningstar that Wynn Resorts has outperformed both the S&P and the resort industry as a whole.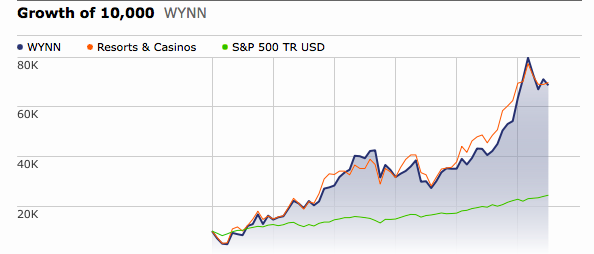 Looking at the longer term performance chart courtesy of Morningstar you can see that the results are the same even over a longer period of time. Although history is no guarantee of future performance, historically Wynn has outperformed and with the economic recovery continuing it may continue to do so.

Click to enlarge
Wynn also pays a dividend to its shareholders, which is another key factor when deciding where to invest. Currently Wynn is paying a dividend out around 2.1%, which is higher than the industry average of around 1.4%. Although the yield isn't huge, it is nice to have some cash flow for your investment while you wait for the anticipated capital appreciation.
From a valuation standpoint Wynn is currently fairly valued as well. The stock currently trades at a price to earnings ratio of 28.7, which gives it a PEG ratio (price to earnings in relation to growth) of 1.1. A peg ratio of around one means that Wynn is currently fairly valued in comparison to its growth rate. It is important to note however that Wynn does trade at a multiple higher than the S&P average, which is currently around 18.6.
The last reason that makes Wynn Resorts a potential buy is the growth in the industry and in the economy. The economy has been improving due to increased private sector employment, all of which is great news for the vacation, travel, and resort industry. As part of the economic growth, Wynn Resorts is also in discussions on some potential new development opportunities. Economic factors will certainly play a large part in the success of Wynn going forward however.
Potential Drawbacks
As previously discussed the economic growth has played a major help in Wynn stock price appreciating in recent years. It is important to note however that although signs for the economy seem to be positive, the industry is particularly sensitive to drops in the economic stability of the area in which the resorts are located in. If the economy were to slow down or make a move in the opposite direction, Wynn Resorts could be affected considerably. Since Wynn Resorts operates in the luxury space, consumer discretionary spending plays a large role in its earnings.
In Wynn's Macau location a significant amount of the patrons of the resort come from the mainland China. Although the economy there has been relatively strong, any disruptions in the economic growth or stability of the area could adversely affect business. Political issues and potential Government travel restrictions are another wild card that could potentially affect business in the Macau location.
Lastly, much of the success of the company lies on Steve Wynn. Although the Wynn name has a great reputation and helps draw people to its locations, this can also potentially be a risk. Wynn is currently signed on to remain the Chief Executive Officer and chairman of the board until 2020, but any issues within this area could potentially have a negative impact on the company.
Should You Take Action?
Wynn Resorts stock is trading relatively close to its 52 week high, which makes the decision to buy or not more difficult. Historically the company has done well and has outperformed, and economic indicators point to the company continuing to do so. There are risks however with the economy and the sensitivity that Wynn has to changing economic conditions, If you are looking to gain some exposure into this dividend resort company with capital appreciation potential it may be worth dollar cost averaging into a position. A potential pullback in the stock could be a buying opportunity as well for those looking to gain exposure.
This article is given for informational purposes only and is not to be construed as investment advice. Contact your investment professional and do your own due diligence before investing.
Disclosure: The author has no positions in any stocks mentioned, and no plans to initiate any positions within the next 72 hours. The author wrote this article themselves, and it expresses their own opinions. The author is not receiving compensation for it (other than from Seeking Alpha). The author has no business relationship with any company whose stock is mentioned in this article.