In a recent Seeking Alpha article, "The Lack Of Winter Weather Makes Vail Resorts A Buy," the author argues that the shares were down only 8% despite the fact that January-ended quarterly earnings came in 14% below consensus estimates. That is a very small drop relative to the 14% disappointment and tells us that this stock has significant market support. The market's attraction to Vail Resorts (NYSE:MTN) has a number of rationales.
The Case for Vail Resorts
"Vail Resorts gained more than two percent to a new six-month high Tuesday."
That is an understatement: this is an all-time high for the stock. The catalyst for rocketing upwards into uncharted heights was a Bank of America analyst's prediction that Vail would "likely to outperform during the third quarter. Bank of America's Shaun Kelley also pointed out that Vail may be poised for significant growth if it prevails in acquiring the lease for Park City Mountain Resort in Utah," which is another property in the general area of Vail's current Utah holdings. "Kelly said acquiring the lease would add $8 per share to Vail's value, in part by linking Park City with Vail's adjacent Canyons resort." Bank of America's Kelley maintains a buy rating on Vail and a $92 target, in part because of "trends in advance ticket sales and the potential for greater summer use of Vail's properties."
The author of the weather-related article on Vail cited three other positives for Vail Resorts in addition to its rising in value with next winter's snows. First, the "Epic Pass" at $729/year is expensive and, because it caters to the more affluent, "is somewhat insulated from the broader economy." Second, because "the Canyons property is on private land…. Vail Resorts won't have to go through government permits and regulation for upgrades, including new lifts for connecting the two resorts." Finally, the author points out that Vail Resorts has a real estate portfolio that it is in the process of monetizing. This includes selling condos at its Ritz-Carlton Residences at Vail and One Ski Hill Place properties. A number of other larger projects, including its Ever Vail project, have been put on hold, but have impressive long-term monetization potential. The Ever Vail complex is a $1 billion development project that'll include over 400 residences, a 100-plus room hotel, and various shops. The author notes that the real estate development projects are not held on the company's balance sheet and can easily be overlooked. As the vacation home market comes back, Vail Resorts will look to revamp its development projects.
The Bank of America analyst and the Seeking Alpha author have collectively made an impressive case for Vail Resorts. The Bank of America analyst sees third quarter outperformance and potential for significant growth. The Seeking Alpha author has created a very positive narrative. His due diligence goes beyond the skiing business to include the development of real estate holdings. He even takes into account the irregularity of weather conditions. His claim about weather is that poor weather will hurt the day-visitor skier but will not count against people who book longer trips to resort slopes where people tend to go for several days or even a week.
The Seeking Alpha author's aside about weather only points out that due diligence on some stocks, and Vail Resorts is one, requires we take into account the conditions affecting weather, rain and snow. (Some other investments that require weather-related due diligence are agricultural and food related.) The author's due diligence on weather seems complete. If the snows don't return, Vail develops and sells real estate. Profits are profits, whether on skis or when paving a subdivision. Yet as we shall see, more due diligence turns up potential serious issues even for subdivisions.
The Climate Pall
Since Vail Resorts is primarily a ski industry, it would be handy if we could look into our crystal ball to discover whether the lack of winter snow was a "one-off" or whether this may suggest a new pattern of weather. Our Seeking Alpha author suggests there is a back up to any concerns about snow in one of his summary points:
Vail Resorts is the purest play on the ski industry, but it also has plenty of real estate to monetize.
This point does not exhaust our weather concerns. If there is a new pattern of weather, we need also to investigate whether it is just winter weather, or whether it also includes weather during warmer seasons. Maybe more is at stake than just a lack of snow. If the weather patterns are changing and we are also looking at a lack of water, that could also impact plans to develop or sell real estate. It is imperative that we do due diligence on the availability of water if we are to hope to come up with a fully satisfactory assessment of Vail Resorts.
There are water shortages all over the West and this very much includes the territory in which Vail Resorts operates. Without water much of the already-built West is running out of water. One New Mexico town relied on bottled water for days last year. A sheriff's office was on the lookout for water bandits at a local lake in California.
Per this Bloomberg article:
"Michael Simpson, who has skied the area for more than a decade, arrived at Alpine Meadows at Lake Tahoe earlier this month [January] and found little more than dirt. Except for one ski run maintained by machines, the drought-parched California mountain was devoid of snow. "It's about as bad as I've ever seen it," Simpson said after his trip to the resort owned by KSL Capital Partners LLC. "We parked right at the entrance every single day. The lot was never full." Music producer Simpson, who's leased a condominium at Alpine Meadows through the end of April, canceled a second visit he had planned for this month and has put on hold any further trips until there's more snow. "There was a long run open, which was surprisingly good for the first couple of hours each day," Simpson said. "But otherwise there was literally no snow at all. If you somehow fell off the lift, you'd land on dirt and on top of jagged rocks."
The bad winter did put pressure on the smaller ski operations and larger ones, like Vail, are in a buy-them-out mode.
One winter does not a drought make. The Bloomberg article quotes Joani Lynch, a spokeswoman for Mammoth Mountain Ski Area: "We are optimistic that snow will come and with the economy recovering, we are in a better space than we were a couple of seasons ago." Is this optimism based on science? What do the experts tell us about Western California and Utah?
Due Diligence Demands We Include Climate Change
Here's the Merriam-Webster definition of 'due diligence':
"[a] the care that a reasonable person exercises to avoid harm to other persons or their property;

[b] research and analysis of a company or organization done in preparation for a business transaction (as a corporate merger or purchase of securities)."
This suggests something akin to a precautionary principle for investments. "The[precautionary] principle is used by policy makers to justify discretionary decisions in situations where there is the possibility of harm from taking a particular course or making a certain decision when extensive scientific knowledge on the matter is lacking." Applied to investments, what this means is that we need to be especially careful of an investment going south if there may be relevant negative scientific evidence that is lacking. Tweaking this idea, we can frame a less onerous due diligence precautionary principle (DDPP) with which we can all agree:
(DDPP) Do not invest in the growth or increased value of an investment when there are one or more plausible reasons for thinking that the investment may decrease in value.
The eco-due-diligence precautionary principle (EDDPP) is a corollary of the principle above but it is a very important corollary, since financial analyses tend to omit the consideration of the serous ecological effects of climate change:
(EDDPP) The eco-due-diligence precautionary principle requires that we take into account relevant negative climate change effects on every investment.
Many hedge fund managers and professional investors will not take seriously this principle. In this country, climate change is often thought of as a political position. Those who are in the decreasing ranks of climate change deniers and those who support investing in oil companies or coal companies will simply not take it seriously. For them climate change is not a matter of science, it is a matter of politics. While I wish that were true and that we could vote it away, it is very much a fact of the world in which we live. Since many professionals will continue to write it off - witness the climate change deniers to a recent Bloomberg article about climate change and wild fires - this gives an advantage to the small investor who is paying attention to the science.
In his One Up On Wall Street, which has sold more than a million copies, investor guru Peter Lynch claims that "an amateur investor can pick tomorrow's big winners by paying attention to new developments" (p.16). When we are talking about an issue as significant as climate change, it may seem that amateurs couldn't possibility have a leg up on the professionals. That's where we underestimate ourselves. Professionals tend to rely on charts, graphs, and past data to forecast what is likely to happen. These instruments do not take into account the devastating effects unruly climate change is beginning to have on various businesses, including ski resorts. To understand the significance of these changes on, for example, Vail Resorts, we need to look at the science. What does the science tell us about water and snow in the Southwest?
The news is troubling. The following are from the most thorough study to date, Assessment of Climate Change in the Southwest. For each of these predictions we have much more evidence as opposed to only more/same/less/or much less evidence.
Projected declines in spring snowpack and Colorado River flow.
Projections suggest continued strong warming.
Projected summertime temperature increases are greater than the annual average increases in some parts of the region, and are likely to be exacerbated locally by expanding urban heat island effects.
Further water cycle changes are projected, which, combined with increasing temperatures, signal a serious water supply challenge in the decades and centuries ahead.
The magnitude of fire damages, in terms of economic impacts as well as direct endangerment, also increases as urban development increasingly impinges on forested areas.
Increased flood risk in the Southwest is likely to result from a combination of decreased snow cover on the lower slopes of high mountains, and an increased fraction of winter precipitation falling as rain and therefore running off more rapidly.
In addition, out of a list of 58 cities in the USA affected by drought, cities in the Southwest ranked as the top five (I include the first in each category and 58 for comparison):
Rank

Metro Area
Sperling Drought Index
Recent trend

Extreme Drought

1

Los Angeles-Long Beach-Santa Ana, CA
127.3
Little change

2

San Diego-Carlsbad-San Marcos, CA
127.3
Little change

3

Oxnard-Thousand Oaks-Ventura, CA
126.9
Little change

4

Riverside-San Bernardino-Ontario, CA
126.5
Little change

5

Salt Lake City, UT
123.7
Slight increase

Severe Drought

10

Knoxville, TN

119.8

Moderate Increase

Moderate Drought

28

Sarasota-Bradenton-Venice, FL
114.7
Little Change

Mild Drought

43

Jackson, MS
108.9
Moderate Decrease

Temporary Dry Spell

53

Buffalo-Niagara Falls, NY
104.4
Major increase

58

Miami-Fort Lauderdale-Miami Beach, FL
102.6
Moderate decrease
Finally, I am including the drought map below. The following text accompanies this map:
"Little if any precipitation was observed in the Southwest during the past week. In western New Mexico, severe drought (D2) was downgraded to extreme drought (D3), and a general one-category degradation was rendered to the depiction in the southernmost counties of Luna, Dona Ana, and Otero. El Paso has received only 25 percent of its normal precipitation since January 1, 2014, making this the 7th driest year on record (so far) since 1879. High temperatures have been exacerbating drought-related impacts. Every day in June, El Paso was at or above normal, with a June departure of about +6.1 degrees F, making this the second warmest June on record, only behind June of 1994. In northeast Utah, most of the D2 area was downgraded to D3 conditions, while moderate rain (0.5-2.0 inches) supported a one-category improvement to parts of northeast Colorado. In southern Nevada, the continued lack of rain prompted the expansion of extreme drought (D3) conditions across parts of Nye, Lincoln, and Clark Counties, while in southern California, exceptional drought (D4) was expanded across Ventura, Los Angeles, and much of Orange Counties."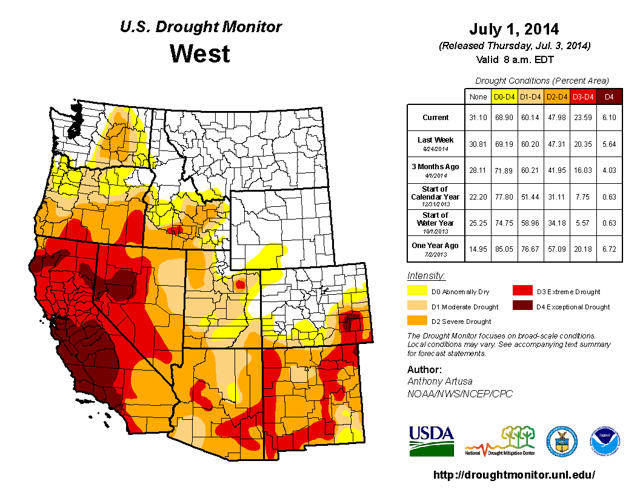 The eco-precautionary principle would suggest that investments like Vail which are being impacted by climate change need to be screened with this factor in mind. The issue does include snow for skiing. With a lack of snow day the fees not paid by ski trippers will not be made up by overnight ski trips booked to Vail since there people will realize there isn't sufficient snow. The Epic Pass may no longer be an asset either. As the Seeking Alpha author claims, the "Epic Pass" at $729/year is expensive and, because it caters to the more affluent, is "is somewhat insulated from the broader economy." This is true. It is not, however, insulated from climate change. Those more affluent customers can fly to destinations where there is some reliable reason to think there will be snow for skiing.
The issue however goes way beyond snow. Consider what drought does to the availability of potable water. Real estate development requires water. If the drought is serious enough, and certainly these are the most serious droughts the West has experienced at least in my lifetime, monetizing real estate will not be an option. Even summer sports and vacations are at risk, not only from a lack of water but also due to the danger and smoke created by forest fires.
In short, there is a climate change pall over Vail Resorts. The drought map I provided above is published every week on Thursday. Here is the site for keeping up with the latest on these climate change conditions.
Disclosure: The author is short MTN. The author wrote this article themselves, and it expresses their own opinions. The author is not receiving compensation for it (other than from Seeking Alpha). The author has no business relationship with any company whose stock is mentioned in this article.