GoPro, Inc. (NASDAQ:GPRO) went public over a week ago on June 26th at $24/share and has since risen to $49.90 before pulling back to the $40-45 range. There was a lot of media hype surrounding the offering, so a post-IPO rally was expected. However, disappointing Q1 results, sky-high valuation multiples, and a significant insider transaction all point to an overvalued stock at the current price.
GoPro manufactures "action cameras" that allow consumers to record in conditions that are not possible for traditional cameras (e.g. surfing, biking etc.). However, it states in the offering that GoPro is planning to expand into media as it continues to develop the GoPro Suite and seeks to monetize its online content, as such, it wants to be valued as a media company. To quote the SEC filing: "…GoPro is well-positioned to become the first media company whose content is captured exclusively using its own hardware." While the promise of these money making schemes is alluring, it is just a matter of time before the market runs out of a greater fool and price takes a tumble.
Even if we put valuations aside for now and just examine the growth prospects of the company using figures from the SEC Filing, they are not particularly bright. In Q1 2014, both revenue and EBIT suffered significant declines year over year. Revenue decreased by 7.5% from $255M to $236M whereas EBIT fell over 50% from $33M to $14.9M. These metrics suggest that GoPro's growth is already tapering; thus the high annual revenue growth rates of 125% in 2012 and 87% in 2013 are likely unsustainable.
This problem is compounded by the fact that gross margin has eroded from 52% to 37% in just two short years from 2011 to 2013. As more established competitors (e.g. Sony Action Cam) move into the action cam market, margins will be suppressed even further. Considering that GoPro has no patent that makes them the sole manufacturer of action cams, it is just a matter of time before they become commoditized, much like what happened to digital cameras.
Once we shift our focus to the market multiples that GoPro is currently trading at, it becomes even more evident that the current valuation is ludicrous. Let's give GoPro the benefit of the doubt and assume that it will experience a revolutionary breakthrough and become a leading media company, hardware manufacturer, and software developer. Here is a list of respectable companies in the various industries and their multiples, using data compiled from quarterly reports (AAPL, CAJ, TWX, GOOG, MSFT, HPQ):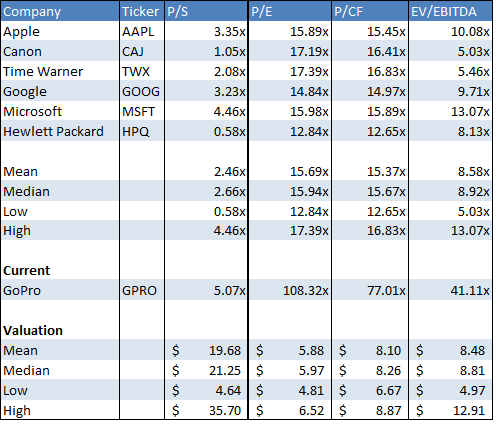 (Image source: own calculations)
Evidently, even when we apply the multiples of the market leaders to GoPro, they still fail to justify the current price. Keep in mind that this is assuming GoPro will somehow find a way to achieve the aforementioned goals and be one of the best.
So why are investors clamoring over GoPro? Aside from the media's attention, investors are clearly very impressed by the profitability and sales growth rates in 2012 and 2013. But once earnings report for Q2 2014 is released, we can expect a rapid shift in sentiment. No growth stock should ever experience such a decline in quarterly revenue and earnings year over year.
In addition to the poor growth prospects and valuations, an insider transaction provided another perspective on the stock, and what great time it was for him to cash out on GoPro! In a single transaction on July 1st, CEO Woodman Nicholas dumped over 5 million shares, worth $244 million on the market at the time of the transaction (SEC Filing). While I do not think this is sufficient to start a frantic sell-off, this is just one of the many signs that point to the inevitable tipping point.
While the company is extremely overvalued at the moment, short-term traders may still want to take advantage of the high volatility. Value investors should pay close attention to any material news (e.g. earnings report, entrance of new competitors) and be prepared to take a short position. That being said, if GoPro sustains the current valuation for more than six months, it is nothing short of a miracle.
Disclosure: The author has no positions in any stocks mentioned, and no plans to initiate any positions within the next 72 hours. The author wrote this article themselves, and it expresses their own opinions. The author is not receiving compensation for it (other than from Seeking Alpha). The author has no business relationship with any company whose stock is mentioned in this article.