The weekly ETF Pullback model I introduced on Seeking Alpha (see Appendix below for explanation and performance data) has been all over the place lately, lower-quality income, real estate, internet and networking, but this week, it's quite decisive in its bearish stance. The list now looks about as defensive as it can get considering short ETFs are excluded from the eligible universe.
Here are the current ETFs:
This is last week's list:
First Trust DJ Internet Index (NYSEARCA:FDN)
iShares S&P US Pref Stock (NYSEARCA:PFF)

Nuveen New York Qty Inc

(NUN)

PowerShares Dynamic Networking (NYSEARCA:PXQ)
PowerShares Nasdaq Internet (NASDAQ:PNQI)
I'm fine with that. I'm not looking to make a killing right now. In fact, my sympathies are with the bond-bubble camp. But bubbles can persist for a heck of a long time and I don't see this one as likely to burst in the near future. I don't know what the market and the model will look like next week, but if it winds up steering me in a really bad direction, whether then or at some other point further out in time, I'll live. After all, I re-run the model and refresh the list weekly, so there are ample opportunities to correct errors.
Right now, though, I believe the current selections can deliver what I'm looking for; safety in the face of a potentially challenging market.
I don't necessarily expect economic progress to reverse course. But it's hard to ignore the market's strength in recent weeks (my perspective is undoubtedly influenced by the fact that my equity efforts are focused in the small and micro-cap sectors, especially the under $3 segment, and these have performed exceptionally well of late). It just seems that it will be incredibly easy for sellers to find reasons to be more assertive, whether due to economic news (case in point: this morning's weakness), some high-profile earnings season duds down the road, or, of course, all things QE2.
The latter could be especially dicey. The financial markets are currently populated with a full generation's worth of experienced and successful players who, when it comes to the culture of inflation, know only one thing: the lower the better. I think that's an unduly narrow perspective and it appears the Fed agrees. Pricing flexibility is an important part of the lubricant that keeps an economy going. The problem occurs when there's too much of it, as there was in the late 1970s and early 1980s, when today's anti-inflation culture took root (back then, the prime rate actually hit 20%). The present is very different. Right now, excess inflation is the last thing we need to worry about. The problem is that most investors disagree, meaning the potentially inflation-raising side-effects of QE2, or even predictions of same, could give the bears a lot of verbal ammunition.
I'd be less concerned about this sort of thing if we hadn't seen so much equity buying in recent months. Let's just say those who need excuses for a correction can easily find them right now.
(An explanation of the model, and performance data, are in the Appendix below.)
APPENDIX
To create this model, I started with a very broad-based ETF screen I created in StockScreen123.com.
Eliminate ETFs for which volume averaged less than 10,000 shares over the past five trading days

Eliminate HOLDRs (I don't want to be bothered with the need to trade in multiples of 100 shares)

Eliminate leveraged and short ETFs (I think of these as hedging tools rather than standard ETF investments of even trading vehicles)
Then I sorted the results and select the top 5 ETFs based on the StockScreen123 ETF Rotation - Basic ranking system, which is based on the following factors:
120-day share price percent change - higher is better (15%)

1-Year Sharpe Ratio - higher is better (15%)

5-day share price percent change - lower is better (70%)
The idea of using weakness as a bullish indicator is certainly not new. But often, it's an add-on to other factors that, on the whole, emphasize strength. Here, the weakness factor is dominant, with a 70 percent weighting.
This model is designed to be re-run every week with the list being refreshed accordingly. I trade through FolioInvesting.com, where I pay a flat annual fee rather than a per-trade commission, so I don't care about the fact that turnover form week to week is often 80%-100%. If you want to follow an approach like this but do have to worry about commissions, the strategy tests reasonably well with three ETFs, or even with one. (Cutting the number of ETFs is far preferable to extending the holding period.)
Figure 1 shows the result of a StockScreen123 backtest of the strategy from 3/31/01 through 10/7/10.

Figure 1
click to enlarge
Figure 2 covers the past five years, a very challenging market environment that witnessed the fizzling of many strategies that had succeeded for a long time.
Figure 2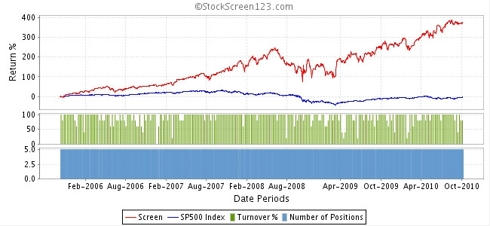 Click to enlarge

Disclosure: Long BLV, PLW, TLH, TLO, ZROZ