On June 11th, palladium touched $860 for the first time since 2011. One day later, the end of the 5-month lasting strike in South Africa was announced. As a result, the price plummeted and bottomed a few days later at $807. However, the uptrend was soon resumed, and on July 4th, the price of palladium rose again to and above $860, its highest level in 11 years.
I have been bullish on palladium since late 2008-early 2009 when it crashed during the financial crisis to a low of $160, and meanwhile, palladium is up more than 5-fold. In my opinion, this is only the start. The real bull market in palladium has yet to start, and I see signs that that moment is approaching rapidly.
In my previous article, I described some reasons why I think palladium is headed much higher in the near future (3-12 months).
Palladium has both the technical and the fundamental picture in its favor right now:
Technically:

A sustained breakout above $860 will likely attract a lot of new capital, and those who went short on June 11th due to a potential double top, will have to buy back their positions.

In addition, we have the flag pattern as I described in my previous article, which shows a price target of about $1500 per ounce.

Fundamentally:

Even though the strike in South Africa is over, it is expected that it would take about 3 months before they reach full production again. I expect that - as a result of the higher wage costs that resulted from the strike - some of the South African platinum mines will be closed in the future.

On May 16th, Bloomberg reported that "Russia is preparing to buy palladium from local producers, chiefly OAO GMK Norilsk Nickel, Interfax cited the head of the state metals depositary as saying."
If this is true, this could be a game changer. About 40% of the world supply of palladium comes from Russia. Add that to the already huge deficits, and we have a perfect cocktail for much higher prices.
In my previous article, I showed you that the normalized break-even level is around $1000 for North American Palladium (NYSEMKT:PAL), given 42 641 payable ounces of palladium.
In this article, I will show you the potential impact of (much) higher palladium prices on NAP's Income Statement and thus valuations.
But let's first start with a little history:
The share price of North American Palladium has had huge swings between 1996 and 2014:
It dropped from $10+ in 1996 to $1 in 1999 (-90%!)
It rose from $1 in 1999 to $17+ by 2001 (+1,600%!)
It dropped from $17+ in 2001 to $3 in 2003 (-82.5%!)
It rose from $3 in 2003 to an all-time high of $19+ only one year later (+533%!)
It dropped from $19 in 2004 to $5 in 2005 (-74%)
It rose from $5 in 2005 to $15 in 2006 (+200%)
It dropped to $1 in 2008 (-93%!) only to rise nearly 700% in a little over 2 years!
And last but not least, it dropped from $8 in 2011 to an all-time low of $0.25 (-96.80%!) and is currently trading at $0.34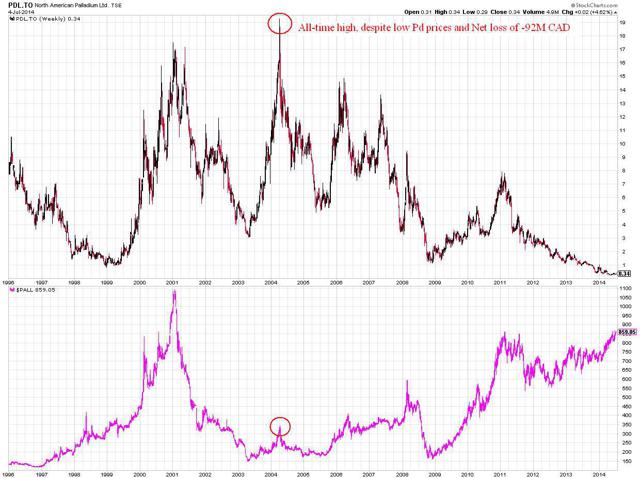 I can hear what you are thinking: In 2004, North American Palladium reached an all-time high of $19, so it must have had record profits, right? No. It actually reported a CAD 92M loss in 2004!
In addition, when PDL reached its all-time high, palladium prices were only at $350, far from the record high of $1100.
In fact, in all the years subsequent to 2004, North American Palladium has never been able to report a profit on an annual basis, according to Morningstar (I highlighted the Net Income in orange):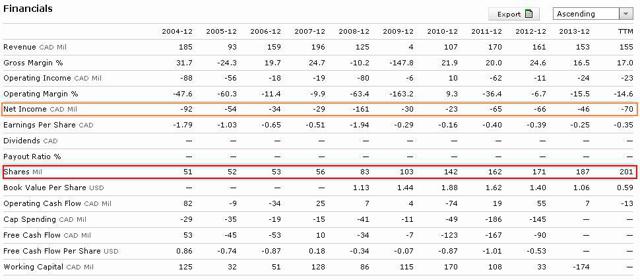 I also highlighted the share count (in red) because I don't like what I am seeing here. The share count is ballooning. However, the share count also doubled from 2008 to 2011, while the share price rose 700% in that time frame, so an increase in the number of shares outstanding does not necessarily mean that a stock price can't rise and that the company is headed for failure.
However, this is a warning sign to me.
In summary, the picture should be clear: Even though North American Palladium has reported 10 consecutive annual losses, its share price has been on a rollercoaster. That's for sure. Those who bought and sold at the right times in the past have made fortunes, while those who bought at the tops have probably lost their shirt.
I like to buy things when they are cheap. Stocks are cheap for a reason of course. And today, there are plenty of reasons to come up with why North American Palladium is trading near its all-time low:
a huge amount of debt at an exorbitant interest rate (19%)
past failures, cfr. Gold Mine adventure (Vezza, Sleeping Giant)
postponing production targets
a credit facility which came due July 4th probably got some people nervous
However, I think a lot of bad news is priced into the stock price. Any positive news could turn the corner for NAP, be it (much) higher Pd prices, better than expected production numbers, returning to cash payments on the loan, good exploration results or better than expected quarterly results.
NAP had gone through a similar story back in 2000-2001 as they expanded the mine in 2000, embarking on a $226M program, thereby taking on a lot of debt (although at much better interest rates (Libor+2%)). They hedged production in 2001 and sold forward 50,400 ounces in each of 2002 and 2003 at $945 per ounce (!) and $899 per ounce respectively. This helped them to reduce their debt substantially. I do not rule out similar measures when palladium prices explode to the upside.

Now let's have a look at the potential impact of higher palladium prices on the income statement of NAP.
The first section in the image below is used to calculate the revenue that will be used in the second section. Changing the price of palladium changes the total revenue, and thus Net Income.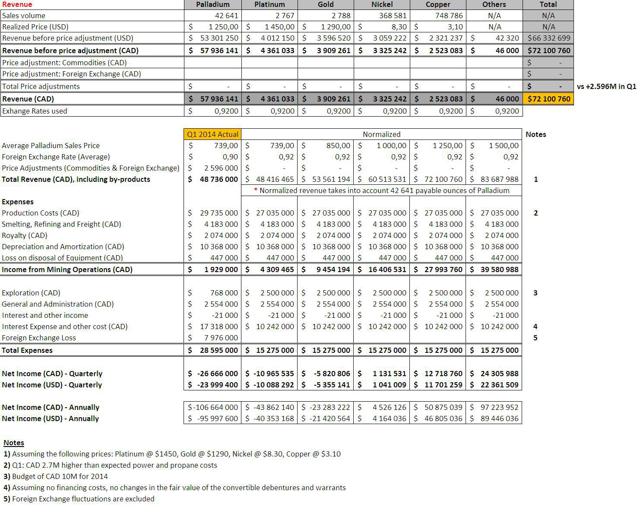 As an example, I filled in $1250 for the price of palladium, which would result in normalized revenues (not taking into account price adjustments for commodities and foreign exchange) of CAD 72.10M at an exchange rate of 0.92 and palladium sales of 42 641 ounces as opposed to 39 485 ounces in Q1.
Know that I kept the prices of platinum, gold, nickel and copper equal in all "normalized" scenarios at $1450, $1290, $8.30 and $3.10 respectively.
As production costs in Q1 were CAD 2.7M higher due to higher propane and power costs, this is deducted from the Q1 number, so therefore these costs go down from CAD 29.735M to CAD 27.035M
The exploration budget is CAD 10M in 2014, therefore CAD 2.50M per quarter as opposed to only CAD 768k in Q1.
Assuming my scenario of much higher prices pans out, I expect NAP to generate sufficient cash flow to avoid financings or at least limit them. Therefore no financing costs are included.
Changes in the fair value of convertible debentures and warrants are also excluded as these are temporary.
Now what do we see?
With palladium at $739 (Q1 average sales price), normalized revenue and Net Income would be CAD 48.42M and CAD -10.96M per quarter (CAD -43.86M annually) respectively.
With Pd at $850 (current prices), normalized revenue and Net Income would be CAD 53.56M and CAD -5.82M per quarter (CAD -23.28M annually) respectively.
With Pd at $1000, normalized revenue and Net Income would be CAD 60.51M and CAD 1.13M per quarter (CAD 4.52M annually) respectively.
With Pd at $1250, normalized revenue and Net Income would be CAD 72.10M and CAD 12.72M per quarter (CAD 50.88M annually) respectively.
With Pd at $1500, normalized revenue and Net Income would be CAD 83.69M and CAD 24.31M per quarter (CAD 97.22M annually) respectively.
It also shows that the break-even level in a normalized quarter is around $1000 per ounce of palladium, as I discussed in my previous article. In this case it's actually lower, because I didn't take into account the financing costs NAP incurred in Q1.
Also know that NAP has a lot of development and exploration upside on their property, the value of which is yet to be unlocked. This is further complemented by existing infrastructure and excess mill capacity, which gives them the potential to convert exploration success into production and cash flow on an accelerated time line.
Back in 2011, NAP had a market cap of $1.25 billion. Today it's only valued at $109 million.
If it were to obtain the 2011 market cap again, that would be a 10-bagger from current levels, or roughly $3.50 per share.
And why not? If palladium rises to $1500, NAP would only be trading at a 12x normalized Price/Earnings ratio.
This assumes of course that NAP does not default on its obligations in the meantime and keeps production levels constant (or preferably increases them) without interruption.


Insiders have been buying stocks on the open market lately, and although the amounts are relatively limited, this is a positive sign to me: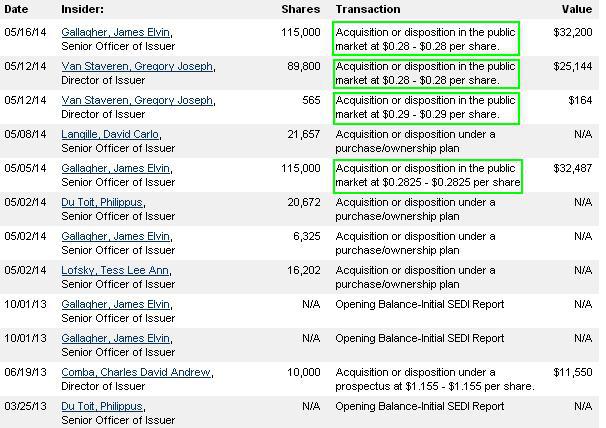 One can argue though that they are forced to do so in order to collect their bonuses:
The Board believes that the economic interests of directors should be aligned with those of shareholders. To achieve this, the Company's director compensation policy was revised for 2011 and now provides that directors are expected hold at least $150,000 in securities of NAP.
However, would you buy stocks of your company if you know that it's going bankrupt over the next couple of months? I think the fears of default are exaggerated.
We can clearly see that North American Palladium has the possibility to resurrect, if only the price of palladium rises high enough.
As I am a true believer of much higher palladium prices in the short- to medium term (see my previous article), the potential more than offsets the risk of failure to me.
I therefore see North American Palladium as an OTM (Out of the Money) Call option on the price of palladium and fits in a diversified portfolio, along with PALL and SWC.
Know that with OTM options you can lose your entire investment, but if the price of the underlying asset rises substantially, you can make a substantial amount of money.
I have a speculative long position in NAP. This is not a recommendation to buy or sell. Do your own due diligence before investing.
Disclosure: The author is long PAL, PALL, SWC. The author wrote this article themselves, and it expresses their own opinions. The author is not receiving compensation for it. The author has no business relationship with any company whose stock is mentioned in this article.
Editor's Note: This article covers one or more stocks trading at less than $1 per share and/or with less than a $100 million market cap. Please be aware of the risks associated with these stocks.