Verizon Communications (VZ) saw their stock price drop more than 2% this morning after Bernstein Research downgraded the stock to 'underperform'.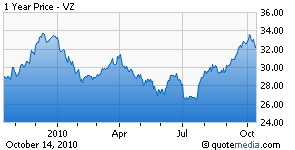 One big concern for Bernstein analyst Craig Moffett is Verizon's ability to maintain their current dividend level. This is not a new concern, but investors should be paying more attention to it as 2011 draws closer.
Verizon currently yields an impressive 5.9%. However, very soon Verizon will be forced to start paying dividends to Vodafone which owns 45% of their Verizon Wireless joint venture. To date, Verizon has avoided making any dividend payments to Vodafone by using the cash flow from their wireless operation to pay down debt. Those loan repayments should be finished this year.
Once Verizon begins paying dividends to Vodafone (VOD), Wall Street is concerned that Verizon may not have the cash flow to sustain their dividend. In 2009, the company generated $14.5 billion in free cash flow. A tidy sum indeed, but that cash flow is all coming from their wireless business as consumers cut their landlines.
Analysts have speculated that paying a dividend to Vodafone could use up almost all of Verizon's cash flow. If that happened, Verizon's risk profile would increase dramatically and the company would have little room to increase their dividend in the future.
Just last month Verizon raised their dividend, but only gave investors a marginal $.0125 per share increase. The telecom giant has raised their dividend for four consecutive years, but any significant increases in the future looks doubtful.
Verizon shares have jumped 10% since the end of August and have outperformed the 5% increase from top competitor AT&T in the same timeframe. The market is now valuing Verizon at premium to AT&T (T) as rumors that Verizon could begin selling the Apple (AAPL) iPhone as early as next January grow stronger.
Verizon Communications is likely going to need the iPhone in order to boost their cash flows or VZ may soon join the ranks of dividend stocks that are living above their means.
Disclosure: Long AAPL