The banking industry in the United States is about much more than Wall Street. While the total number of banks has declined since the 1980s due to industry consolidation, there are still thousands of regional banks across the country. As the economy slowly gets stronger, some of these small and mid-sized banks could make outsized profits.
The financial crisis tarnished the image of the banking industry with a broad brush. However, many of the regional banks were not involved in the mind-boggling Collateralized Debt Obligations or Credit Default Swaps that played a prominent role during the crisis. Regional banks typically do boring, old-fashioned banking: taking in deposits and making loans.
Root for the home team
Unlike Wall Street, regional banks are part of the communities where they operate. Regional banks focus on lending to small and medium-sized businesses.
The best regional banks frequently dominate their geographic areas, despite the resources of the big banks operating in those same markets. Regional banks often understand the local economy better than their bigger rivals.
Home bias is one of the tenets of behavioral economics. People have a natural inclination to prefer things close to home, including when it's time to go to the bank. By developing close-knit relationships with their local customers, regional banks tap into this deeply ingrained human behavior pattern.
As a result, regional banks are able to develop a sticky client base. This can give certain high-performing regional banks a competitive advantage.
An undervalued sector
The U.S. economy is improving, albeit less quickly than previous economic rebounds. The unemployment rate has dropped to 6.1%, according to the Labor Department. This is the lowest level of unemployment since September 2008.
As the economy recovers, the financial sector is poised to rise. Greater economic activity requires more capital in the form of small and medium-sized business loans to fuel expansion.
Nonetheless, the regional banking sector has underperformed so far this year. The following graph shows the relative performance of the SPDR S&P Regional Banking (NYSEARCA:KRE) ETF and the SPDR S&P 500 (NYSEARCA:SPY) ETF year to date: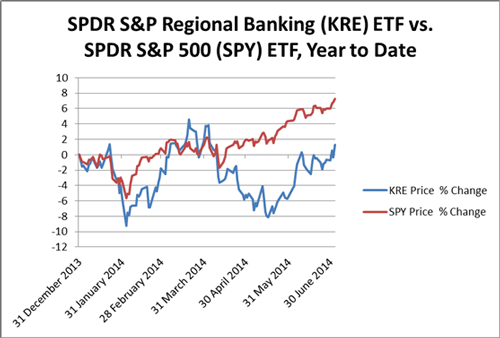 Data Source: YCharts
Regional banks are now one of the most undervalued sectors in the market, according to a recent article by YCharts. The number of financial companies rated undervalued by YCharts increased by almost 40% between May and June.
This change was driven by regional lenders, according to YCharts. Thus, now could be a good time to buy some regional bank stocks at an attractive price compared to intrinsic, long-term value.
Stock idea
Bank of Oklahoma, or BOK Financial Corporation (NASDAQ:BOKF), is a $28 billion regional bank that is based in Tulsa, Oklahoma. The bank has full-service branch locations in the following eight states:
Oklahoma
Kansas
Missouri
Arkansas
Texas
Colorado
Arizona
New Mexico
BOK Financial emphasizes fee income and generates 46.4% of its revenues this way, based on data from the bank's 2013 annual report. Accordingly, the bank is less exposed to interest rate risk than many of its peers.
Also known as non-interest income, fee-based income includes account related charges such as wire transfer fees and monthly service charges. Fee-based income provides a stable and predictable revenue stream.
BOK Financial focuses on creating long-term value rather than short-term results, according to the bank's 2013 annual report. The evidence supports this claim: the bank has returned 8.93% over the last 15 years compared to 4.35% for the S&P 500 index.
"We've accomplished this by sticking to certain fundamental principles while making prudent and sometimes counter-intuitive investments in our business, and by not getting swayed by the latest trends in banking," stated CEO Steven Bradshaw. BOK Financial maintains unwavering credit standards that helped it weather the financial crisis.
The bank has increased its dividend nine years in a row, including the years 2008 and 2009. Currently, BOK Financial's dividend yield is 2.5%. The bank has a price-to-earnings ratio of 15, which is about 12% lower than the industry average of 17.
BOK Financial is a market leader in Oklahoma. The bank uses different, local brand names in other states. For example, in Colorado, BOK Financial operates under the name Colorado State Bank and Trust. Moreover, local management is given a certain amount of leeway on how to engage in marketing and client service.
Risk
BOK Financial may be tempted to expand beyond its current eight states. Any such expansions could pose risk for the bank's shareholders. However, given the bank's track record of success, and its prudent underwriting standards, BOK Financial is likely to pursue any expansion plans judiciously.
The bottom line
While larger bank rivals create ever more complex financial products that nobody, including Wall Street, seems to really understand, BOK Financial continues to take in deposits and make loans. BOK Financial's conservative underwriting standards and fee-based income model should help the company sail through future financial storms unscathed. The bank is poised to fend off bigger banks and continue outperforming over the next five years.
Disclosure: The author has no positions in any stocks mentioned, and no plans to initiate any positions within the next 72 hours. The author wrote this article themselves, and it expresses their own opinions. The author is not receiving compensation for it (other than from Seeking Alpha). The author has no business relationship with any company whose stock is mentioned in this article.