Analysis: Tomorrow morning, Webster Financial (NYSE:WBS) will be reporting their Q3 earnings report that appears to me will help drive their share price up further. The company is slated to report an earnings of 0.17 per share, which is much better than the loss per share of 0.38 one year ago. The movement to profit will be one of the crucial elements that will help this stock become appealing tomorrow morning after the report.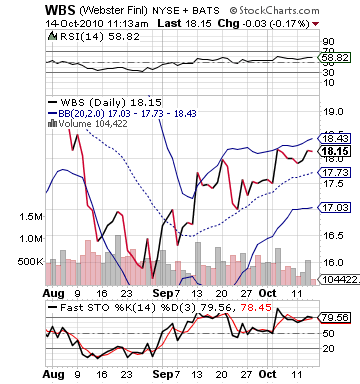 The financial industry is definitely not in a healthy place still, but JPMorganChase's (NYSE:JPM) earnings were not half bad. The company saw declining credit costs and credit card chargeoffs. The company is writing off less and less each quarter. The company saw some decline in their revenue from investing, which will have no effect on Webster Financial since they have no investment banking aspect of their business. The company is a typical savings, loan, and credit regional bank.
The company, in Q2, for the first time swung to profit after seeing positive movement across the board with less delinquencies, less chargeoffs, and better credit. That trend should continue for the company. They are the first regional bank to report earnings this season, so it will be interesting to see the market's reactions. The reaction should be positive. JPM's earnings were very solid and showed a solid trend that should extend to most financial institutions.
Sandler O' Neill & Partners wrote:
These results are positive for JPM and its peers. Credit quality continues to improve and trading related revenues only declined by 6% sequentially. We believe that both of these items reflect positively on peers that will be reporting [third-quarter] results next week.
The swing to profit, additionally, should be very helpful to the company. Any time a company moves from losses to positives, it tends to give a very positive vibe on the earnings as a whole. I think we can expect solid things from this company tomorrow, and among reporting companies, it does have at least some upside to an upper bollinger band. While earnings definitely go above technicals, a company that is severely overvalued has more risk of disappointing than a company that is under the radar. WBS has seen no improvement since their positive report three months ago and is actually at a loss. This company could make a major move on positive earnings.
The question is now … can they do what we think they should. The company is on the right track and looks as though this quarter should be a big one for them to really flex their muscles and be on the right path.
Entry: We are looking to enter in the range of 18.00 - 18.15.

Exit: We are looking to exit tomorrow morning after earnings report.

Stop Loss: None.
Disclosure: No positions