The market has its up and downs. Timing is essential to take advantage of the swings in price all stock prices undergo. And although the tax on capital gains limits the potential profit in the short-term, there are ways around that … such as an IRA or better yet a Roth IRA. I prefer a Roth IRA because of the gains that can grow federal tax-free. The tax-advantage savings are tremendous over the long-term. Thus short-term trading can be done in an IRA account without paying current capital gains. Thus for my articles, I highlight short-term trades for a reasonable profit.
Ask any big or tall man about shopping for clothing, and he will tell you how frustrating it for a number of reasons:
Poor selection of name brands
Poor selection of general articles of men wear (shirts, ties, shoes)
Relative increased expense for poor quality
Scarcity of stores that cater to their needs
Enter Destination XL Group (NASDAQ:DXLG). One of the premier clothing retailers for big and tall men in the country. DXLG has a market capitalization of over 270 million and over 350 stores throughout the US. As their website advertises …This is the "one-stop-shop concept is designed to make the big & tall man's shopping experience more convenient and enjoyable".
The company is more commonly known for its Casual Male XL line of stores. But over the last few years, the company has undergone a transformation into the dream destination for the big and tall men who finds it difficult to shop for clothing.
The company has over the last few years redefine itself in name, offerings, and the shopping experience. For example, its new line of stores called "DXL" are larger than their legacy (Casual Male) stores , offer more specialize services such as on site tailoring, and offer more brand name choices. Each one of the new DXL stores has a dedicated POLO section. Recently, the company announced a partnership with Brooks Brothers.
This makeover has not come without a price. The new DXL stores require substantially higher capital investments compared to its legacy line of stores. This has resulted in stagnant revenue growth, decreased cash flow, and decrease profit margins over the last few years.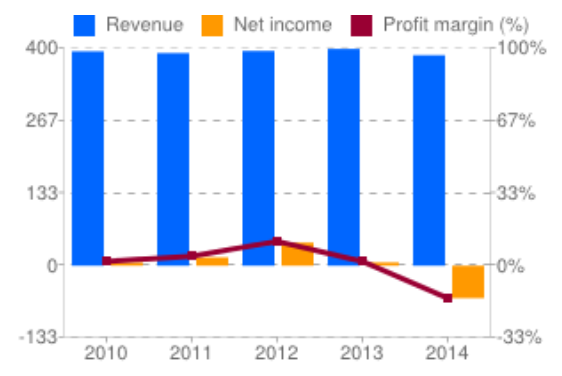 Accordingly investors and analyst have punished the company over the last year with an over 24% drop in price as of 6/30/14.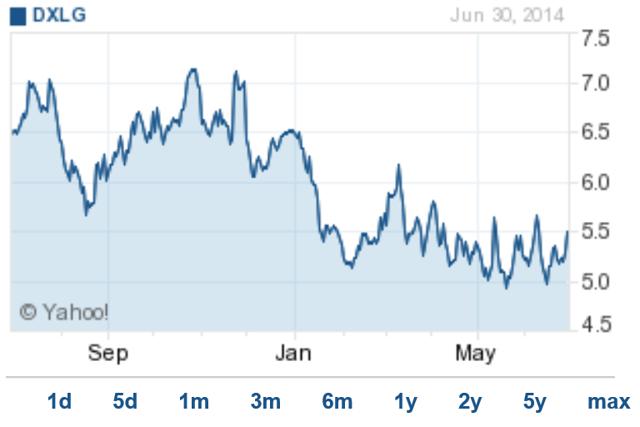 However with the opening of each new DXL store - the effect is immediate; improved customer satisfaction because of the improved shopping experience. The company touts a 90% new customer retention rate. This has resulted in 13-15% comparable sales increase in DXL stores opened for greater > 1yr. The average DXL customer spends ~50% more than the average Casual Male store customer. The goal here then is obvious: covert the Casual Male shopper to a DXL store shopper. Currently the number of DXL store represent less than half of the fleet. But by 2017, the company hopes to have the DXL brand make up > 90% of all stores.
1st quarter FY 2015 revenue of 96 million is a 3% increase over same quarter a year ago. For FY 2015, analysts estimate that DXLG will earn $-0.14. But for FY2016, analysts estimate that DXLG's EPS will grow by 128.6%. Another area of potential revenue growth is the build-up of the company's e-commerce business.

CONCLUSION
I think what analyst are missing is that DXLG has redefined itself into a lifestyle brand for a neglected and hard to reach part of the shopping customer base. I believe over the next 2-3 years, DXLG may very well double its current share price.
However, for the short-term, as each new DXL store opens for business and the customer base grows, investors and analysts alike will begin to see the true value of this company. I recommend buying shares of DXLG for a short-term gain within the next 3 months with a minimum price target of $6.25.
Disclosure: The author is long DXLG and may sell or buy more shares within the next 72 hours. The author wrote this article themselves, and it expresses their own opinions. The author is not receiving compensation for it (other than from Seeking Alpha). The author has no business relationship with any company whose stock is mentioned in this article.