Background
Performance Sports Group (NYSE:PSG) is a maker of performance sports equipment and apparel.
While being relatively new to U.S. Markets (IPO on June 20, 2014), Performance Sports Group actually has a long and iconic history. According to PSG's investor presentation, the company originated in 1927 as Bauer and grew on its own until 1995, when it was acquired by Nike (NYSE:NKE). Bauer was then sold to Kohlberg & Company in 2008. In an effort to expand their business, Bauer began aggressively acquiring companies to expand their business. The acquisitions included Mission, Maverik, Cascade, Combat, Inaria, and most recently Easton-Bell Sports' Baseball and Softball division. These acquisitions have made Performance Sports Group a market leader in each of the industries; owning 53% market share in hockey, 30% in diamond sports, 25% in lacrosse, and a small but growing presence in soccer.
Price/Sales Analysis
Performance Sports Group is extremely undervalued by the market and underestimated by the analyst community.
According to Yahoo! Finance, PSG currently has a market capitalization of approximately $540 million with trailing year's sales of $399.6 million. This values the enterprise at 1.35x sales. While this number would be adequate for a company in Performance Sports Group's industry, it neglects to take into account the company's most recent acquisition: Easton-Bell Sports' baseball and softball division.
In PSG's most recent conference call, CEO Kevin Davis cited that the Easton acquisition would have represented approximately 40% of the company's sales for the past fiscal year. Assuming this number is accurate, that would translate to sales of ~$266 million, bringing the company's total sales for the year to $665 million. With revenue of $665 million and a market cap of ~$540 million, PSG would be trading below sales (.81x). In addition, according to the company's latest annual report, PSG has historically grown sales at over 7% a year throughout its history and reported that Easton also has a growth rate of ~7%. Assuming these numbers hold true, next year's revenues would be well above the $665 million estimate. In fact, my calculations show potential revenues for 2015 could be reported at $711.5 million, well above the Yahoo! Finance consensus analyst estimate of $643.68 million.
Price/Earnings Analysis
Currently, Performance Sports Group is trading at 17.5x trailing earnings. Again this number is adequate for a company of PSG's nature, however, it is again discounting the effect of the Easton acquisition.
Assuming PSG can replicate its past conversion rates (provided in the annual report) and will be able to render 9% of its sales to the bottom line (last year 8.9%), the company would have adjusted income of $64.03 million for fiscal year 2015. This in turn would translate to earnings per share of ~$1.61. At the time of writing this article, the stock traded at $17.20. At the current share price, EPS of $1.61 would value the company at just 10.6x earnings. More importantly, this estimate represents a 36% beat vs. Yahoo! Finance's analyst expectations of $1.18.
Technical Analysis
Though Performance Sports Group's stock has only been publicly traded for a few short weeks, it appears to be forming a very bullish technical pattern.
1 Month Hourly Chart of Performance Sports Group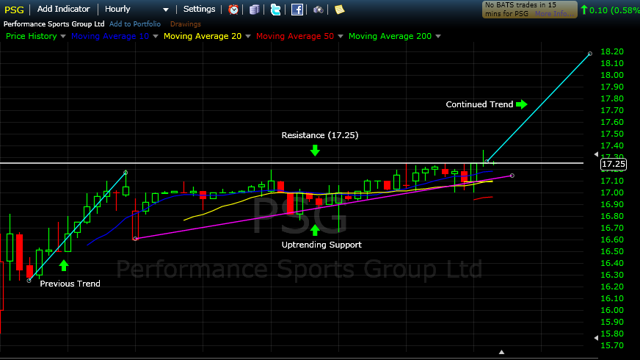 Click to enlarge
It can be seen above in the chart created on Freestockcharts.com, that PSG is forming a bullish ascending triangle. In an ascending triangle formation, the stock rallies until it reaches a level of resistance, then finds upward trending support while trading sideways for a period of weeks before ultimately breaking through the resistance level and continuing its previous trend.
In the case of Performance Sports Group, the stock rallied from $16.25 to $17.19, and found resistance at $17.25. The stock has attempted to break through the $17.25 resistance level multiple times over the last 10 days with no success. However, after each failed attempt to crack through this resistance, the stock has found support at a higher level. At the current moment, PSG appears to be breaking out above the $17.25 resistance level, which should clear the way for a continuation of the previous trend. This continuation would represent a 6% gain in the stock near term.
Risk Factors
As with any investment, stocks tend to carry significant risk. Given that Performance Sports Group is a small cap stock, the risk is much higher given the increased volatility of small cap stocks. In addition, PSG is exposed to multiple other risk factors given its business structure. Since PSG sells its products in multiple countries around the world, the company is exposed to risk based on foreign currency fluctuations versus the U.S. dollar. The company also has interest bearing debt in which the interest rate varies on the market's interest rate. Both the foreign currency risk and interest rate risk could significantly affect the company's cash flows and earnings in the future.
Conclusion
Considering all things stated above, I believe PSG is a buy at current levels. The company's attractive valuation allows me to feel confident that the risk level currently associated with the stock is low. In addition, my calculations show the potential for upside surprises in both revenues and earnings for 2015 versus analysts' current expectations. Adding in the stock's near term potential to increase 6% as presented in the technicals, I believe that Performance Sports Group should be bought on any breakout above $17.25. I am placing a $24.15 price target on Performance Sports Group, advising investors to be long the stock with a long-term time horizon. The $24.15 price target values the company at 15x 2015 earnings and 1.34x 2015 sales. This price target represents potential upside of approximately 42% versus the stock's closing price on Thursday. In my opinion, the risk reward ratio in this stock is too good to pass up. I advise being long Performance Sports Group.
Disclosure: The author is long PSG. The author wrote this article themselves, and it expresses their own opinions. The author is not receiving compensation for it (other than from Seeking Alpha). The author has no business relationship with any company whose stock is mentioned in this article.