The Blackstone Group (NYSE:BX) is best known for its investments in leveraged buyout and other private equity investments, but that may soon change with the possible launch of a new hedge fund.
The hedge fund would "make big, bold bets" and "fund several teams of traders with hundreds of millions of dollars to place a relatively small number of large, highly concentrated wagers".
Blackstone's Hedge Fund Background
Although this may seem like a significant shift in strategy, it is more of a slide.
Blackstone is currently the largest investment manager of hedge fund, fund-of-funds. Fund of funds invest in other hedge funds and frequently receive a management and performance fee above the already hefty hedge funds under the guise that selection and diversification of these alternative investments decreases risk and increases returns.
Although fund of fund fees are significantly less than hedge funds, they are also perceived as less risky. Under its alternative investment management business segment, Blackstone also manages a series of credit focus funds and closed-end mutual funds.
The move into pure hedge fund management will more fully diversify this division's revenue stream and, if they perform well, reap significant performance fees as the traditional hedge fund fee structure of a 2% annual fee and a 20% carried interest can be more than double what a fund of fund would charge.
Timely Switch
Blackstone's move into hedge funds comes at a great time as many of the largest financial institutions are being forced to shed the rank at their trading desks to stay compliant with the Volcker rule.
The Volcker rule prohibits banks from conducting certain business activities on their own account and limits their relationships in other alternative investments.
Many of these, now displaced, traders are looking for new homes or to start their own funds and with fewer options available, Blackstone may be better able to negotiate better employment terms.
Trading revenues at the largest firms have declined significantly.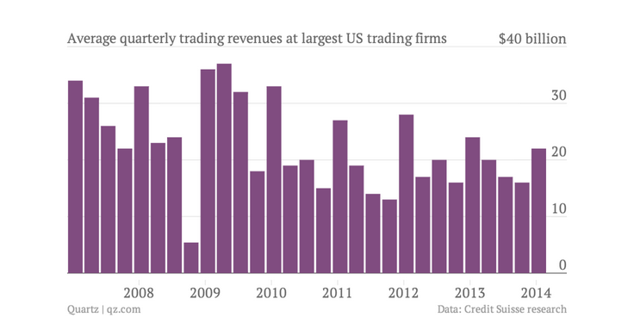 (qz.com/201858/the-decline-and-fall-of-tr.../)
Risk, Always
The move into hedge fund management comes with risk, Hedge Fund Research Inc. (HFR) reports that 10% of hedge funds close each year, but also plays to Blackstone strength of diversification and hedge fund strategy and management selection.
The Wall Street Journal also reported that the funds would start with $500 million in assets. For a hedge fund, this is relatively small, but the management of many small, focused funds is more in tune with the more recent investment theory that smaller funds are more nimble and able to take positions in securities that may not be financially doable for larger funds.
Further Diversification
Blackstone may not be alone for long as other more traditional investment managers look to bolster their bottoms lines given the market opportunity. There is no doubt that others will be looking to capture pension fund and investment dollars in this highly competitive space.
Historically, regulation has only been able to move risk to different areas of the economy and/or onto the shoulders of others who may or may not be more willing and able to manage it. With the increased pressure, caused by litigation and regulatory restrictions on large financial institutions, this may cause further diversification in an effort to find alternative revenue stream to supplant the ones lost increasing the pace of change in the industry.
Outlook For Blackstone Investors
Blackstone shareholders should see this move as very positive for an already strong firm and stock.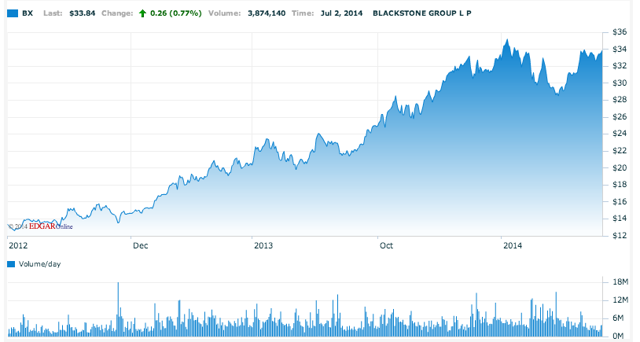 (Nasdaq.com)
Blackstone recently profited enormously from a deal with competitor KKR (NYSE:KKR) and backed out of risky delinquent mortgage funds, showing its ability to withstand volatility in this regard.
BX has beat expectations for revenues and earnings the past four out of five quarters, shows a strong chart, and healthy, generally increasing, dividends.

(performance.morningstar.com/stock/perfor...)
We are positive on BX moving forward in 2014 and suggest investors be so, as well.
We invite readers wishing to join the discussion on Blackstone to click the +FOLLOW button above the title of this article and+Get real time alerts for the latest news.
Disclosure: The author has no positions in any stocks mentioned, and no plans to initiate any positions within the next 72 hours. The author wrote this article themselves, and it expresses their own opinions. The author is not receiving compensation for it (other than from Seeking Alpha). The author has no business relationship with any company whose stock is mentioned in this article.