By David Russell
Assured Guaranty (NYSE:AGO) is ripping higher, and the bulls apparently think that it still has room to run.
optionMONSTER's Heat Seeker tracking system detected heavy call buying in the insurer, which is in a subsector of the financial industry that has been rallying as investors seek alternatives to lumbering megabanks such as JP Morgan (NYSE:JPM).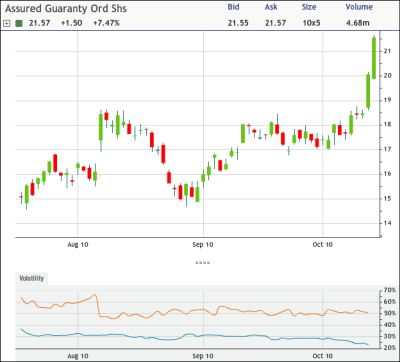 AGO's January 25 calls were the most active contract, trading more than 11,000 times against open interest of 8,178. Most of the volume priced in large blocks for $0.97 and $0.98.
The January 22.50 calls and November 23s also saw heavy buying above open interest, trading for about $1.36 to $1.67 and $0.65 respectively.
AGO climbed 7.47 percent to $21.57 in early afternoon trading and is up 22 percent in the last week. The company's last earnings report on Aug. 5 was better than expected, aided by the acquisition of Financial Security Assurance Holdings from Europe's Dexia (OTC:DXBGF).
There was also bullish activity in related company MBIA (NYSE:MBI) today, which has broken out to new multi-year highs, along with Ambac Financial Group, which is trading at distressed levels. The group has been drawing positive sentiment since the summer while banks and brokerages have struggled.
Overall option volume in AGO is 10 times greater than average so far today, with calls accounting for a bullish 92 percent of the activity.

Disclosure: No positions