Most of the market has raced to new highs lately, although not all names have completely participated. Social media giant Facebook (NASDAQ:FB) has rallied nicely in the past two months, although the stock is still about $6 or so off its all-time high. Given Facebook's strong earnings history, another good report is expected in a couple of weeks. Today, I'll detail why Facebook could soon see new highs.
Upcoming Q2 report:
When it comes to earnings reports, Facebook has been one of the best reporters in recent quarters. A look at the company's earnings history page shows a number of blowouts. While that hasn't always translated to stock gains as investors digest all of the numbers, it's nice to see extremely strong top and bottom line results. Social media peer Twitter (NYSE:TWTR) has also had some nice beats in its two reports as a public company. That stock has sold off as its user base has not grown as impressively as Facebook's has. Here's a brief summary of the last four quarterly reports from Facebook, taken from the above earnings page. Remember, EPS numbers below are non-GAAP.
Q2 2013 revenues of $1.81 billion beat by $0.20 billion. EPS of $0.19 beat by $0.05.
Q3 2013 revenues of $2.02 billion beat by $0.11 billion. EPS of $0.25 beat by $0.06.
Q4 2013 revenues of $2.58 billion beat by $0.25 billion. EPS of $0.31 beat by $0.04.
Q1 2014 revenues of $2.50 billion beat by $0.16 billion. EPS of $0.34 beat by $0.10.
With Facebook continuing this string of large beats, analyst estimates have been on the rise. In the table below, I've detailed where Q2 estimates stood at the Q1 report, as well as where they stand currently. I also detailed what the Q2 2013 and Q1 2014 results were, so you can get an idea of how the company is performing sequentially and against the year ago period. You can view all current estimates here.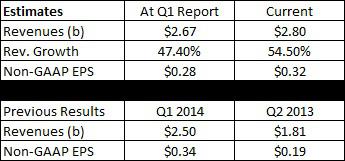 It is important to note that sequentially, analysts are looking for a roughly $300 million rise in revenues, but a two cent decline in non-GAAP EPS. Facebook's share count is rising by the quarter thanks to dilutive securities like executive options. However, I think analysts are expecting a bit of a margin decrease in Q2, as compared to Q1 2014. In the next section, I'll discuss something that will impact the share count going forward, but these items should not have had an impact on Q2. Looking purely at the current estimates, I would say that Facebook has a better chance of beating the bottom line EPS number than the top line revenue number. Given Facebook's history, I'd expect a beat for both, but I think the EPS number will be more impressive.
Momentum names back in favor:
Part of the reason why the markets have gone higher again is that the momentum names have rallied. This has helped to push the Dow over 17,000, and the S&P 500 is getting close to 2,000. Recently, Facebook crossed $68 for the first time since mid-March. Facebook shares have bounced back more than $10 from their late April lows.
Facebook is not the only name shooting higher. Social media peer Twitter is at its highest point since late April, with shares bouncing more than 40% from their lows. Twitter is still well off its highs, but at least the stock has come back. Netflix (NASDAQ:NFLX) also hit a new high recently, and that stock is heading close to $500 a share, after being in the low $50s just a few years ago. Even fellow momentum names like Tesla Motors (NASDAQ:TSLA), 3D Systems (NYSE:DDD) and SolarCity (NASDAQ:SCTY) have jumped in recent weeks. The momentum names being back in favor could help push Facebook back towards $70 a share.
The impact of recent deals:
Earlier this year, Facebook announced a couple of large acquisitions. The major one was the WhatsApp purchase, with the smaller one being the Oculus VR purchase. These two deals were made with a combination of cash and stock. In the quarter(s) that these deals are completed, you will see a hit to Facebook's cash position, more so in the case of the WhatsApp deal. You also will see a rise in the company's share count, since these deals were both made with a sizable equity component. Holding all else equal, a larger share count would be a hit to the company's EPS number. Over the longer term, investors hope that these deals can help increase Facebook's revenues and earnings, as well as increase Facebook's global dominance.
A decent valuation:
When it comes to valuation, most investors think that this entire space is extremely overvalued. When looking purely at the numbers, that appears to be the case, but you must also realize the growth potential of these names is tremendous. In the table below, I've compared Facebook to Twitter, LinkedIn (NYSE:LNKD), and Zillow (NASDAQ:Z). The table compares 2014 expected growth for revenues and non-GAAP EPS, and the associated price to sales and price to earnings valuations based on those numbers. For Facebook, these numbers don't include the impact of the two deals mentioned above.

*Non-GAAP EPS. As a result, P/E values are non-GAAP as well.
When it comes to P/E, even though the values are with non-GAAP earnings, Facebook is clearly the cheapest. Facebook has been able to achieve a decent amount of profitability, even on a GAAP basis. Facebook also provides a strong amount of expected growth, even though it is the largest of these names in terms of revenues, earnings, and market cap. Even on a price to sales basis, Facebook's valuation doesn't look that bad compared to Zillow and Twitter. Twitter is only expected to become profitable on a non-GAAP basis this year, and Zillow's non-GAAP profitability is next to nothing. Facebook is in third place when it comes to expected revenue growth, but second place in regards to earnings growth.
So is 46 times 2014 expected non-GAAP earnings expensive? Well, it may not be. Google (NASDAQ:GOOG) (NASDAQ:GOOGL) has a non-GAAP P/E of 22, about half that of Facebook. Google's potential growth is nowhere near that of Facebook, so why can't Facebook trade for say 50 times non-GAAP EPS, especially when the market is at an all-time high. Given Facebook's string of beats, something Google has not done in recent years, the current estimate of $1.43 may be too low for 2014. Going into Facebook's Q2 report last year, analysts were looking for $0.78 in non-GAAP EPS this year. What if Facebook comes in at say $1.70 this year? Even if the P/E comes down to 45 times that, you're still looking at $76.50 for shares, about $10 above where we are now. The mean and median analyst price targets are around $78 and $79, respectively, so my valuation there doesn't sound too crazy.
Technicals in good shape:
In the past, I've discussed technicals for the stock a bit, so let me briefly discuss where things stand now. In the chart below, you can see Facebook shares up against their Bollinger bands and the 50-day moving average. Right now, the 50-day is at the lower Bollinger band, with both of those trending higher right now. Facebook shares are basically in the middle of the range, with some room for upside to the upper band. Should the market push higher and Facebook start to creep up, the upper band should head towards the low $70s.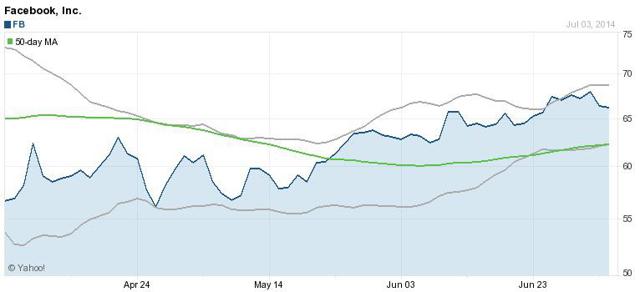 (Source: Yahoo! Finance)
Final thoughts:
Facebook is within reach of its all-time high, a level that could be reached rather soon. While estimates have been on the rise, the company has a history of earning blowouts. The two major deals should be completed soon, and the valuation still seems fair. Further upside in Facebook is definitely possible, and a good Q2 report could send shares to new highs.
Disclosure: The author has no positions in any stocks mentioned, and no plans to initiate any positions within the next 72 hours. The author wrote this article themselves, and it expresses their own opinions. The author is not receiving compensation for it (other than from Seeking Alpha). The author has no business relationship with any company whose stock is mentioned in this article.
Additional disclosure: Investors are always reminded that before making any investment, you should do your own proper due diligence on any name directly or indirectly mentioned in this article. Investors should also consider seeking advice from a broker or financial adviser before making any investment decisions. Any material in this article should be considered general information, and not relied on as a formal investment recommendation.