Before, during and after the Great Recession the one asset class that seemed to weather the storms the best is self-storage. While most other asset classes encountered devastation, the self-storage sector has become noticeably stronger.
Today there are 4 publicly-traded self-storage REITs that own around 4,170 properties - or around 7% of the 54,000 facilities in the US. While the public REITs have been extremely active in acquiring new properties, the pool of institutional grade non-REIT owned assets is roughly half, or 27,000 properties.
Much like the fast food sector, there are just around two dozen self-storage operators (including the 4 self-storage REITs) that own around 7,000 facilities. That leaves 20,000 potential targets that could be consolidated over time. In all likelihood, a majority of the growth will be in the REIT sector.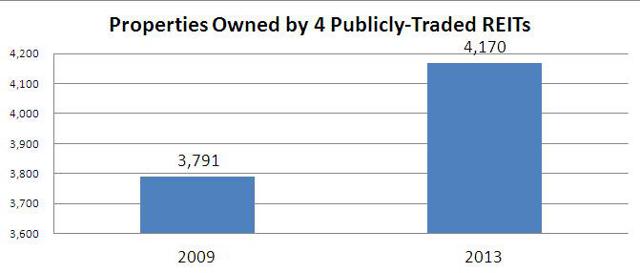 Click to enlarge
Year-to-date the self-storage REITs have returned 18.1%, representing $40.5 billion of the $740 billion equity REIT sector. The average dividend yield for the self-storage sector is 3.30%. Source: NAREIT.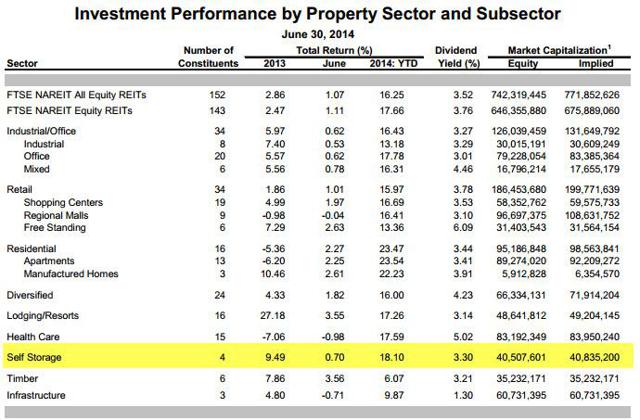 Click to enlarge
There are 4 public REITs: Public Storage (NYSE:PSA) with a market cap of $29.48 billion, Extra Space (NYSE:EXR) with a market cap of $6.16 billion, Sovran Self Storage (SSS) with a market cap of $2.56 billion, and CubeSmart (NYSE:CUBE) with a market cap of $2.69 billion.

Click to enlarge
Public Storage is clearly the dominant self-storage REIT with almost 2,500 properties, while the 3 other REITs own over 1,600 facilities combined.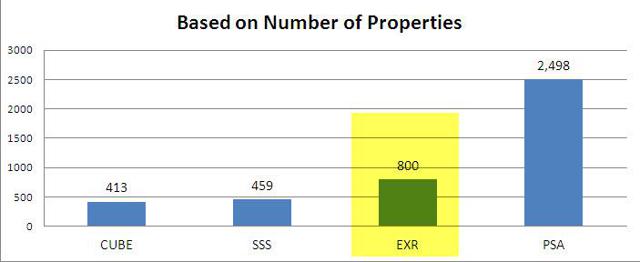 Click to enlarge
In terms of assets, Public Storage owns around $9.7 billion and the other 3 REITs control around $8.2 billion (combined).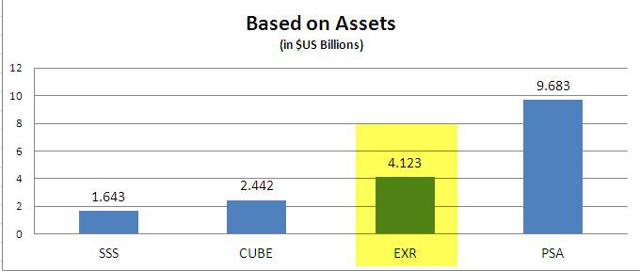 Click to enlarge
Because the self-storage industry is highly fragmented, the public REITs should be able to continue to consolidate and achieve efficiency with economies of scale. Also, as a result of limited new self-storage development, the competition for acquisitions has increased, and within the crowded field of self-storage sponsors it seems that the best operators are continuing to create scale.
It's clear that the smaller self-storage operators can't compete with the larger companies that enjoy more sophisticated technology practices. As a result, the larger companies are taking a disproportionate share of customers that are available in the marketplace and accordingly, several of the REITs are taking advantage of their growing brands by creating strong competitive advantages through innovation.
The presence of a well-known brand isn't enough to charge high prices and to allow a company to rest on its laurels when it comes to innovation. As Warren Buffett said, "your premium brand had better be delivering something special, or it's not going to get the business."
Extra Space: A Brand to Consider
Founded in 1977, Extra Space Storage is the second largest publicly traded REIT in the United States. With around 1,052 facilities (managed and owned), Extra Space provides a geographically balanced portfolio with approximately 700,000 units and approximately 78 million square feet in 35 states, Washington, DC, and Puerto Rico. The well-balanced REIT has grown its portfolio by acquiring, managing, and developing a strategic mix of high-quality facilities in or around the top 20 MSAs in the United States.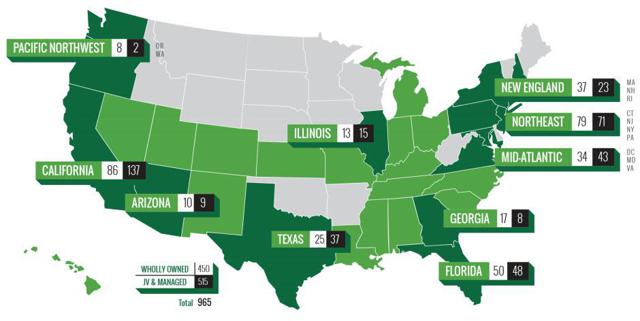 Click to enlarge
Built on a systematic product platform as well as exceptional customer service, the differentiated REIT has proven that it does not just earn money (for investors) but it also provides strategic value to its diverse customer base. These distinguishable attributes make Extra Space an exceptional risk-aligned investment choice characterized by sustainable income and principal preservation.

Click to enlarge
Based in Salt Lake City, Extra Space's strategic growth and expansion platform has been a direct result of the highly fragmented business fundamentals that have led to industry-wide consolidation. Here's a snapshot that demonstrates Extra Space's growth in properties (from 2009-Q1-14):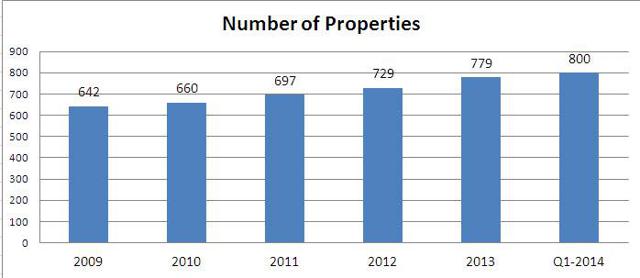 Click to enlarge
Between 2011 and 2013 Extra Space acquired 228 properties at a price of $1.906 billion: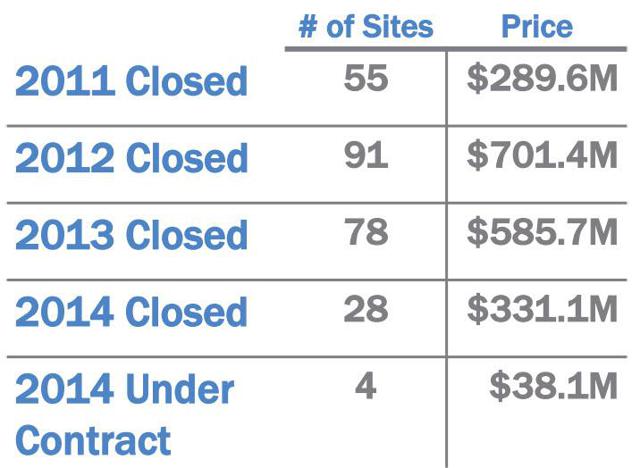 Click to enlarge
Here's a snapshot that illustrates properties acquired in 2011: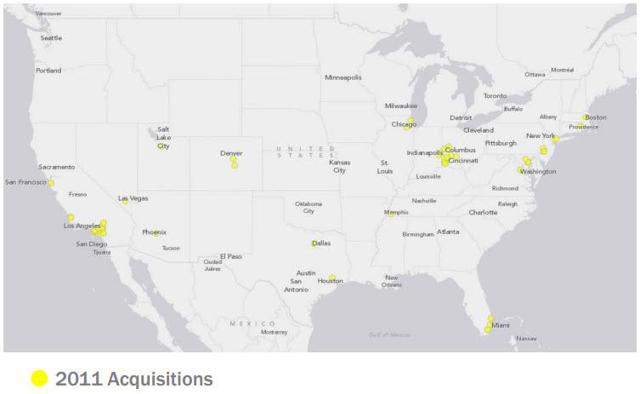 Click to enlarge
Here's a snapshot that illustrates properties acquired in 2012: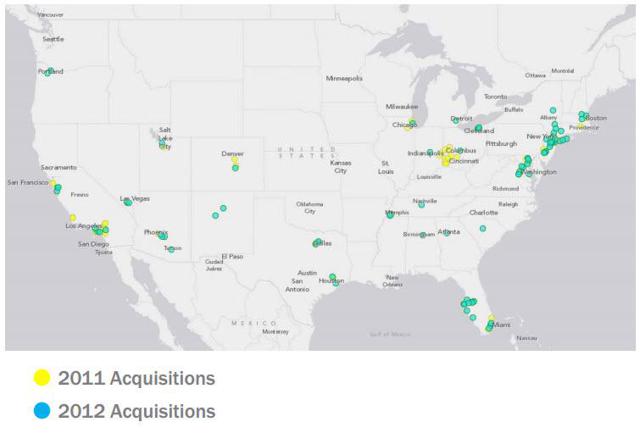 Click to enlarge
Here's a snapshot that illustrates properties acquired in 2013: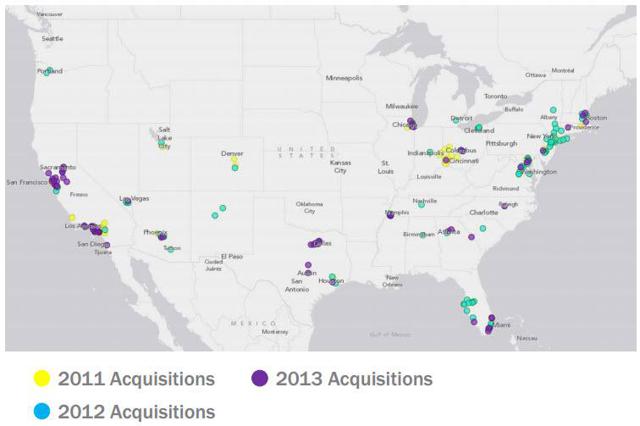 Click to enlarge
Here's a snapshot that illustrates properties acquired in 2014: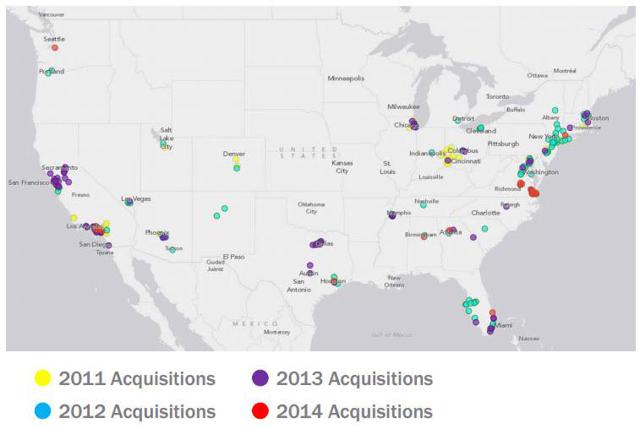 Click to enlarge
On June 13th Extra Space entered into a contribution agreement to acquire 20 self-storage properties in California. The aggregate consideration for the properties is valued at $196 million (the company will pay cash of $100.1 million and issue $33.6 million in Series B Redeemable preferred units and $62.3 million in OP units). The portfolio is around 76% occupied and this pending acquisition presents an opportunity for significant upside (EXR's in-place portfolio occupancy is 88.6%).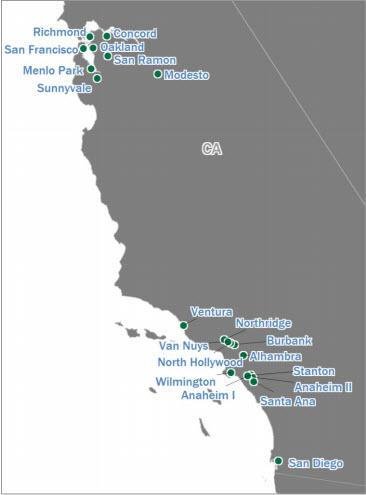 Extra Space: Differentiated by Demographics
Demographics play an important role in brand identity and Extra Space has demonstrated its strength with its leading indicator of population density. Based on SEC filings, Extra Space enjoys a strategic advantage in its average three mile population radius. Here you can see how the risk-aligned REIT compares with the publicly-traded peers: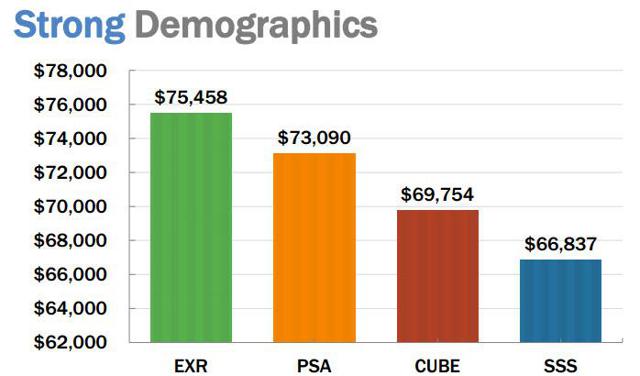 Click to enlarge
In addition, Extra Space enjoys a leading advantage with its three mile average household radius. Again, the quality of income (customers) is directly correlated to the strength of the REIT brand.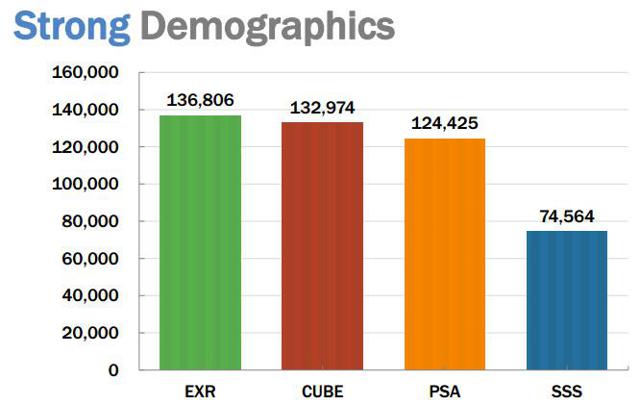 Click to enlarge
As an indicator of strong underlying demographics, Extra Space has enjoyed consistency achieved by focusing on revenue maximization as opposed to a model that is focused solely on pricing or occupancy. The snapshot below demonstrates the consistency of the Extra Space rental trends (2006-2014):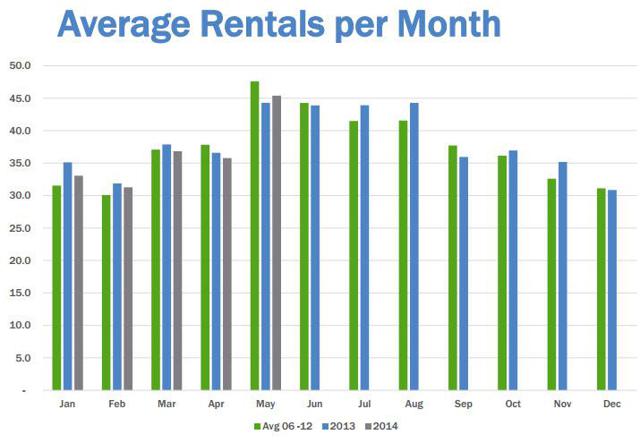 Click to enlarge
Conversely, Extra Space enjoys stable monthly vacate trends (for period 2006-2014):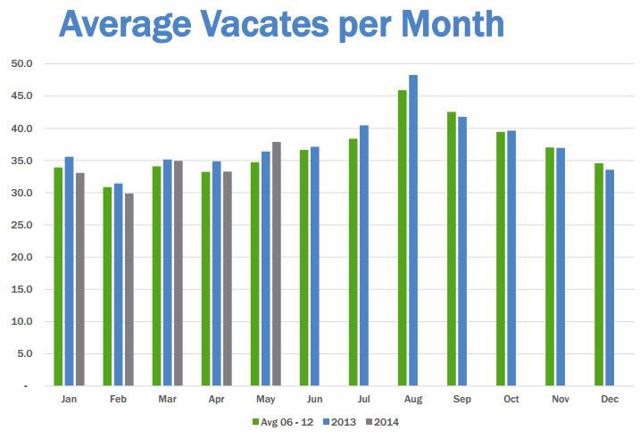 Click to enlarge
Extra Space: Differentiated by Innovation
Extra Space has been a leader in building its technological revenue optimization strategies. By using very creative and innovative "real time" technology, Extra Space has been able to achieve occupancy levels that forecast maximum customer demand and provide valuable "real time" rate optimization levels. Ten years ago the yellow pages were the way to find your closest storage center; however, the world has changed rapidly since that time.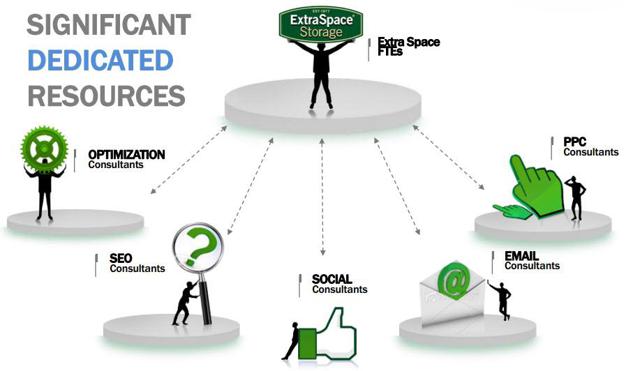 Click to enlarge
By investing in innovation, Extra Space has created a disruptive strategy of cutting-edge technology built on sound revenue management, innovative marketing, and sophisticated information technology. Accordingly, Extra Space does extensive statistical and analytical testing on every aspect of the business to drive optimal results. In turn, this leads to maximized efficiency and results in greater brand awareness that leads to enhanced profitability.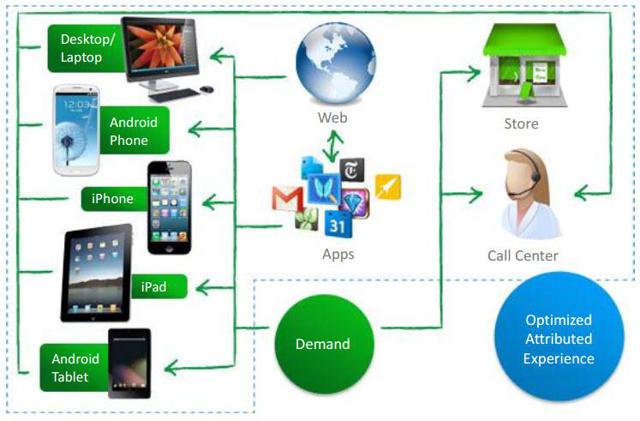 Click to enlarge
Extra Space: Differentiated by Dividends
In the latest quarter (Q1-14) Extra Space held rates flat in the off season to drive occupancy and ended the quarter up 200 basis points at 90.4%. The company's same-store revenue was up 7.9% with expenses growing at 4.7%. Net Operating Income growth was 9.4%. The company reported Funds from Operations (or FFO) of $0.55 per share for the first quarter.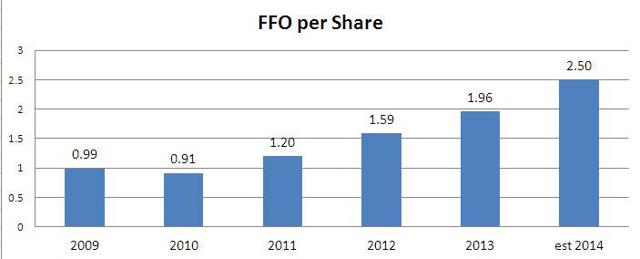 Click to enlarge
Extra Space revised its full year 2014 FFO guidance to $2.41-$2.49 per share. These estimates include non-cash interest expense and acquisition-related costs. Adjusting for these items, FFO is estimated to be $2.45-$2.53 for the full year. FFO per share grew by 24%, which marks 14 consecutive quarters of double-digit FFO growth.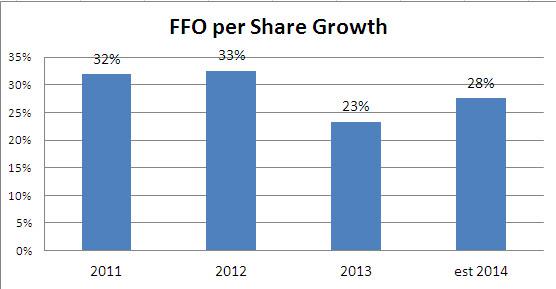 Extra Space's balance sheet has never been in better shape. This past year, the company had tremendous access to low-cost debt and the company was able to issue a convertible bond and issue new equity. The company does not have an investment grade rating since it has a large number of secured assets.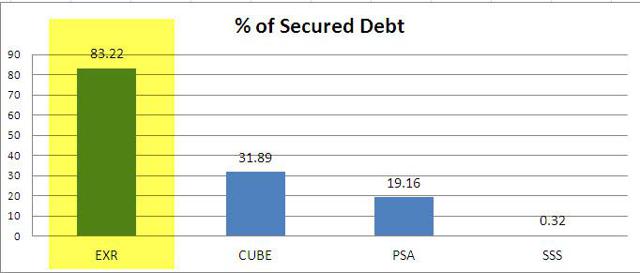 Click to enlarge
However, Extra Space enjoys low debt (to total capitalization):

Click to enlarge
In fact, Extra Space has reduced its reliance on debt considerably: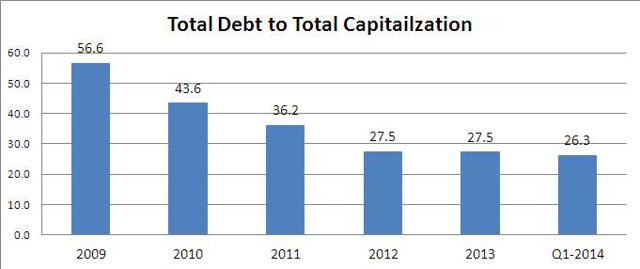 Click to enlarge
Also, short-term debt is now just around 2%.

Click to enlarge
A few weeks ago Extra Space announced that it had declared a quarterly dividend of $0.47 per share on the common stock for the second quarter 2014. This is a 17.5% increase over the previous quarter. The annualized dividend payout is $1.81 per share.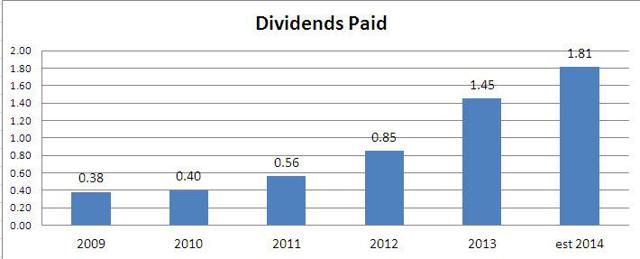 Click to enlarge
The FFO payout ratio is conservative: now at 72%: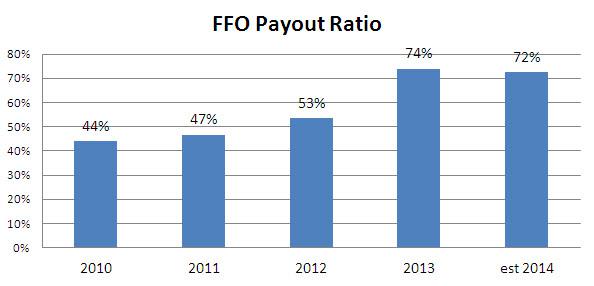 Here's a snapshot of Extra's Space's dividend history and the peer group: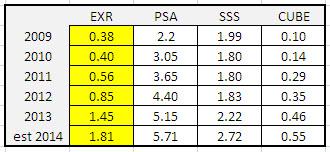 Here's a snapshot of the peer group's 2-year dividend growth history. Extra Space has increased its dividend by an average of 48% over 2 years (includes 2014).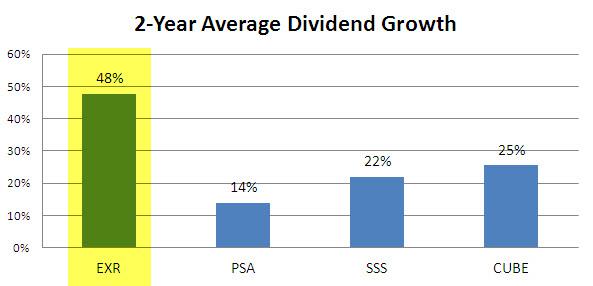 Here's a snapshot of the peer group's 3-year dividend growth history. Extra Space has increased its dividend by an average of 49% over 3 years (includes 2014):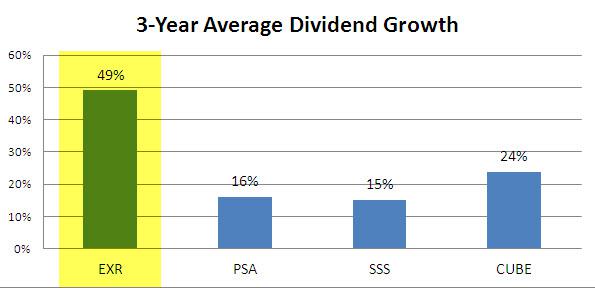 Should I Buy This All-Purpose Brand Today?
Let's take a look at Extra Space in 2009 when the company cut its dividend from $1.00 to $0.39. I could have picked up shares in this REIT for $5.50 a share.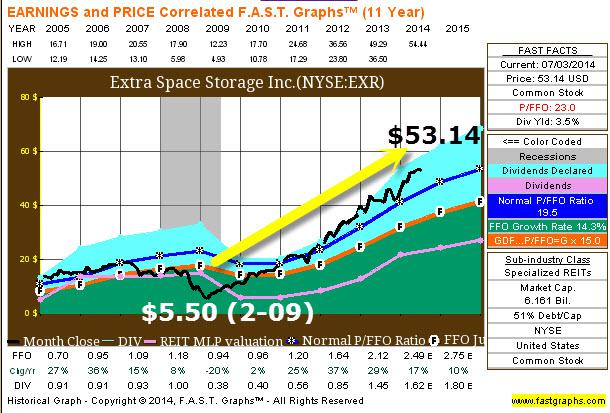 Today Extra Space is trading at $53.14 with a Price to Funds from Operations (P/FFO) multiple of 21.2x. Based on this peer chart below, this REIT (and Public Storage) seems expensive.

Click to enlarge
The rapid dividend growth is compelling. Extra Space has grown/evolved a long way since it cut its dividend to $0.38 (now paying out $1.81 annualized).

Click to enlarge
Back in April I wrote an article on Extra Space and since that time the company has returned around 10.5%.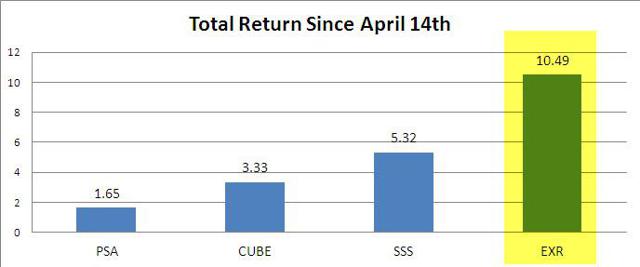 Click to enlarge
Over the last year Extra Space has returned 28.66%, the only self-storage REIT to beat the S&P 500.

Click to enlarge
Over the last 2 years Extra Space has returned 83.81%.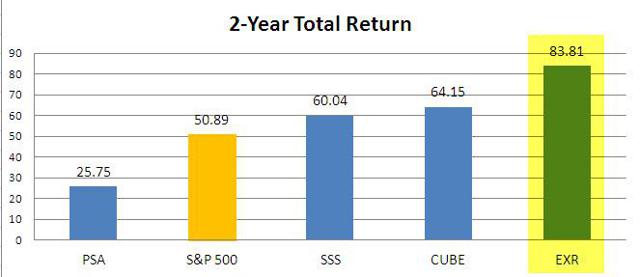 Click to enlarge
Over the last 5 years Extra Space has returned 663.65%.

Click to enlarge
Extra Space has remained aggressive on the acquisition front in Q1-14 adding 21 properties for $249.7 million including an 18-property portfolio in Virginia ($199.7 million), and another 5 properties were acquired in April for $60.5 million.
It's time to make a move before Extra Space becomes the next "McDonald's in self-storage." With over 1,000 sites across the nation, Extra Space is continuing to scale its platform and create strong operating synergies. Without investing abroad, this self-storage brand could easily own 2,000 properties (double in size) without sacrificing demographic quality.
In my opinion, Extra Space has the best platform and the company continues to solidly beat its competition by increasing its footprint using highly innovative branding strategies. I don't want to overpay for the brand so I plan to make my initial entry into the space when Extra Space shares pull back to $50.00. As evidenced by the FAST Graph below (note: I over-rode the growth to 18%) the value proposition for Extra Space is to own a "best in class" self-storage REIT with market leading operating fundamentals. In summary, I'm a buyer at $50.00 and I believe there's plenty of runway left…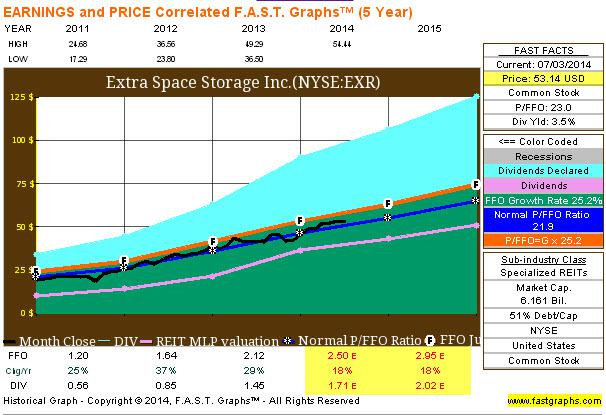 For more information on REITs, check out my monthly newsletter - The Intelligent REIT Investor.
Sources: SNL Financial, FAST Graphs, and Extra Space Investor Presentation.
Disclaimer: This article is intended to provide information to interested parties. As I have no knowledge of individual investor circumstances, goals, and/or portfolio concentration or diversification, readers are expected to complete their own due diligence before purchasing any stocks mentioned or recommended.
Disclosure: The author is long O, DLR, VTR, HTA, STAG, UMH, CSG, GPT, ARCP, ROIC, HCN, OHI, LXP, KIM, WPC, DOC, UDF. The author wrote this article themselves, and it expresses their own opinions. The author is not receiving compensation for it (other than from Seeking Alpha). The author has no business relationship with any company whose stock is mentioned in this article.