One thing that I like about Kinder Morgan [(NYSE:KMI), (NYSE:KMP), (NYSE:KMR), (NYSE:EPB)] is its diversified asset base. No individual segment is overly dominant, allowing the company to escape concentration risk. However, at the same time, due to it size Kinder Morgan cannot really grow as fast or as quickly as it used too, likely one of the reasons why the stock has been lagging its smaller midstream peers.
Commerce Department ruling throws a wrench into Kinder Morgan's splitter gambit
Late last month, the Commerce Department changed it definition as to what it considers a " petroleum product". According to the new rules, ultra-light petroleum, also known as condensate, which has been processed through a distillation tower, is now allowed to be freely exported. These towers are in wide used at the wellheads in the Eagle Ford.
This is a big change from previous policy where only refined petroleum products were allowed for exports. Unprocessed crude oil exports have been prohibited since 1973, when Congress enacted legislation in response to the Arab oil embargo.
While I am calling condensate light oil, it should be noted that this definition is not universal. Underground, condensate is often a gas, though it flows as a liquid when at the surface.
In addition, depending on which E&P you ask, you'll likely get a different cut off for what they consider condensate versus regular light oil. As a result, estimates vary as to how much condensate is produced in the lower 48. However, analysts put the number at over 1 million BPD for 2013.
Due to the surge in production in the Eagle Ford shale, oil production in Texas has been hitting all-time highs. However, this increased production has overwhelmed infrastructure, both midstream and downstream, resulting in deep discounts (as much as $10 per BBL) to WTI for inland crude sources, and even more versus comparable Brent or Louisiana sweet prices.
By far, the biggest losers, if any, stand to be the refiners. They have benefited extensively from the wide spreads, buying cheap feedstock at below WTI prices and selling the refined products at mostly Brent based prices.
When news of the export ban softening broke, it seemed as if every refining stock went crashing, including Phillips 66 (NYSE:PSX), Valero (NYSE:VLO), Northern Tier Energy (NYSE:NTI), and others.
Another possible casualty of these new rules are the numerous splitter projects being built around the Eagle Ford. As much as 450,000 BPD was being built, with Kinder Morgan at the forefront.
Kinder Morgan and BP Plc (NYSE:BP) teamed up to build a $360 million 100,000 BPD two splitter "mini-refinery". This project is to be completed sometime in the second half of 2014.
However, Kinder Morgan's downside impact should be limited given that BP has agreed to take on at least 80% of the volumes. At this level, the project should still be accretive to DCF per unit once online.
Condensate exports opens up new opportunities for Kinder Morgan
That being said, I do not expect a surge in condensate exports anytime soon. While the producers, especially in the Eagle Ford, definitely want to export the product, there is little infrastructure in place to accommodate this demand. Port facilities in the Houston area are already near capacity; while pipelines have long been at the max, as seen by the rise of rails to transport crude.
Who can build this infrastructure? Kinder Morgan of course. The company, via its splitters and Jones Act tankers investments, has already invested heavily into moving crude oil where it is needed.
Both Kinder Morgan's terminals and product pipeline segment have been underperforming in recent quarters. Condensate exports should be a boon, no matter if they come via splitters or the distillation towers.
Future splitters will obviously not be built. However, I strongly suspect other Kinder Morgan assets, especially its Galena Park facility and related pipelines, to get much increased volumes.
Kinder Morgan is the leader of moving condensates from the Eagle Ford to the coast via its 100,000 BPD Double Eagle pipeline (a 50/50 joint venture with Magellan Midstream Partners (NYSE:MMP)), and the 178 mile 300,000 BPD Kinder Morgan crude/condensate pipeline.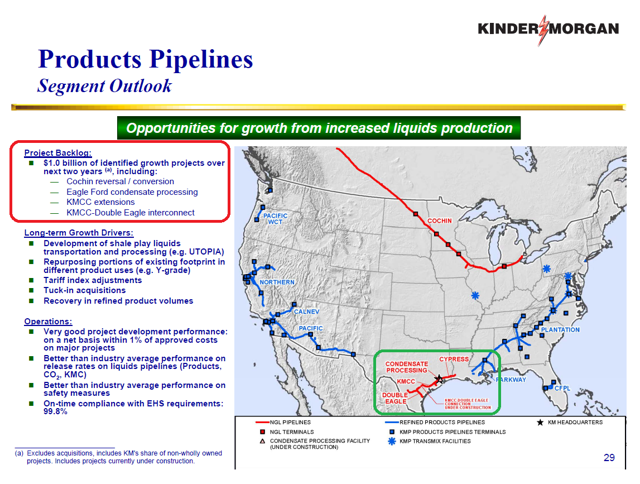 Click to enlarge
Conclusion
As I noted in the intro, Kinder Morgan is a well-diversified midstream. The company stands to benefit from growth in supply and demand for energy, be it natural gas, oil, etc. I think all of the various stocks of Kinder Morgan offer a compelling level of risk-adjusted return, with KMI being my personal preference due to holding it via my IRA.
Disclaimer: The opinions in this article are for informational purposes only and should not be construed as a recommendation to buy or sell the stocks mentioned. Please do your own due diligence before making any investment decision.
Disclosure: The author is long KMI, PSX, NTI. The author wrote this article themselves, and it expresses their own opinions. The author is not receiving compensation for it (other than from Seeking Alpha). The author has no business relationship with any company whose stock is mentioned in this article.