CLP Holdings (OTCPK:CLPHY), (HK-00002), formerly known as China Light and Power, offers a fascinating investment strategy. Headquartered in Hong Kong, CLPHY was founded in 1901 and is the largest regulated electric utility for Hong Kong. In addition, CLPHY operates power-generating facilities in southeast China, India, and Australia. CLPHY has limited generating assets in Taiwan and Thailand, and is co-developing two coal-fired plants in Vietnam. CLPHY services 2.1 million HK customers, or about 80% of the population. CLPHY also is one of Australia's largest suppliers of retail and commercial electricity, serving 2.8 million customers. A description from their website:
CLP Holdings Limited, an investment holding company, invests in, generates, and supplies electricity. The company generates electricity through coal, natural gas, wind, hydro, and solar sources. It is also engaged in the provision of engineering services; retail of electricity and gas; and property investment, as well as research and development activities. As of December 31, 2013, the company's portfolio comprised interests in 70-generation assets and retail businesses using various fuels with a total of 21,000 equity megawatts of capacity.
The Hong Kong dollar (HK$) is pegged to the US dollar at HK$7.75=US$1.00. The peg has been in effect since 1983, and was adjusted once in 2005 from HK$7.85 to HK$7.75. However, just last week, the HK government had to intervene and buy USD to prevent the HK$ from rising above the peg. This is the first intervention since Dec 2012 to knock down the value of the HK$. Most of the slide presentations are offered in HK$, and the number of shares outstanding is 2.58 billion. CLPHY is a sponsored ADR with Citibank as the sponsor. The ADR ratio is 1 HK share = 1 ADR. CLP Holdings trades for HK$65 in Hong Kong and $8.20 in the US.
Below is a comparison of 2013 and 2012 earnings by various operating segments, from their Investors Presentation (pdf).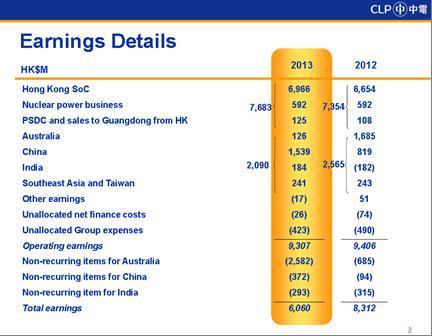 It is clear in 2013, CLP took some heavy hits concerning its business in Australia. Hong Kong activities amounted to 82% of 2013 operating earnings with Australia under 2%, China 16%, India 2%, and the balance about 2%. Earnings attributed to Australia declined by HK$1.56 billion (US$200 million) from 2012 to 2013, and the firm wrote down an additional HK$2.6 billion (US$340 million) of assets.
The problem with Australia is a combination of market pricing pressures due to slack demand and rising carbon taxes imposed by the Australian government. Electricity demand peaked in 2010 and has fallen every year since. Australia is a resource-based export economy with China as its main customer. As industrial commodity pricing have declined, so has the demand for local electricity. EnergyAustralia, CLPHY's Australian subsidiary, operates in the southern area of Victoria and New South Wales. For example, EnergyAustralia's largest customer, a metals smelter, is closing and reducing the company's power demand by 5%. In addition, as of July 2014, the NSW government has removed all regulatory restraints on the electricity market and is converting to a competitive model. From the first qtr. 2014 earnings press release (pdf):
Difficult wholesale market conditions continue. This was clearly highlighted in January when Victorian summer demand reached the second highest level ever recorded but wholesale prices remained subdued, confirming the oversupply in the marketplace.
From an article in The Australian:
As a result of the carbon tax, the renewable energy target and a range of other energy policy interventions at the federal and state government level, Australia has some of the highest electricity costs in the developed world. Household electricity prices have increased by more than 110 per cent in the past five years, and are projected to increase another 7 per cent in 2014-15. Australian businesses - which account for 70 per cent of total electricity use in Australia - have experienced an almost 80 per cent increase in prices since 2009 and there are more rises on the way.
The HK government, much like here in the US, regulates the utility business in Hong Kong. The terms of rate cases are sometimes 10 years, as is the case with the existing 2008 to 2018 rate base. The current allowed return on equity is 9.99%, also in line with US regulators. There is mounting pressure for the HK government to reduce the allowed return when renegotiating in 2018, and this could add some uncertainty to the bulk of CLPHY earnings.
Based on the belief the situation in Australia stabilizes, earnings are expected to turn around this year, fueling some modest dividend growth. Below are estimates from 4Traders.com: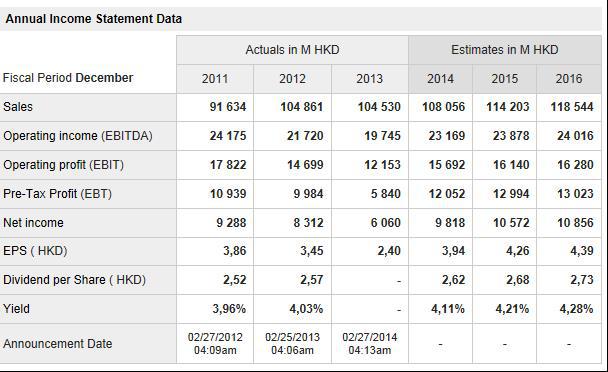 The net income and EPS calculations noted above include non-cash asset write-offs, such as the ones in 2013. Converting the EPS and dividends per share above to the ADR would create the following table of expectations:
| | | |
| --- | --- | --- |
| | ADR EPS | ADR Dividend |
| 2011 | $0.50 | $0.33 |
| 2012 | $0.45 | $0.33 |
| 2013 | $0.31 | $0.33 |
| 2014e | $0.51 | $0.34 |
| 2015e | $0.55 | $0.35 |
| 2016e | $0.57 | $0.35 |
Ford Equity Research offers the following chart of operating earnings over a similar timeframe, 2009 to 2013, and do not include write-offs.

Recently, CLPHY purchased a higher equity interest in two power-generating facilities in Hong Kong from Exxon Mobil (NYSE:XOM) for a total of HK$14 billion (US$1.8 billion). CLPHY will own 100% of one facility and 70% of the other, and a co-ownership with China Southern Power Grid for the balance. This continues to expand CLPHY's asset base in Hong Kong, where the allowed return are the highest among its various jurisdictions.
From 2008 to 2013, CLPHY invested HK$41.5 billion (US$5.4 billion) and is committed to invest an additional HK$34.1billion (US$4.4 billion) over the next five years. Much like many of its US counterparts, the expansion of its regulated asset base will be the underlying support for earnings growth.
Going back 10-years, total returns for CLPHY have equaled those of the S&P 500. However, with a beta of a measly 0.2, the returns were generated with much less volatility. Below is a performance chart from morningstar.com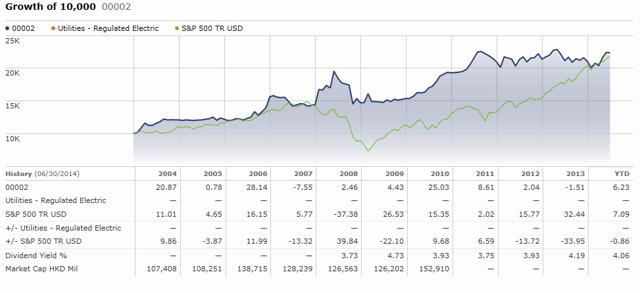 Investors should focus on CLPHY performance from Jan 2008 to current. In 2008, both CLPHY and SPY were valued about the same based on a $10,000 investment made in 2004. However, the subsequent collapse of the S&P vs. the stability and growth of CLP Holdings should have made CLPHY investors quite happy over the next six years. It would seem CLP Holdings could be an interesting foreign alternative investment if the US markets were to falter from here.
At the current $0.34 annual dividend, CLPHY offers a 4.15% yield. However, the dividend payment is a bit lumpy with the first quarter at $0.13 followed by three quarters at $0.07 a share. This has been the firm's payment pattern for some time.
CLPHY carries substantially less long-term debt than its US peers. The debt to equity ratio is 0.46 while the US average is 1.95. Return on invested capital has averaged 8.0% over the previous 10 years, but has fallen to a decade low of 2.9% in 2013, reflecting the troubles in Australia. As the chart below points out, this decline is several years in the making.
From a current valuation viewpoint, CLPHY seems fully priced based on both its US counterpart valuation and its own 5-yr average valuation. The table below compares current valuations with both US electrical utilities and the 5-yr average.
| | | | |
| --- | --- | --- | --- |
| | CLP | US Industry Avg | CLP 5-YR Avg |
| Price/Earnings | 26.6 | 19.5 | 18.3 |
| Price/Book | 1.8 | 1.4 | 1.8 |
| Price/Sales | 1.5 | 1.5 | 2.0 |
| Price/Cash Flow | 7.7 | 7.2 | 7.6 |
| Dividend Yield % | 4.1 | 3.3 | 4.1 |
Below are two fastgraphs outlining the stock's current value and a historical review of ROIC:
Earnings and Price Correlated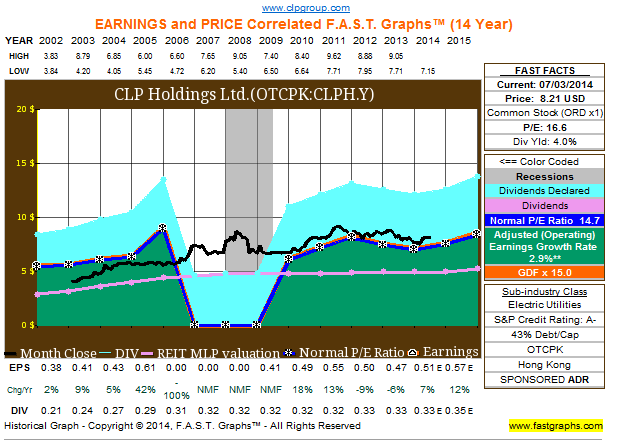 Return on Invested Capital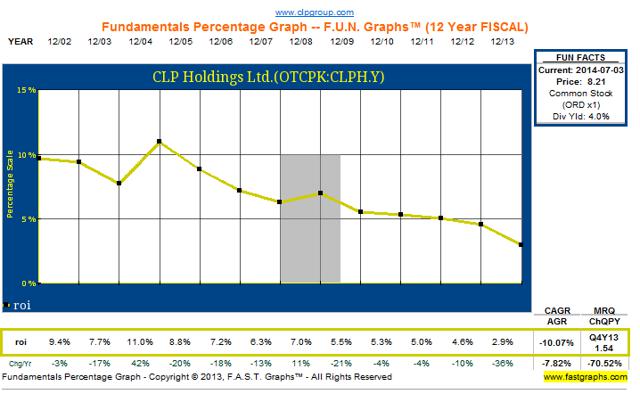 One intriguing attribute for potentially higher investor returns is the medium-term outlook for the valuation of the Hong Kong dollar. Since its peg to the USD began in 1983, the exchange rate has fluctuated only between HK$7.75 and HK$7.85. This means dividend investors have been receiving the same exchange rate for almost 30 years. If there were to be a revision of the exchange rate as some are calling for, it would to appreciate the HK$, thus increasing the HK$ exchange rate and improving the converted dividend. A weakening USD favors income investors with dividends generated overseas.
While not imminent, an upward movement in the HK dollar would reflect the 36% appreciation of the Chinese renminbi since 2005.
There is no foreign dividend withholding tax imposed on Hong Kong dividends, and CLPHY would be suitable for tax-advantaged accounts, such as IRAs.
CLP Holdings is no slouch. In comparison, CLPHY's $20.2 billion market capitalization compares with Public Service Enterprises (NYSE:PEG) at $19.4 billion, PG&E (NYSE:PCG) at $21.3 billion and PPL Corp (NYSE:PPL) at $21.4 billion. CLPHY's 21,000MW of generating capacity compares with Exelon (NYSE:EXC) at 34,700MW, NextEra Energy (NYSE:NEE) at 17,700MW, and Dominion Resources (NYSE:D) at 23,500MW. CLPHY's 4.9 million retail and commercial customers compares with Southern Company (NYSE:SO) 4.6 million customers, Edison International (NYSE:EIX) at 5.0 million customers and American Electric Power (NYSE:AEP) at 5.3 million customers.
With its stability shown over the previous 10-years and a 4.1% yield, CLPHY could be quite suitable for foreign utility investors looking for current income. I would think its long-term stability factor would trump rising interest rate pressures in the US, and if the US utility sector were to experience a decline from rate pressures, CLP Holdings could be immune.
Author's Note: Please review important disclaimer in author's profile.
Disclosure: The author has no positions in any stocks mentioned, and no plans to initiate any positions within the next 72 hours. The author wrote this article themselves, and it expresses their own opinions. The author is not receiving compensation for it (other than from Seeking Alpha). The author has no business relationship with any company whose stock is mentioned in this article.
Editor's Note: This article discusses one or more securities that do not trade on a major U.S. exchange. Please be aware of the risks associated with these stocks.