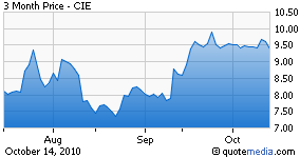 The Obama administration on Tuesday lifted the ban on the drilling of exploratory wells in the GOM (Gulf of Mexico). The Interior Secretary Ken Salazar said:
Operators who play by the rules and clear the higher bar can be allowed to resume drilling.
Companies will have to comply with new safety rules such as certifying blowout preventers, ensuring appropriate cementing standards are followed, and that a plan is in place to contain any spills incurred during drilling. In addition the CEO's of the companies drilling in the GOM will have to personally sign off that all safety protocols are being followed.
The administration had said back in May when they instituted the ban that they would lift it in six months. For whatever reason, most likely due to political pressure, the administration only waited five months to lift the ban. In the meantime I was putting my list together of companies I wanted to buy once drilling could resume.
One of the companies that really intrigued me was Cobalt International Energy (NYSE:CIE). Cobalt is an emerging oil and gas exploration company that has prospective properties in the Gulf of Mexico and offshore West Africa, specifically Angola and Gabon, which are both large and growing areas for oil and gas exploration and development.
In fact, many in the oil industry are speculating that the offshore West Africa areas may be as prospective as the recent oil finds offshore Brazil. Marcio Mello, who is one of the prime geologists credited with discovering Brazil's offshore fields, said:
What exists in Brazil, exists in Angola, even the rocks containing oil are the same. It's a certainty, not a possibility. Giant deposits will be found there.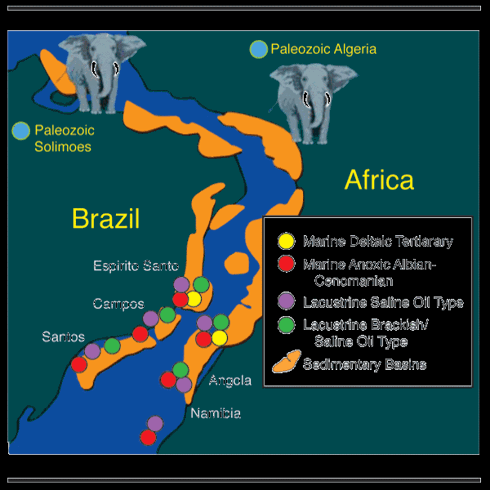 Cobalt currently has no production; however the company is preparing to become active in both its operating basins in Q1 of 2011. In the GOM Cobalt is the seventh largest leaseholder in the deepwater area. This puts the company in league with majors such as BP (NYSE:BP), Chevron (NYSE:CVX), Enersis (ENI), Royal Dutch Shell (NYSE:RDS.A), Conoco (NYSE:COP), Anadarko (NYSE:APC), and Statoil (NYSE:STO). In fact, Cobalt is partnered with several of these companies as a minority stakeholder in several blocks in the GOM.
Prior to the drilling ban Cobalt had planned to drill an exploratory well at its North Platte block. That well is now scheduled to begin drilling in January 2011. The company will be contracting with Ensco (NYSE:ESV) and will be utilizing rig 8503, which is a modern fifth generation semi-submersible rig that exceeds all current regulatory requirements. Assuming MMS issues the permits on time I would expect little trouble complying with the new regulations for drilling in the GOM.
Offshore Angola will also commence drilling sometime in early 2011. The prospects which the company is planning to drill are called Gold Dust and Oasis. These two prospects are in the serious elephant hunting category with the possibility of finding three to six billion barrels of oil at Gold Dust and two to four billion barrels of oil at Oasis.
There are a couple of caveats to keep in mind with respect to these two prospects. First, there is no guarantee that they will find anything economic. Secondly, the company is partnered with another firm and Cobalt holds a 40% interest in the block so anything they find will have to be split with a partner but we are talking billions of barrels so any discovery in this range will be material to the Cobalt's stock price.
The company has experienced management with many years experience specific to the GOM and offshore Angola. In addition the company has a large cash position of nearly one and half billion dollars of cash and equivalents to fund its exploration program. The stock traded over $15 per share earlier this year before the drilling ban.
In my view, as the company again prepares to ramp up its drilling program, the stock could easily make its way back to its previous levels on anticipation of the results from the initiation of the drilling program. Cobalt is a high risk/high reward offshore exploration company with several near term catalysts that could prove material to the stock price if successful and is appropriate for speculators looking to capitalize on a restart of GOM drilling.
Disclosure: Author long CIE