Yum Brands Inc. (NYSE:YUM) has been posting a consistent EPS growth of over 13% for the last 11 years up until 2013. The company experienced challenges in 2013 due to negative publicity from a food supply incident, as well as the outbreak of Avian flu in China. The incidents cost the company a 13% decline in same-store sales in 2013. However, the company has utilized this time to reorganize Yum Brands and better prepare it for the future. Yum Brands is the world's leading quick-service restaurant in terms of number of outlets; the company has more than 40,000 units worldwide. The company owns renowned brands such as KFC, Pizza Hut and Taco Bell.
Part of this reorganization is merging the US and International divisions to form a separate division for the KFC, Pizza Hut, and Taco Bell brands, which will include all operations of the respective brands worldwide, excluding China and India. The brands in China and India will continue to have their separate divisions.
To get a better idea of the company's current operations, I have presented a breakdown of Q1 FY14 revenues and operating income divided into new segments below.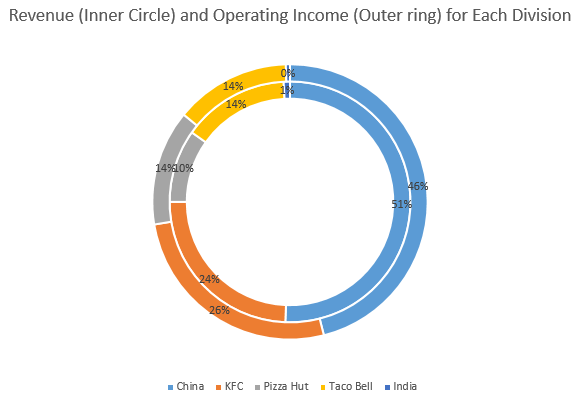 The graph above shows that Yum Brands derives roughly half its revenue and operating income from China, while the remaining half comes from the KFC division that now includes operations in the US, as well as KFC sales from the previous "International" segment.
Rapid Recovery Ahead in 2014
For the first quarter of 2014, Yum Brands showed a 9% increase in comparable sales, while total sales gained by 20%. This shows that the company is on track for a rebound in 2014. The company opened 123 new units in Q1 FY14, while the number of restaurants on a year-over-year basis increased by 7% to 6,332 by the end of March 2014.
The company is enriching its KFC menu in China to introduce as many as 27 new food products to the menu. This is expected to attract higher traffic and larger sales volume in Chinese KFC restaurants. Yum Brands also plans to introduce free Wi-Fi in over 2,000 of its restaurants by the end of this year.
Yum Brands clearly lays a great emphasis on China. The country is not only responsible for half of the total revenues, but its growing consumer class is expected to double from 300 million to 600 million by 2020. Therefore, Yum Brands plans to open 700 new units in China in 2014.
Sales in India currently comprise a very small part of the revenue pie, but the company sees great potential in a country with a population exceeding one billion people. The company is introducing a vegetarian line of products for Indian customers.
Yum Brands is planning rapid expansion beyond China and India, and expects to open 1,100 new units in 2014 in across the world.
As a result of these positive developments and expansions, the company promises a 20% EPS growth for 2014 and hopes to take the momentum further into the future with consistent double-digit EPS growth.
So, is YUM a Tasty Investment?
Yum Brands trades at a P/E of 32.1x and a forward P/E of 19x. The company is expected to post an EPS of $3.68 for FY14 and $4.23 for FY15. So, factoring in the EPS growth of over 20% in FY14, about 15% in FY15 and around 13% thereafter, the stock does not seem too expensive even at its current multiples. The scrip also comes with a dividend of $1.48 amounting to a decent yield of about 1.9%. The stock offers a safe investment option with a beta of only 0.71. So, a dip in price to $75 or below will provide a good opportunity to buy the stock.
Disclosure: The author has no positions in any stocks mentioned, and no plans to initiate any positions within the next 72 hours.
Business relationship disclosure: The article has been written by APEX Financial Consultants. This article was written by one of our research analysts. APEX Financial Consultants is not receiving compensation for this article (other than from Seeking Alpha). APEX Financial Consultants has no business relationship with any company whose stock is mentioned in this article