International Business Machines (NYSE:IBM) is one of the world's largest multinational business and technology services companies. It operates in 175 countries and employs over 430,000 people. Its shares trade on the NYSE and it's the second most heavily weighted component in the Dow Jones Industrial Average behind Visa (NYSE:V). The company has recently made a strong push into the cloud computing sector with hopes of gaining market share with its Enterprise Cloud System. However, it is having difficulties in emerging markets.
Global Conditions
GDP for a majority of developed markets has been growing and is seemingly stable for the moment (Exhibit 1). Additionally, corporate profit margins remain high. However, uncertainty plagues major economies creating difficulties in forecasting future growth.
Exhibit 1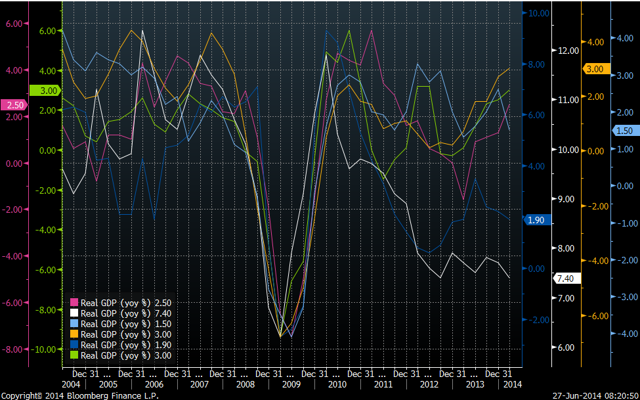 Click to enlarge
Moreover, GDP Growth is underperforming Corporate Profits with the spread between the two continuing to widen (Exhibit 2). Further economic analysis can be found in a previous article.
Exhibit 2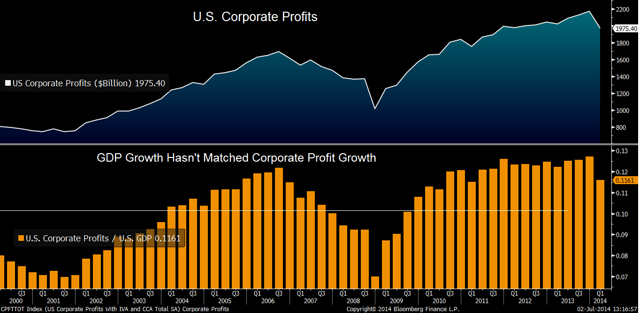 Click to enlarge
Business Conditions
The U.S. business leaders survey of future capital spending in six months is near the high end of the range (Exhibit 3), leading us to believe a portion of this will go to the IT sector. CEO confidence and Consumer confidence are also steadily rising (Exhibit 4).
Exhibit 3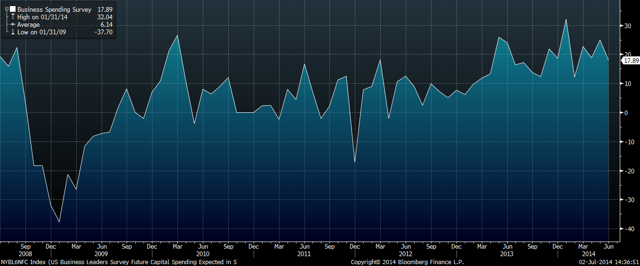 Click to enlarge
Exhibit 4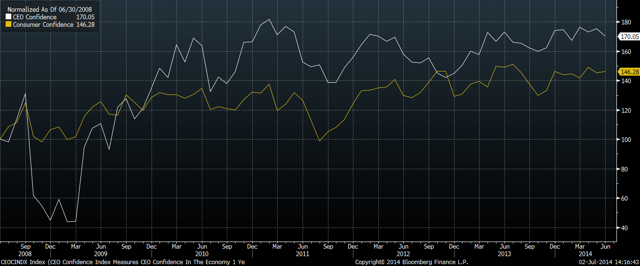 Click to enlarge
A note worth mentioning is that employment costs are just now beginning to rise compared to the Employment Cost Index (Exhibit 5). This may indicate these costs becoming a larger percentage of total expenses, therefore creating a drag on future profitability.
Exhibit 5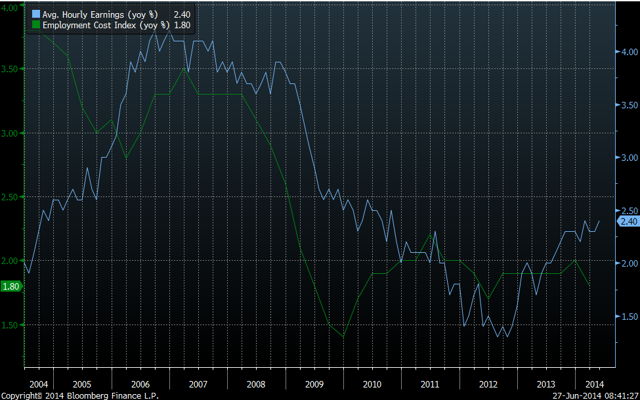 Click to enlarge
Industry Conditions
The NASDAQ has outperformed the major indices for a majority of the recovery (Exhibit 6). Will it continue to outperform going forward? The market thinks so, indicated by its widening spread with the Dow. This suggests an overall risk-on allocation with a skew towards technology.
Exhibit 6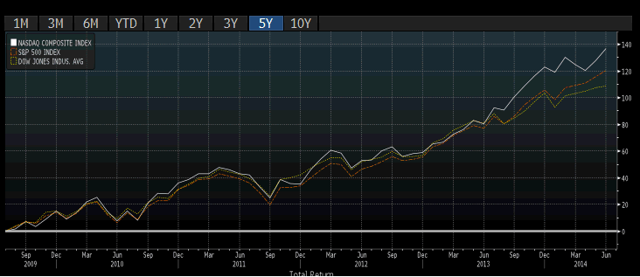 Click to enlarge
Image provided by Bloomberg Finance L.P.
The Information Services industry has experienced moderate growth and is expected to improve into the near future (Exhibit 7). However, it is currently 8% below consensus price targets, leaving room for further growth, or conversely, it may continue to under-perform in an uncertain economic environment. Additionally, IBM has struggled to increase its services business for the past several quarters, IT jobs continue to fall due to macroeconomic uncertainty and Accenture (NYSE:ACN) recently cut its top-end forecast.
Exhibit 7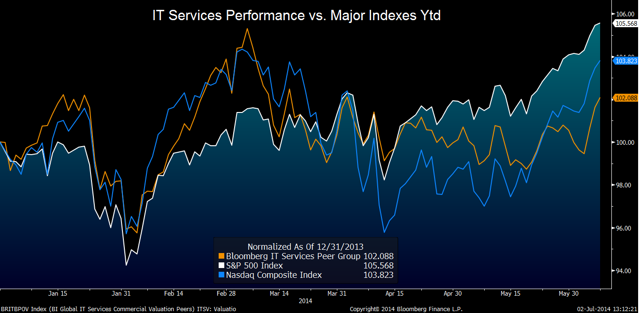 Click to enlarge
Global technology spending continues to rise, however the percentage of that spend allocated to IT Services is declining (Exhibit 8).
Exhibit 8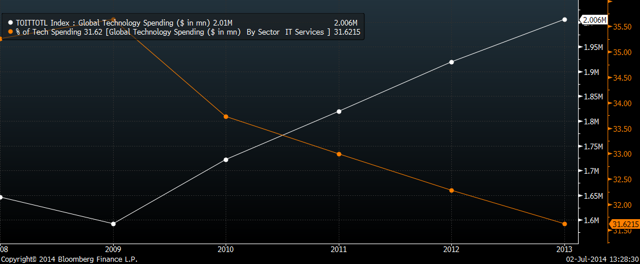 Click to enlarge
Finally, Price to Earnings for the sector remain low as price to cash flow are on a steady trend higher, signaling less effective uses of cash and a market that has priced in sluggish growth (Exhibit 9).
Exhibit 9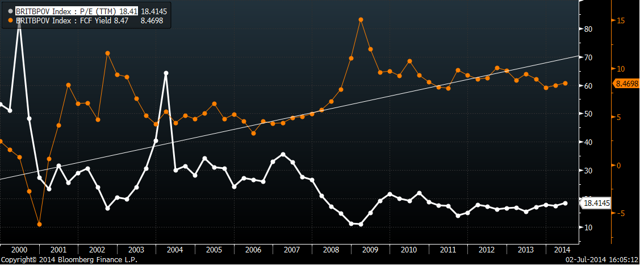 Click to enlarge
IBM Overview
Regarding IBM specifically, it has consistently underperformed the major indices as well as its industry (Exhibit 10).
Exhibit 10

Click to enlarge
Profit margins have remained in line with its peers as is expected going forward (Exhibit 11). However, P/E ratios have remained well under, with expectations of the pattern to continue (Exhibit 12).
Exhibit 11

Click to enlarge
Data provided by Bloomberg Finance L.P.
Exhibit 12

Click to enlarge
Data provided by Bloomberg Finance L.P.
Price to earnings and price to cash flow from the most recent 10-k continue to decline as shown in exhibit 13, possibly raising the interest of value investors who do not already own the company's shares.
Exhibit 13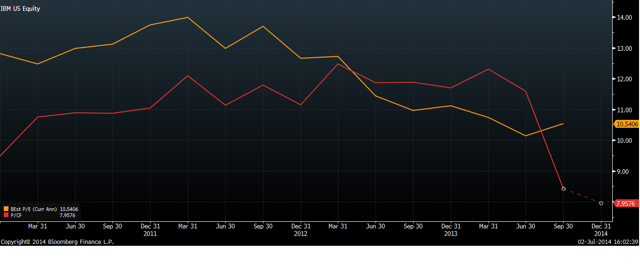 Click to enlarge
However, business has picked up recently moving Revenues and Free Cash Flow higher, potentially signaling a break in IBM's woes (Exhibit 14).
Exhibit 14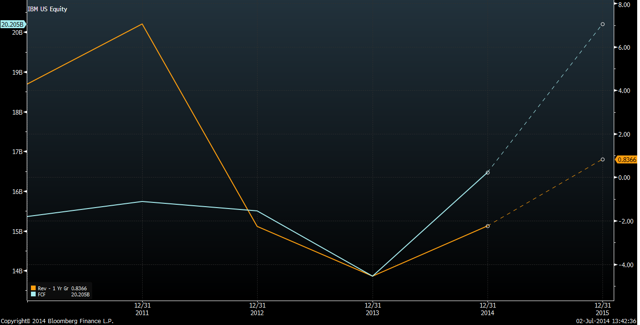 Click to enlarge
IBM Valuation
Industry analysts have consistently reduced their opinions of IBM equity with an average target price of $195.84 (Exhibit 15).
Exhibit 15

Click to enlarge
Data provided by Bloomberg Finance L.P.
Our in-house comparable company valuation analysis puts the estimated equity value at $200.44 and our DCF valuation is $191.96 per share. EV/EBITDA and EV/Revenue are currently greater than the average of its peers. Additionally in respect to its industry, IBM is undervalued according to P/E by nearly 20% and overvalued according to EV/EBITDA by almost 30%. Considering the closing price on 7/2/2014 of $188.39 and the puzzling fundamental picture, we feel the shares are accurately priced with little additional incentive to add to current holdings or establish new positions.
However, it has a correlation with the Nasdaq of .388 and with the S&P North American Technology Services Index of .513. Combined with a dividend yield of 2.36% makes it an attractive prospect to increase the reward/risk ratio through diversification, which may help reduce portfolio volatility.
Emerging Markets
IBM operates on a global scale, with significant operations in emerging markets (Exhibit 15). A prolonged emerging markets slowdown will drastically affect earnings. However, emerging markets have performed well in regards to major U.S. indices, rallying strongly from the February lows (Exhibit 16).
Exhibit 15

Click to enlarge
Data provided by Bloomberg Finance L.P.
Exhibit 16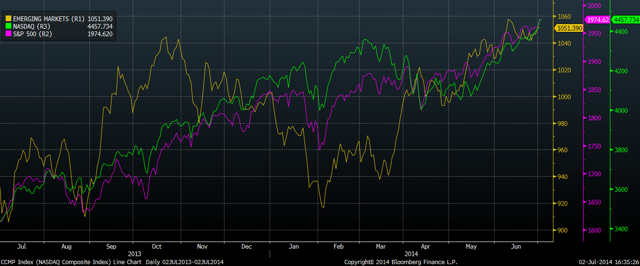 Click to enlarge
Conclusion
As IT jobs continue to fall in relation to an uncertain economic environment and considering an accurate pricing of shares, we are neutral to owning IBM as a standalone investment. However, considering the attractive dividend yield, low correlation to major indices, potential improvements in growth and the market's low price of growth, IBM would be an acceptable investment in a well-diversified portfolio.
Disclaimer: Michael Lee is an investment strategist at Long Street Capital Management, LLC ("LSCM"). This article is prepared by Mr. Lee as an outside business activity. As such, LSCM does not review or approve materials presented herein. The opinions and any recommendations expressed in this article are those of the author and do not reflect the opinions or recommendations of LSCM.
None of the information or opinions expressed in this article constitutes a solicitation for the purchase or sale of any security or other instrument. Nothing in this article constitutes investment advice and any recommendations that may be contained herein have not been based upon a consideration of the investment objectives, financial situation or particular needs of any specific recipient. Any purchase or sale activity in any securities or other instrument should be based upon your own analysis and conclusions. Past performance is not indicative or future results. Either LSCM or Mr. Lee may hold or control long or short positions in the securities or instruments mentioned.
Disclosure: The author has no positions in any stocks mentioned, but may initiate a long position in IBM over the next 72 hours. The author wrote this article themselves, and it expresses their own opinions. The author is not receiving compensation for it (other than from Seeking Alpha). The author has no business relationship with any company whose stock is mentioned in this article.