When looking for likely takeover targets, I look for companies that meet at least 3 of 4 of the following qualities mentioned in the following paragraph. Though I have only called two takeovers correctly in previous articles, they too shared these characteristics.
Growth Profile - Those with a good mid and/or long term production growth profile. This becomes even more important if the acquirer is able to increase total mill throughput, thus achieving higher production growth than the acquiree;s initial estimates. This growth, however, must have at least a modest internal rate of return (>25% Pre-Tax).
Diversification - Typical companies have one or two flagship operations which is usually the main reason for the acquisition but companies with additional mines producing between 75k-150k can make or break deals. For example, I think Minefinders (MFN) would have been bought already should they have had compelling drilling results at any of their exploration properties. This obviously is only the case part of the time, but is an good quality to have regardless.
Upside/Exploration Potential - This is a very big factor at least for companies with top tier management. A great example of this is Red Back mining (bought by Kinross), drastically increased 2p reserves at both of their flagship mines multiple times in 2009 and 2010.Clickhere to read a previous article where I talk in depth on this topic.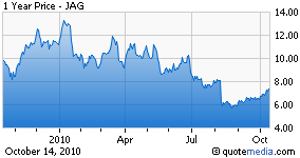 Jaguar Mining (NYSE:JAG) - Though I have pushed Jaguar mining for over a year now, my take on the company hasn't changed as they are just experiencing extreme growing pains which I think will moderate over the next two to three quarters as they complete expansion projects. A larger producer could bring down cash costs faster as well as higher production via higher mill throughput at two of their flagship mines, notably their brilliant purchase of Gurupi. I expect to take a lot of guff for sticking to assessment of this company but sometimes you have to play they waiting game. Mines:
Turmalina - 75k in 2011 - 110k by 2014-2015
Paciencia - 70k in 2011 - 200k by 2014-2015
Caete - 80k in 2011 - 150k by 2015
Gurupi - 100k in 2013 - 140k in 2013 and beyond
Valuation: @ 14.5% WACC, $1,300 gold, $625 cash costs
Base Case - $14.02/Share - $21.35/Share
EV/NAV - .29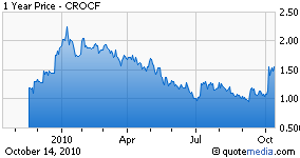 Crocodile Gold (OTCQX:CROCF) - Similar to Jaguar in the sense that it has multiple producing mines. Although they operate in Australia, the stock has already been knocked for the potential super-profits tax. Crocodile provides a unique blend of short, medium and long term growth (approx 80k in 2010 to approx 400-450 by 2015). Cash Costs are $750 in the current FY but will drop to $650 and $550 the next two years. This has to do with a combination of open pit and underground operations.
Camp includes:
Howley - Open Pit
Brocks Creek
North Point
Princess Louise
Cosmo - Underground
Cosmo and Howley have excellent exploration potential, which potentially will allow them to reach their target of 500k+/oz over the next 5 years. I mentioned 450k as their target until more dependable data that this can be achieved is available.
Valuation: Same inputs as Jaguar
Base Case - $3.13 - $4.84
EV/NAV - .44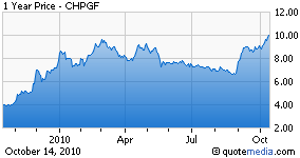 Chesapeake Gold (OTCQX:CHPGF) - Although this is an exploration company, they own a world class project, which will produce nearly 750k once in production, but it is doubtful they can bring it online by themselves as the capital requirements are approx $3B Mines include:
*Metates - One of the largest undeveloped gold mines in the world. Expected to produce 1m ounces a year for the first 5 and 775k thereafter for 15 years. But as I mentioned above, it will likely be developed by another producer or part of a JV.
La Cecilia
La Ginta
El Tecomate
The last three have showed promising drill results, although nothing like their flagship property. They also have more or less unexplored property in Rio Minas and Tatalia. These mines as a whole have a lot of potential but the lack of capital will prevent Chesapeake from developing these mines in house.
Valuation:
Base Case - $24.50-$32.12
EV/NAV - .16
This list could have been a mile long and included the likes of Colossus Minerals (OTC:CLSMF), Keagan Resources, Bear Creek (OTCPK:BCEKF) etc.
Disclosure: Author long JAG and CRK