I reiterate my hold rating on Windstream Holdings Inc (NASDAQ:WIN). Over the past few quarters, the company has been struggling to stabilize its declining revenues. In addition, the company's broadband subscriber base is lagging behind its peers. Moreover, the company's EPS has been constantly missing analyst estimates due to declining revenues and a weak subscriber base. Although the company has mapped out its investment initiatives to support revenues and gain subscriber addition momentum, these long-term growth-generating initiatives will keep the company's free cash flow [FCF] base pressurized in the near term. Moreover, with increased strain on its FCF base, the company's high dividend yield of 9.90% is also subject to uncertainty.
Struggle To Stabilize Revenues Continues…
WIN has been trying to overcome competition and stabilize its revenues, but its efforts to stabilize the declining revenue trend have not paid off yet, as it once again reported a revenue decline of 2% year-over-year in 1Q14, as shown in the graph below.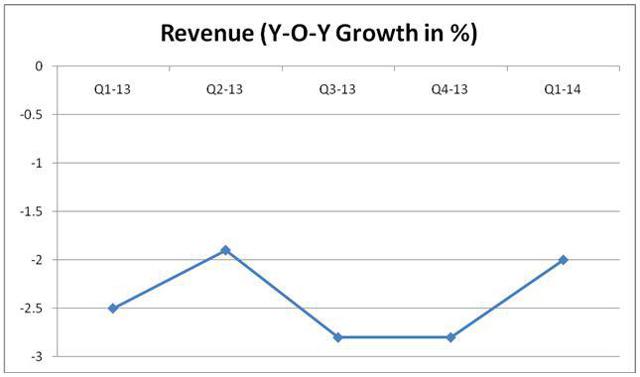 Click to enlarge
Source: Company's Quarterly Earnings Report
WIN's business service revenue was largely flat year-over-year in 1Q14 due to lower sales of legacy products such as voice and long distance services, which nearly offset the increase of 3% year-over-year in data and integrated service revenue. Moreover, the company's wireless carrier clients, who are constantly decommissioning copper-line voice connections to their signal towers, also added to the declining business service revenues.
In its attempt to enhance business service sales, the company has launched an expanded advertising campaign. I believe in the long run, the company will be able to increase its product awareness and highlight its integrated value scheme and customized services through the expanded advertising campaign, which will portend well for the growth of its revenues. But in the near term, the advertisement expenditure will inflate its cost base, contracting the company's profitability and margins.
Moreover, the company has also announced taking aggressive pricing initiatives in the second half of 2014 to grow business revenues. As in the recent past, the North American telecom sector has seen a gradual increase in price-based competition, and I believe WIN may witness pressure on its subscriber base due to its plans of increasing prices.
Furthermore, WIN's consumer service revenue also contributed to the overall revenue decline by posting a decrease of 4% year-over-year. Although the company's consumer service segment witnessed a growth of 2% year-over-year in broadband revenues, the company's broadband subscriber metric is still lagging behind its peers. As in 1Q14, broadband subscriber additions for Frontier Communications (NYSE:FTR) were 7% year-over-year, CenturyLink (NYSE:CTL) posted a broadband subscriber growth of 2.4%, and WIN experienced a negative subscriber growth of 2.9%. The chart below shows broadband subscriber additions for WIN, FTR and CTL in 1Q14.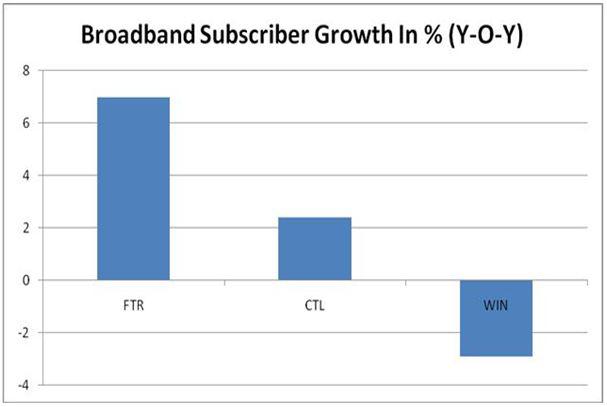 WIN now expects to add 75,000 rural households by the end of 2014 under the stimulus program to improve its broadband subscriber base. Moreover, the company is pursuing several investment opportunities to expand its broadband network capacity and capabilities. The company's investments in broadband and other growth-generating opportunities led to capital expenditure of $153 million in 1Q14. Furthermore, WIN expects to incur total capital expenditure of $800-$850 million by the end of 2014. I believe this large scale capital spending to improve revenues and churn will keep the company's cash base pressurized in the near term.
Also, the company's weak subscriber additions and revenue decline affected its net income, which was down 70% year-over-year in 1Q14. Due to its weak earnings, WIN missed analyst expectations for 1Q14 EPS by 55.56%. Moreover, analysts also expect WIN's earnings to remain weak in the near term due to intense competition and growth initiatives.
High Dividend Yield = High Concern
Many dividend-seeking investors are inclined towards WIN due to its high dividend yield of 9.90%. But in the near future, as pressure on cash flows builds up, the company is highly likely to announce a dividend cut. In 1Q14, the company generated only $153 million in free cash flows and its dividend payout ratio remained at 297.1%. Going forward, as the company continues to invest aggressively in broadband expansion, network optimization and other growth initiatives, the high CAPEX will pressurize its cash flow base, making dividends offered by the company uncertain.
Conclusion
The company's efforts to stabilize its revenue base are still in progress. Moreover, the competitive pressure from peers has taken a toll on the company's broadband subscriber base. I believe the company's aggressive investments to stabilize revenues and grow subscriber base will keep cash flows under pressure, which brings WIN high dividend yield under threat. Due to the aforementioned factors, I recommend hold rating on the stock.
Disclosure: The author has no positions in any stocks mentioned, and no plans to initiate any positions within the next 72 hours. The author wrote this article themselves, and it expresses their own opinions. The author is not receiving compensation for it (other than from Seeking Alpha). The author has no business relationship with any company whose stock is mentioned in this article.