History of Alibaba/Yahoo! Partnership
In 2005, Alibaba Group Holding Ltd. (NYSE:BABA) was just an Internet e-commerce startup, searching for investors. Yahoo (NASDAQ:YHOO) saw the Chinese website as an opportunity to diversify its cash holdings and gave $1 billion to help fund the startup. Now, Yahoo is looking to reap some of the rewards from that investment; some analysts value YHOO's current stake at $26 billion-all of which Yahoo plans to cash out after Alibaba's IPO.
E-commerce has been growing for the past few years at a quick rate in China, as evidenced by such successful IPOs as JD.com (NASDAQ:JD) and Jumei International (NYSE:JMEI).
These have helped heat the market up for Alibaba, which is already estimated to handle around 80 percent of China's e-commerce trade.
Yahoo's Rising Valuation
With the Chinese e-commerce giant Alibaba set to go public as soon as August, Piper Jaffray's Internet analyst Gene Munster considered the price of Yahoo shares as undervalued and recently upgraded shares of Yahoo to "overweight" and hiked the price target for the value of Yahoo shares to $43 from $37 per share.
Yahoo currently holds a 23 percent interest in Alibaba and will be selling 40 percent of their total investment when Alibaba holds their IPO.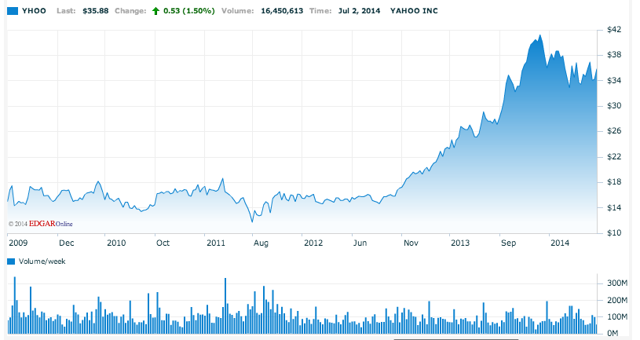 (Nasdaq.com)
Chinese IPOs Help Heat Up The Market For YHOO Stock
If recent initial public offerings of Chinese related companies are any indication of future performance, the Alibaba IPO will be well received. JD.com Inc., a Chinese website that's similar to Amazon.com (NASDAQ:AMZN) and had over 47 million customer accounts that were active in 2013, held its IPO on May 22, 2014.
Initially priced at $19, shares of JD.com opened at a price of $21.75 on its initial day of trading. Since then, investors have taken an interest in shares of the Chinese website and pushed the price up to a high of $31.22 or about 44 percent higher than where it traded on its first day as a publicly listed company.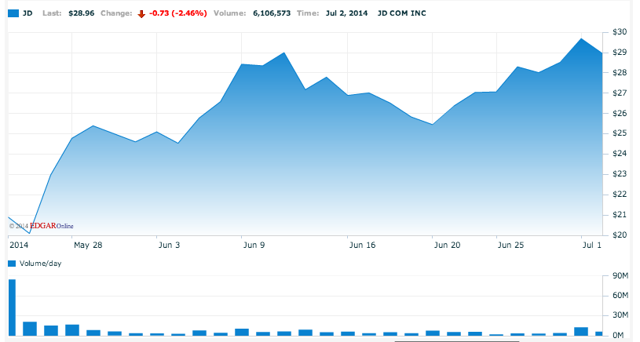 (Nasdaq.com)
Chinese-based companies raised a total of $3.5 billion through IPOs listed on exchanges in the United States during the second quarter of 2014. According to data from Bloomberg, this accounts for the most amount of money raised for Chinese companies listed in the United States since the fourth quarter of 2007- and primes the way for the third quarter of 2014 when Alibaba will become public.
These data are a strong indication that investors are taking an interest in Chinese-based companies-even during times of volatility in technology stocks traded on exchanges in the United States. Before the IPO of JD.com, the NASDAQ saw its sharpest decline in tech and Internet stocks for the year, and the S&P 500 index suffered its biggest pullback in a month.
The positive reception of JD.com's IPO and increased interest in purchases of its shares indicates that investors are taking notice of the growth prospects of Chinese companies in the e-commerce sector--all of which is a boon for YHOO.
Increasing Demand For Alibaba's E-Commerce Business Also Helps YHOO
According to government data, Internet activity by Chinese users is expected to grow by as much as 38 percent from 618 million to possibly more than 850 million by the year 2015. Data from McKinsey & Co. estimates that online retailing activity will triple to $395 billion in 2015 from just four years ago.
China currently leads the world in internet usage.

(Source)
Shareholder interest in Chinese Internet companies slowed due to profit warnings during the last quarter of 2011 and into 2012, but with these new indications of growth from Chinese users, the prospects for investment in Chinese e-commerce is trending up and may offer benefits for investors who take a stake in shares of Yahoo or Alibaba.
Outlook for Yahoo In 2014 And Beyond
While the market trends outlined above have certainly created a more positive and exciting environment for YHOO stock, Yahoo as a company continues to faces several structural issues.
These include defining its core business (amid unclear and expensive acquisitions, such as Tumblr), monetizing its mobile platform, and beefing up its original content-all of which could render a less well capitalized company obsolete, particularly as rival Google (GOOG, GOOGL) hones itself for further success-an influx of at least $10 billion (selling the minimum 40% of its shares), spent right, could go a long way towards pulling Yahoo's many pieces together.
YHOO's Alibaba stake has boosted the stock in the past two years, approximately the length of CEO Marissa Mayer's leadership; thus, it is difficult to extract what Mayer has done for the company, independent of a growing investment, made before her time.
How Mayer chooses to spend Yahoo's newfound riches will not only be critical for her tenure but also the staying power of the company. It is not likely that Yahoo will have a second chance to turn itself around after Alibaba's IPO.
For now, until Alibaba's IPO at least, investors should remain positive on YHOO stock, along with that of JD.com, as BABA affects ripples throughout the e-commerce industry worldwide.
We invite readers wishing to join the discussion on Yahoo and Alibaba to click the +FOLLOW button above the title of this article and +Get real time alerts for the latest news.
Disclosure: The author is long YHOO. The author wrote this article themselves, and it expresses their own opinions. The author is not receiving compensation for it (other than from Seeking Alpha). The author has no business relationship with any company whose stock is mentioned in this article.