At the risk of being repetitive, I love John Chen.
In case you missed it, Mr. Chen came out like a West Coast rapper taking shots at an East Coast rapper this past week and dissed Google (NASDAQ:GOOG) (NASDAQ:GOOGL) on the record for its choice of security providers.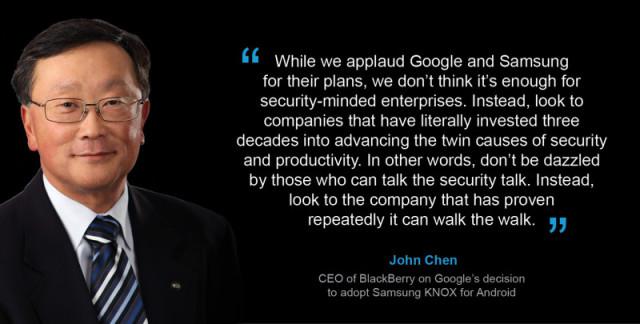 (Source - ubergizmo)
I love the confident demeanor of this guy. Couldn't be happier with him as CEO of a company that I currently own stock in. Might be one of QTR's favorite CEOs of all time; but let's just wait and see how things shape up over the next couple of years before going that far.
On another note, I noticed this week that there's some things that the BlackBerry (NASDAQ:BBRY) bears on this site don't really seem to get. Most of the bears have taken the month of July off, thus far, as BlackBerry has come out and absolutely provided monstrous returns since its last earnings report and Citron Research's last reaffirmation of their bullishness.
But, the one argument that prompted a BlackBerry bear to send me a private message instigating a fight was that BlackBerry's smartphone sales aren't what they used to be.
Duh.
Perhaps my previous articles, coupled with everything that's come out of Mr. Chen's mouth have not been clear enough - BlackBerry is no longer primarily a smartphone company. Let that one sink in.
Yes, the company is selling phones, but it's using that as supplemental revenue while it tries to monetize "the Internet of Things" with one of the world's most secure mediums for doing so. BlackBerry is oh-so-much more than just a phone company, I assure you.
The smartphone strategy shifted when Mr. Chen took office. BlackBerry is no longer trying to dominate the U.S. smartphone market - it's doing what it was doing before becoming a consumer phone - focusing on business and security. That means that a couple millions users for business will continue to use its phones, while BlackBerry tries to create cheaper smartphones for emerging markets that are just being introduced to smartphones.
Specialized niche for security in the U.S., Canada, and the U.K. Cheaper, Foxconn (OTC:FXCOF)-built smartphones for emerging markets.
Got it?
Just this past week, we've learned, Africa is next on BlackBerry's list of emerging market countries to expand into.
"The BlackBerry Z3 smartphone gives users more ways to securely communicate and collaborate and extends the BlackBerry 10 platform experience to a new generation of South African customers at an attractive price point."

-Yudi Moodley, Director of BlackBerry Africa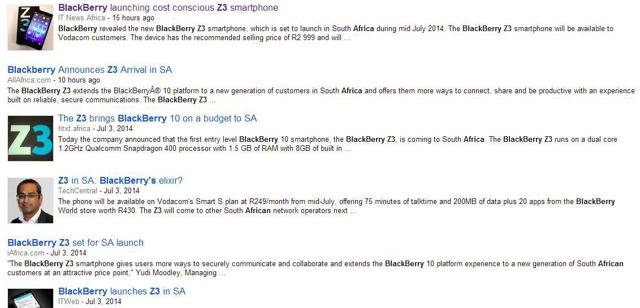 Click to enlarge
IT New Africa reported:
BlackBerry revealed the new BlackBerry Z3 smartphone, which is set to launch in South Africa during mid July 2014. The BlackBerry Z3 smartphone will be available to Vodacom customers. The device has the recommended selling price of R2 999 and will also be available on the Vodacom Smart S plan at R249 per month.

According to the company, the BlackBerry Z3 extends the BlackBerry 10 platform to a new generation of customers in South Africa and offers them more ways to connect, share and be productive with an experience built on reliable, secure communications.

The BlackBerry Z3 features a 5" touch display, unique messaging and typing experience, and is equipped with BlackBerry 10 OS version 10.2.1. The device is also Android app compatible; however, only a few apps are available at present.
As such, we saw that the company had a fantastic launch of its new Z3 product in Jakarta this year. Demand was good, according to Mr. Chen, and the next steps on the smartphone rollout began to line up. I talked about this in my last piece:
Mr. Chen, on the company's last conference call, made a note that the demand for the Z3 in Jakarta was very good - almost to the point where the company had trouble keeping the item in stock at some places. This demand would run commensurate with Chen's statements made during the company's conference call about optimistic thinking in India:

When speaking about the Z3 launch in Indonesia, Chen noted there were somewhere around 900 press releases and articles that were predominately favorable in Indonesia. He noted that the brand is strong and "very popular" with people there. Chen went on to explain that demand looked strong and that inventory looked low at certain periods. "Volume forecasts are running ahead of the company's expectations," he said. India and other countries will be coming in the coming weeks - and according to Chen, they're all showing strong demand. Extremely bullish notes on the plan to move BlackBerry into emerging markets, if you ask this investor.
So, Indonesia looking good.
Last week, I wrote a piece suggesting that BlackBerry imports into India showed that the company had the rubber hitting the road there. According to Zauba, BlackBerry's Z phone imports seem to have doubled for the month of June in India:

Click to enlarge

Click to enlarge
So, India looking like there's progress now, too.
Africa is next.
If BlackBerry can do in Africa and India what it's successfully done in Jakarta, we're looking a nice slow, gradual rebirth of the smartphone business, which should help the company stay afloat while it figures out the best ways to monetize BBM, QNX, and BES 12.
As the ship steadies, I expect some of the bear argument to simply be that the stock has already run up so much that there's no point of getting into it. After all, this was the bear argument du jour and on last week's bear vs. bull on CNBC regarding BlackBerry. That argument is nonsense for two reasons:
1. The company is still relatively undervalued in terms of fundamentals (price/book, P/E) and having an outstanding balance sheet.
2. The company still has a monster short position.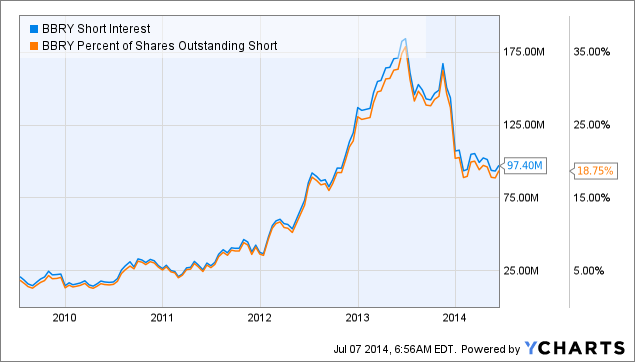 BBRY Short Interest data by YCharts
With 18% of the float held short, it's not going to take a buyout to catalyze a continued big move to the upside. While I think the stock moves up regardless of news, the 97 million shares short are easily going to light the fire under BBRY for the next few months.
This is one name I would not want to be short. With QNX going mainstream in vehicles, the chance of BBM being bought or monetized around the corner, the reintroduction of the "ugly" Passport for business, and millions of Foxconn-made phones hitting the ground in emerging markets - the future looks bright for Mr. Chen.
There is so much more than simply a buyout that longs are looking forward to with BlackBerry. Mr. Chen could continue his turnaround of the company, not put it for sale, and BlackBerry could once again be a successful entity on its own. Will it, at that point, possibly begin to look attractive to potential buyers? Yes. Would potential buyers then have to offer a healthy premium to shareholders? Yes. But, BlackBerry could do just fine on its own.
As the company takes on yet another country this month, I remain bullish on the name. It remains my largest position, and I'm happy to report that Mr. Chen's plans of world domination seem to be continuing on, or ahead of, schedule.
Best of luck to BlackBerry bulls here.
Disclosure: The author is long BBRY. The author wrote this article themselves, and it expresses their own opinions. The author is not receiving compensation for it (other than from Seeking Alpha). The author has no business relationship with any company whose stock is mentioned in this article. BBRY is my largest position.