Polaris Industries (NYSE:PII) popped up on my screener of high-ROA businesses at reasonable prices, and since I had already glanced at the stock in the past, I decided to take a look.
The company began operations in the 1950s, pioneered the snowmobile with what was at the time just a gas-powered sled, and now is an $8B+ enterprise selling off-road vehicles, snowmobiles, motorcycles, small vehicles, parts, garments and accessories.
Positives
Best-of-Breed Market Leader - Polaris has the largest market share in North American powersports, has taken quite a bit of market share recently, and is probably best-of-breed fundamentally.
Very Strong ROIC - I calculate ROIC a bit differently than the company, but no matter how you calculate it, you are going to get a very high number here. I get 33.5% after-tax for LTM. The company's number is a bit higher (the red represents the S&P 500 average, and the green is the company's peer group):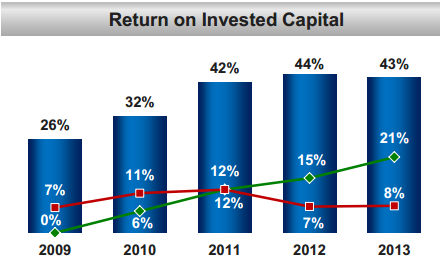 Source: Polaris May 2014 Investor Presentation
I believe ROIC is the best quantitative representation of business quality, and Polaris "sports" one of the higher numbers I've observed (good is 10%-15%). Further, the number has increased recently, as the graphic above shows, and if we use ROA as a proxy, the company has maintained this high profitability over much more than just 2009-2013: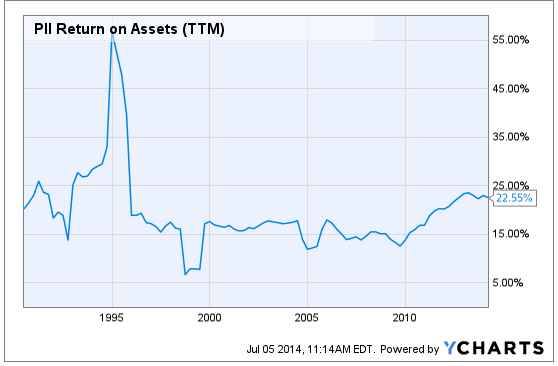 Strong Brand/Reputation - Polaris seems to have a strong brand, especially relative to its revenue size, and its products seem well-respected among the serious sportsmen of the powersports industry.
Four companies handle virtually all of the snowmobile industry and seven for ATVs. ACAT has significant share in both industries and claims to have taken share in both FY14 but I believe the company's market share has fluctuated longer term. From the 2014 10-K:

We believe there are currently more significant barriers to entry into the snowmobile market than existed in the 1970s. These barriers include increased brand loyalty, long-standing dealer and distributor networks and relationships, emission and safety regulations, four-stroke engine development costs, manufacturing and engineering expertise and higher initial start-up costs.

The above claims seem reasonable.
The dealer network seems an exceptional barrier. Polaris' network consists of 1750 independent dealers in North America. These dealers have coordinated local advertising campaigns with Polaris and established relationships. Dealers often sell Polaris products in multiple categories. It makes sense that they would be reluctant to switch to another company's products unless they really could not sell Polaris vehicles, which is unlikely at this point.
Somewhat Diversified Revenue Stream - The company manufactures and sells vehicles in a variety of powersport categories:

Click to enlarge
Source: PII 2013 10-K
I would not consider the company highly diversified, though, as many powersport categories target the same consumer demographic. Also, 2/3rd of the mix is still in ORVs.
Somewhat Timely - I like to buy stocks at relative lows. From that view, shares are pretty timely 8% off their 52-week high, especially for a stock that has increased rather consistently over time: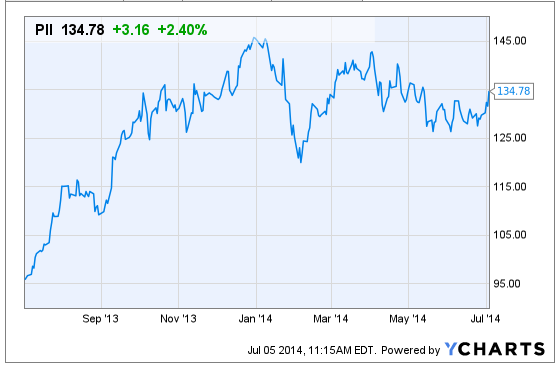 Strong Balance Sheet - The company's debt/assets is quite low at 17%, and that despite its track record as a consistently high-ROIC enterprise over 20+ years. I like that the company is creditworthy, with cost of debt of 3%-4%, despite maturities several years out. I also like that there is plenty of room for the company to take on more leverage to create value and that the company is executing on that front, with financial leverage tripled over the LTM.
Track Record of Value Creation - Over the last 5 years, PII stock has remarkably nearly been a 9-bagger, for annualized returns of 54%: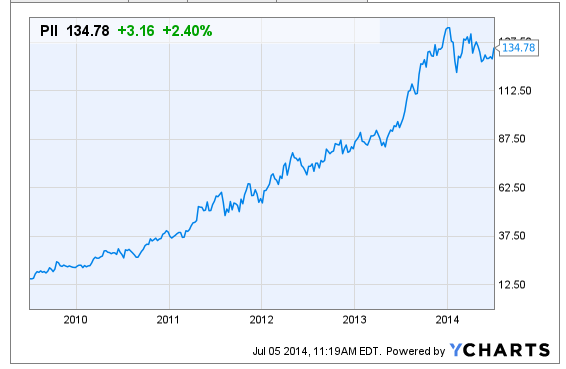 In the search for companies that will create lots of shareholder value going forward, it makes sense to consider past value creation.
Negatives
Cyclical/Unpredictable Industry - Again, 2/3rd of PII's revenue mix is in ORVs, which is just inclusive of ATVs and side-by-sides (multi-passenger ATVs). In my view, the ORV industry is pretty unpredictable and possibly cyclical. The following comes from the company's 2013 10-K:
ATVs were introduced to the North American market in 1971 by Honda Motor Co., Ltd. ("Honda"). Other Japanese motorcycle manufacturers, including Yamaha Motor Corporation ("Yamaha"), Kawasaki Motors Corp. ("Kawasaki"), and Suzuki Motor Corporation ("Suzuki"), entered the North American ATV market in the late 1970's and early 1980's. We entered the ATV market in 1985, Arctic Cat Inc. ("Arctic Cat") entered in 1995 and Bombardier Recreational Products Inc. (BRP) entered in 1998 with their Can-Am product line. In addition, numerous Chinese and Taiwanese manufacturers of youth and small ATVs exist for which limited industry sales data is available. By 1985, the number of three- and four-wheel ATVs sold in North America had grown to approximately 650,000 units per year, then dropped dramatically to a low of 148,000 in 1989. The ATV industry then grew each year in North America from 1990 until 2005, but declined between 2005 and 2011, primarily due to weak overall economic conditions and a move to side-by-side vehicles, until returning to growth in 2012. Internationally, ATVs are also sold primarily in Western European countries by similar manufacturers as in North America. Due primarily to a decline in ATV sales in Western Europe, we estimate that during 2013 world-wide industry sales decreased approximately two percent from 2012 levels with an estimated 407,000 ATVs sold worldwide.

We estimate that the side-by-side vehicle market sales increased approximately ten percent during 2013 over 2012 levels with an estimated 385,000 side-by-side vehicles sold worldwide. The side-by-side market is up primarily due to continued innovation by existing and new manufacturers. The main competitors for our RANGER and RZR side-by-side vehicles are Deere & Company ("Deere"), Kawasaki, Yamaha, Arctic Cat, Kubota Tractor Corporation ("Kubota"), Honda and BRP's Can-Am product line.

We estimate that total off-road vehicle industry sales for 2013, which includes core ATVs and side-by-side vehicles, increased three percent from 2012 levels with an estimated 792,000 units sold worldwide.
For many industries, I am sort of able to intuitively get a rough idea of what demand will look like in 5-10 years, but I have no clue what will happen with powersports. I tend to think the industry will do okay as powersports competitions like the X Games become more popular and the US economy continues its slow recovery, but I have very little confidence in that notion.
Industry Prone to Recession - Occasionally, powersport vehicles are used to improve productivity or complete some necessary task, but the vast majority of the time, it is for joy/entertainment (hunting, fishing, or just riding) and thus a discretionary purchase. It makes sense that the industry was hit hard in 2008-2009, and I would expect that to happen again in another economic downturn, which is troublesome.
Pricey Stock - The company is aiming for $8B in revenue, a 10%+ net margin, and in turn $800M in net income in 2020. That implies 11.5% annual growth in net income over the next 6.75 years, and probably closer to 15% earnings per share growth with the effect of share repurchases. The company also pays a small dividend (1.42% yield). Considering all that and how value-accretive the growth is with the company's high ROIC, I think the stock probably deserves after-tax multiples of at least 20x. The stock currently trades for:

- 21x FY2014 EPS guidance

- 29.4x LTM "return" ((EBITDA - Capex - CIWC)*(1 - Tax Rate))

- 18x LTM operating cash flow

- 37x LTM free cash flow

- 11x 2020 net income target
The stock does not seem horribly overvalued, but it also does not seem cheap. The scariest consideration is that at 11x, the 2020 net income target if the company's forward prospects deteriorate considerably to average or a bit below average (and a lot can change over 7 years), multiple contraction could result in PII market cap being unchanged in 7 years. I don't think this is out of the question, as there seem to be significant execution risks.
Conclusion
There is a lot to like about Polaris. It has many of the elements of a high-quality company, but I was a bit disheartened by how unpredictable the powersports industry is. The stock price also seems to reflect the qualitative elements, ROIC, and growth. I am avoiding the stock for now, but will continue to follow it.
Disclosure: The author has no positions in any stocks mentioned, and no plans to initiate any positions within the next 72 hours. The author wrote this article themselves, and it expresses their own opinions. The author is not receiving compensation for it (other than from Seeking Alpha). The author has no business relationship with any company whose stock is mentioned in this article.