The following is a list of the 15 REITS with the lowest Put/Call ratios, i.e. a large number of open call positions relative to open put positions (bullish options market sentiment).

To give perspective on investor sentiment, we'll also include data on short float and performance.

Options data sourced from Schaeffer's, short float data sourced from Finviz. Full analysis below.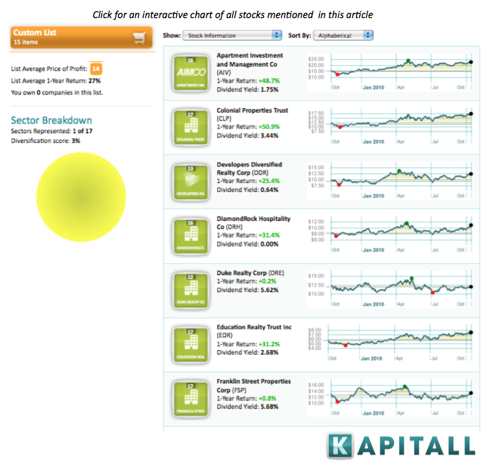 The list has been sorted by the Put/Call ratio.

1. Diamondrock Hospitality Co. (NYSE:DRH): Market cap of $1.66B. Call open interest at 1,446 contracts vs. put open interest at 110 contracts (Put/Call ratio at 0.08). Short float at 5.62%, which implies a short ratio of 4.71 days. The REIT has gained 26.32% over the last year.

2. Franklin Street Properties Corp. (NYSEMKT:FSP): Market cap of $1.07B. Call open interest at 1,288 contracts vs. put open interest at 147 contracts (Put/Call ratio at 0.11). Short float at 6.0%, which implies a short ratio of 15.7 days. The REIT has gained 10.49% over the last year.

3. Education Realty Trust Inc. (NYSE:EDR): Market cap of $428M. Call open interest at 1,398 contracts vs. put open interest at 171 contracts (Put/Call ratio at 0.12). Short float at 4.70%, which implies a short ratio of 7.41 days. The REIT has gained 34.48% over the last year.

4. Senior Housing Properties Trust (NYSE:SNH): Market cap of $3.07B. Call open interest at 3,076 contracts vs. put open interest at 440 contracts (Put/Call ratio at 0.14). Short float at 2.70%, which implies a short ratio of 3.34 days. The REIT has gained 34.41% over the last year.

5. Duke Realty Corp. (NYSE:DRE): Market cap of $3.05B. Call open interest at 2,617 contracts vs. put open interest at 378 contracts (Put/Call ratio at 0.14). Short float at 2.44%, which implies a short ratio of 2.18 days. The REIT has gained 9.39% over the last year.

6. Colonial Properties Trust (NYSE:CLP): Market cap of $1.24B. Call open interest at 1,201 contracts vs. put open interest at 200 contracts (Put/Call ratio at 0.17). Short float at 5.87%, which implies a short ratio of 5.28 days. The REIT has gained 58.08% over the last year.

7. Redwood Trust Inc. (NYSE:RWT): Market cap of $1.18B. Call open interest at 5,349 contracts vs. put open interest at 933 contracts (Put/Call ratio at 0.17). Short float at 6.43%, which implies a short ratio of 9.57 days. The REIT has gained 5.22% over the last year.

8. Getty Realty Corp. (NYSE:GTY): Market cap of $830M. Call open interest at 4,165 contracts vs. put open interest at 760 contracts (Put/Call ratio at 0.18). Short float at 5.17%, which implies a short ratio of 9.92 days. The REIT has gained 20.32% over the last year.

9. Omega Healthcare Investors Inc. (NYSE:OHI): Market cap of $2.17B. Call open interest at 2,369 contracts vs. put open interest at 437 contracts (Put/Call ratio at 0.18). Short float at 6.98%, which implies a short ratio of 6.88 days. The REIT has gained 57.52% over the last year.

10. Healthcare Realty Trust Inc. (NYSE:HR): Market cap of $1.51B. Call open interest at 773 contracts vs. put open interest at 156 contracts (Put/Call ratio at 0.2). Short float at 6.55%, which implies a short ratio of 8.71 days. The REIT has gained 18.95% over the last year.

11. Apartment Investment & Management Co. (NYSE:AIV): Market cap of $2.68B. Call open interest at 2,795 contracts vs. put open interest at 569 contracts (Put/Call ratio at 0.2). Short float at 9.31%, which implies a short ratio of 5.75 days. The REIT has gained 53.11% over the last year.

12. Kimco Realty Corporation (NYSE:KIM): Market cap of $6.88B. Call open interest at 3,992 contracts vs. put open interest at 850 contracts (Put/Call ratio at 0.21). Short float at 4.29%, which implies a short ratio of 3.34 days. The REIT has gained 40.28% over the last year.

13. Glimcher Realty Trust (GRT): Market cap of $557M. Call open interest at 1,118 contracts vs. put open interest at 249 contracts (Put/Call ratio at 0.22). Short float at 3.99%, which implies a short ratio of 3.58 days. The REIT has gained 113.69% over the last year.

14. Developers Diversified Realty Corp. (NYSE:DDR): Market cap of $3.14B. Call open interest at 9,066 contracts vs. put open interest at 2,250 contracts (Put/Call ratio at 0.25). Short float at 4.59%, which implies a short ratio of 3.16 days. The REIT has gained 35.24% over the last year.

15. Resource Capital Corp. (NYSE:RSO): Market cap of $340M. Call open interest at 1,037 contracts vs. put open interest at 312 contracts (Put/Call ratio at 0.3). Short float at 4.55%, which implies a short ratio of 3.05 days. The REIT has gained 51.64% over the last year.


Disclosure: No positions