Whole Foods (NASDAQ:WFM) has lost a significant amount of its value since the beginning of 2014. Investors have found themselves giving back nearly 30% of the gains that the company had brought with it into the new year. You can see the small bump from when investors began to speculate about the company potentially being bought out - since then, Whole Foods has once again fallen behind the $40 mark.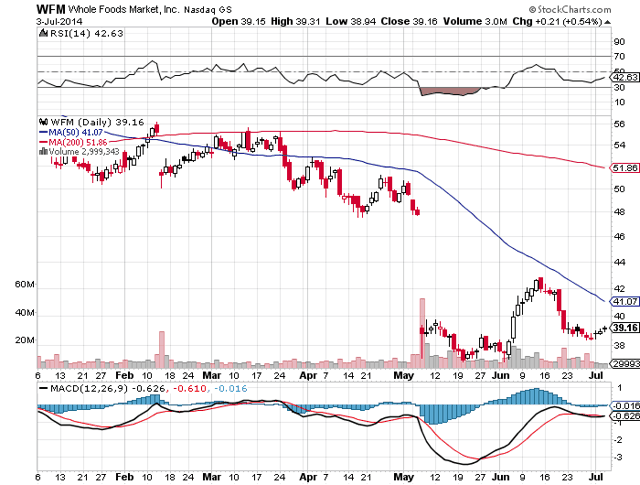 The company has fallen nearly 40% since November 2013, where it briefly topped $65/share.
Whole Foods was established in 1980, and currently has over 350 stores. In the beginning of May, the company fell on heavy volume after its earnings report. Investors didn't like the guidance that the company issued, combined with the same store sales comparables that were offered. Despite its recent haircut, the company continues to trade at a large multiple, valued at a forward P/E of 23 and trading at nearly four times its tangible book value.
But, this makes the company cheap compared to the way it's been priced in the past.
There is little doubt that there is a major trend in place with the way that people do their shopping for food. The emphasis on going green, healthy and organic has been the recipe for growth in the retail food sector for the past ten years. It's been this trend that's allowed companies like Whole Foods to grow as quickly as they've been able to.
The topic of healthy eating habits continues to rise to prominence, especially as it's been the elected focus issue of choice for Michelle Obama.
Of late, companies like Wal-Mart (NYSE:WMT) and Kroger (NYSE:KR) have been trying to make a push toward healthier foods. While there's certainly benefits of this for the general public, it adds an air of competitiveness for grocers like Whole Foods that didn't exist years ago. In Wal-Mart's case, for instance, the company is attempting to deliver organic food while at the same time helping push down prices for organic food across the sector. That can be seen a "one-two" punch to stores that are in aggressive growth mode, like Whole Foods.
It's likely that the appeal of Whole Foods to potential acquirers is to be able to already to "hit the ground running" in the health foods sector. Whole Foods is arguably at the jumping off point for growth, as they look to nearly quadruple the amount of current open stores that they have.
A couple of weeks ago, speculation that Publix Super Markets (OTC:PUSH) was looking to potentially purchase Whole Foods fueled a rally for Whole Foods stock. According to the Palm Beach Post:
The acquisition talk began when financial website Briefing.com reported Thursday about "hearing chatter that privately held Publix is interested in" Whole Foods. Officials with both Whole Foods and Lakeland, Fla.-based Publix declined to comment on the reports, saying they don't discuss rumors.
That week, the stock traded up on Thursday $1.46. On Friday, the stock continued its run up, tacking another $0.75 gain onto the company's share price. Both days the stock has traded nearly double its 100 day average volume, indicating significant interest in the company's future prospects.
Since then, news about the potential buyout has slowed down and Whole Foods has given back most of those gains.
With the stock still trading at multi-year lows, it would certainly make the price point enticing if a company was considering purchasing the green grocer. The circumstantial evidence points to a situation where a buyout could be timed perfectly here. However, there has been no "official" disclosures with regard to any potential buyout yet. Trading at its multi-year lows also makes the price appealing to those that are looking for a time or an excuse to stake a small long position in the stock.
The risk in this case lies in the fact that Whole Foods continues to trade at a multiple that has priced in aggressive growth in the next couple of years. If Whole Foods fails to meet the lofty expectations that analysts and the market have set out for it, confidence could fall out from underneath the share price.
However, in the case of a potential buyout, investors are likely to see a premium offered to Whole Foods' current share price. In the case of a buyout that's approved relatively soon, investors could expect modest returns. If a bidding war were to take place, or Whole Foods were to reject a buyout offer in hopes of a higher offer, returns could be significant.
Best of luck to all investors.
Disclosure: The author has no positions in any stocks mentioned, and no plans to initiate any positions within the next 72 hours. The author wrote this article themselves, and it expresses their own opinions. The author is not receiving compensation for it (other than from Seeking Alpha). The author has no business relationship with any company whose stock is mentioned in this article.