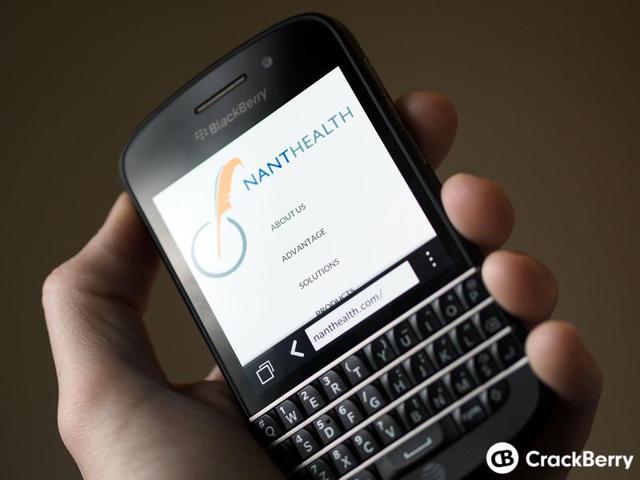 Click to enlarge
According to the Economic Times BlackBerry Limited (NASDAQ:BBRY) is planning on launching a connected services healthcare platform in India. The service will be capable of linking thousands of medical devices that could help detect illnesses in their early stages. The medical platform will be in partnership with healthcare technology firm NantHealth who will collect the data and integrate payment systems, while BlackBerry will provide cloud based secure data management through its QNX operating system. A commenter on my previous article described the market need in India and the value-added services provided by BlackBerry/NantHealth:
That's what the Nanthealth investment and invention of the Passport are about. NantHealth servers could be operating at all affiliated hospitals and a doctor with Passport could access patient health history anywhere. I work in Health IT and security is very important in healthcare. Besides the issue with HIPAA, there's a more important issue with identity theft. I think [BlackBerry CEO] John Chen made a great move in investing in NantHealth and the release of the Passport.
Healthcare Market In India
According to India Brand Equity Foundation, the healthcare market in India has been growing at a double digit rate in terms of spending per-capita, and overall industry expenditures. BlackBerry/NantHealth may be able to participate in that growth.
Per-capita Healthcare Expenditures
On a per-capita basis, healthcare expenditures in India is estimated to grow to $88.7 in 2015 from $42.7 in 2008 - a compound annual growth rate ("CAGR") of 15.7%. It grew from $42.7 in 2008 to $59.1 in 2011 - a three year CAGR of 11.4%.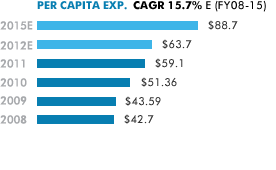 Source: India Brand Equity Foundation
Healthcare Sector Growth Trend
The size of the Indian healthcare sector is estimated to grow to $160 billion by 2017 - a 15.1% CAGR over 2008 when its size was valued at $45 billion. Key drivers of industry growth are rising incomes and the fact that higher-quality healthcare facilities are becoming more accessible.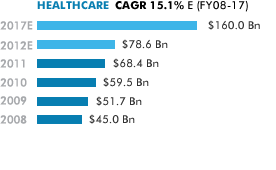 Source: India Brand Equity Foundation
Market Break-up By Revenues
Indian healthcare industry revenues are broken down between hospitals (71%), pharmaceuticals (13%), medical equipment and supplies (9%), medical insurance (4%) and diagnostics (3%). According to Equintas Capital, healthcare providers in India are expected to spend about $1.1 billion on IT products and services in 2014. That's four percent higher than last year.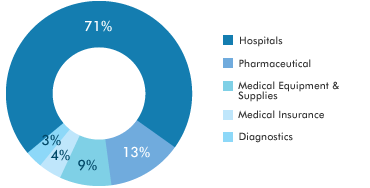 Source: India Brand Equity Foundation
About NantHealth
NantHealth is a California healthcare startup that is installed in over 250 hospitals globally. With its cOS Clinical Operating System, designed to collect and analyze disparate pieces of data to help solve complex healthcare problems, NantHealth connects over 15,000 medical devices and collects about 3 billion vital signs each year. BlackBerry took a minority stake in the company this year; the two companies are currently collaborating on a smartphone targeting the healthcare industry. Any inroads into the healthcare field by BlackBerry/NantHealth may have a halo effect on BlackBerry handsets such as the Passport, which BlackBerry short-sellers are acquainted with, or the Z3 which was recently introduced into the Indian market. Professionals who utilize BlackBerry phones via the company's new healthcare services platform, may view them more favorably on the retail market after they become more familiar and more proficient with them at work.
Conclusion
The proposed BlackBerry/NantHealth connected services healthcare platform in India appears to offer a value-added service in a burgeoning market. The platform leverages BlackBerry's expertise in enterprise management and security, and could have a halo effect on BlackBerry handsets in India. I rate BlackBerry a buy.
Disclosure: The author is long BBRY. The author wrote this article themselves, and it expresses their own opinions. The author is not receiving compensation for it (other than from Seeking Alpha). The author has no business relationship with any company whose stock is mentioned in this article.