You may as well ask who put the bomp in the bomp she bomp she bomp. We all know where that money went: Wall Street, banks, and bigger government.

I've just returned, about an hour ago, from a month overseas so I'll let this little gem, courtesy of the Heritage Foundation, using data from the US Dept. of Labor, speak for itself (below, click to enlarge).

What has this to do with investing? Everything! When private industry (what we call "revenue") loses 7 million taxpaying jobs and government (what we call "overhead") adds jobs, there is less money to support evermore government employees and therefore a less attractive environment in which to invest.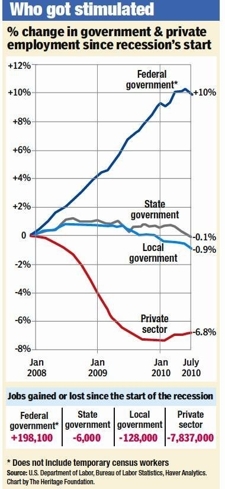 Fortunately we are nearing the first Tuesday in November...
Disclosure: No securities mentioned. Only security, or lack thereof.
Disclaimer: As Registered Investment Advisors, we see it as our responsibility to advise the following: we do not know your personal financial situation, so the information contained in this communiqué represents the opinions of the staff of Stanford Wealth Management, and should not be construed as personalized investment advice.

Past performance is no guarantee of future results, rather an obvious statement but clearly too often unheeded judging by the number of investors who buy the current #1 mutual fund only to watch it plummet next month.

We encourage you to do your own research on individual issues we recommend for your analysis to see if they might be of value in your own investing. We take our responsibility to proffer intelligent commentary seriously, but it should not be assumed that investing in any securities we are investing in will always be profitable. We do our best to get it right, and we "eat our own cooking," but we could be wrong, hence our full disclosure as to whether we own or are buying the investments we write about.