The software service giant Salesforce (NYSE:CRM) is a company unanimously associated with customer relationship management software - so much so, in fact, that it is traded on the NYSE under the symbol "CRM" itself. The world's largest provider of CRM software, Salesforce serves over 104,000 customers, has more than 5 million users, and boasts a social media following totaling over 782,229 users across Twitter (NYSE:TWTR), Facebook (NASDAQ:FB), and LinkedIn (NYSE:LNKD). In recent years, pursuing an aggressive growth plan, it has also made numerous acquisitions in the hopes of elevating revenue growth, forming strategic alliances with the likes of Microsoft (NASDAQ:MSFT) and Oracle (NASDAQ:ORCL). This expansive behavior has not gone unnoticed: Salesforce was ranked the most innovative company in Canada by Forbes in 2013, and Number 7 in Fortune magazine's "100 Best Companies to Work for in 2014" - it has, to be sure, received no shortage of accolades from global and American business publications in recent years. In addition, I Know First predicts a bullish forecast for the company in the 3-month and year-long periods.
The Good
There is merit to considering Salesforce in buying decisions. Salesforce itself, for one, appears to believe that its growth strategies will grant it increased success in years to come. In anticipation of expansion, the company recently signed a tremendous lease that will see it taking over the tallest office building west of Chicago. Strategically located, this new office tower is in the center of downtown San Francisco, and is easily accessible to other regions of both the Bay Area and California as a whole. "It's a great symbol of Salesforce as a company that brings other companies into the future," says George Hu; Wiegel seconds him, saying that Salesforce's reaching 500 employees in the local office in five years - twice the jobs committed as part of its Oregon relocation package - is a sign of strength for the regional market.
Despite the flack it has received for its acquisition-based growth, too, Salesforce remains committed to its strategic methodology: a sign, perhaps, that there is more to its business development ideas than meets the eye. Soon-to-be-retired Salesforce CFO Graham Smith acknowledges this, saying, "We've been very clear about our strategy to prioritize growth and operating margins over time." Following his leave, Autodesk's Mark Hawkins will step into the role. Hawkins is famous for his executive roles at Dell and HP (NYSE:HPQ), the latter of which he helped build quite dramatically. He joins the company enthusiastically, calling its potential "enormous": a counter to the naysayers.
Salesforce has also been careful to resolve any criticisms aimed at it. After its phishing attack ordeal in 2007, the company - and CRM in general - was criticized for its insufficient user security: a common problem in CRM. In the aftermath, one particular demand surfaced from consumers and industry experts: Salesforce needed to create a European data center to ensure that European customers' information was kept as safe as possible. Using American-based cloud solutions for European client data, said Phil Shoesmith - Head of IT at Alzheimer's Society UK - was just not as secure as operating a locally sited datacenter. "We would like to see [an EU datacenter] for risk mitigation," he said. Salesforce responded enthusiastically, promising that a datacenter would be opened in 2013; despite a slight delay, it announced finalized plans for a Slough-based datacenter in May 2013. It is expected to open with full functionality by 2014.
Salesforce is also doing more in the way of growth: in addition to its UK datacenter, it has plans to expand into France, and into Germany via Deutsche Telekom. It also appears to be working towards healthcare-specific CRM via its partnership with Philips; this latter move could see it branching into a market that is expected to hit $4.5 billion by 2018.
The partnerships do not stop there: in June 2013, a press release on Oracle's website definitively announced that it and Salesforce had entered into a "comprehensive nine-year partnership encompassing all three tiers of cloud computing." CEOs Larry Ellison and Marc Benioff each appeared to believe that the other's services would benefit his own company: the impressive infrastructure of Oracle's engineered systems - what Benioff calls its "power" - would greatly benefit Salesforce, said Vice President Parker Harris. Ellison, for his turn, says he is "looking forward to working with Salesforce." It really does seem that this partnership could be profitable, from the viewpoint of CRM: the same efficient Oracle Linux and Exadata Infrastructure that makes Oracle a worthy competitor makes it a worthy friend for CRM.
Another, similarly useful partnership was also implemented this year - on May 29th, 2014, Salesforce announced a global strategic partnership with Microsoft, which will seek to connect Salesforce's applications to Microsoft Office and Windows. As much as both CEOs claimed that the deal was about "putting the customer first" and "building bridges that allow customers to be more productive," this was, arguably, also a good move for Salesforce - Oracle and SAP had already closed in on deals with Microsoft, and Microsoft itself competes with Salesforce for CRM customers. Now, it is possible that Benioff's company won't be left in the dust.
All else aside, the facts are simple: the company's year-over-year growth is outstanding. In 2014, its total revenue has seen an increase of 37 percent year-over-year; its subscription revenue increased by 36 percent year-over-year, and its professional services saw an increase of a large 58 percent year-over-year. Though it does lose money on a GAAP basis, these figures cannot be ignored in considering whether or not this stock - however volatile it may be - is reasonable to buy.
Other analysts seem to agree, too. As of July 3rd, 2014, 22 of 28 analysts reporting to NASDAQ recommend CRM as a strong buy. Similarly, Yahoo! Finance analysts' mean recommendation this week concerning CRM is a 1.8, where 1.0 is a strong buy and 5.0 is a sell (Figure 1).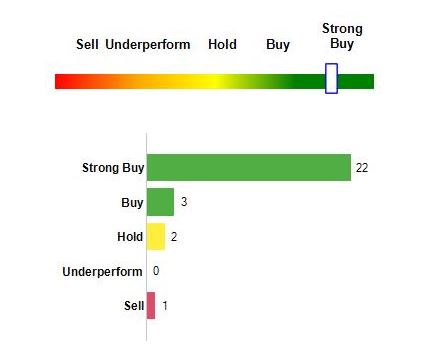 Figure 1.1. 22 of 28 NASDAQ analysts recommend CRM as a strong buy. An additional three recommend it as at least a buy; 2 recommend holding off before buying or selling. Only one analyst strongly believes that selling is a reasonable option.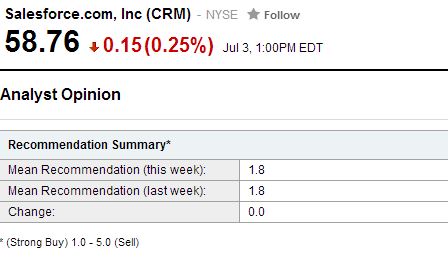 Figure 1.2. The mean recommendation of Yahoo! Finance analysts this week is a strong buy (the strongest possible buy is a 1.0, and CRM is tending towards this figure at 1.8).
The Bad
Concerns regarding Salesforce have existed for quite some time. The company has most definitely been growing: it has a nearly ten-year history of increasingly numerous and expensive acquisitions, with 2013 seeing the SaaS giant purchasing more and more: within a week of purchasing ExactTarget for a whopping $2.5 billion, for example, Salesforce also took EdgeSpring in a small but still technologically meaningful move to recruit new talent. While this growth has been seen as part of the reason for Salesforce's increasing popularity in recent years, this rapid, massive acquisition strategy has been cited as one that hurts profits and strains the balance sheet: as New Constructs blog highlights in this graphic, investors need to be aware that growth is not always - and, in the case of Salesforce, not often - proportional to profitability (Figure 2):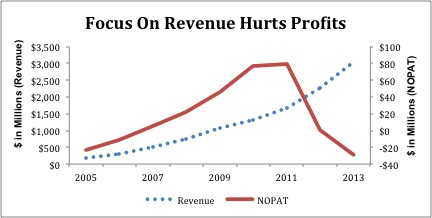 Figure 2. Salesforce's Net Operating Profits After Tax (NOPAT) were consistently growing until 2011, which saw the implementation of Salesforce's massive acquisition-centered revenue growth strategies; since 2011, NOPAT has been on a steady decline. Top-line growth with little attention paid to the bottom-line is dangerous.
Other sources provide warnings along the same lines: while Salesforce is a dominant name, its low profitability and poor margin leverage are not going anywhere. Online investors have mentioned that this high-growth revenue, low-profitability trend reminds them of the technological market of the late 1990s. In addition, Salesforce is steadily accruing adjusted total debt, which has risen from $2.3 billion in 2012 to over $4.2 billion in 2013, consistently up from a comparatively innocuous $780 million in 2010 - the amount seen prior to the implementation of the aforementioned acquisition strategy. Online discussion reflects these notions: some investors go so far as to cite the difference between Salesforce's earnings and reported cash flow as reminiscent of a Ponzi scheme, and claim that the company is severely overvalued mostly because of the new strategic partnership it announced with Oracle in June 2013. They point, too, to the fact that insider trading activity has seen 103,514 buys in comparison to a much larger 2,458,086 sales in the last twelve months - this trend toward selling, which appears to include members of the company's management, has sparked word that even some segments of Salesforce itself do not believe so strongly in its value.
Even facets of Salesforce's profile that seem advantageous are actually overrated, according to some. Certainly, CRM managed to acquire ExactTarget; this was heralded as a useful investment by many, Salesforce competitor Rob Tarkoff included. However, ExactTarget's CEO Scott Dorsey stepped down within a year of acquisition, igniting concerns about how well the transition proceeded for ExactTarget. Of course, CRM is a pioneer - it was instrumental in popularizing CRM software, and remains in possession of the largest chunk of market share in the industry, as well as some excellent products. However, Oracle and SAP are fast gaining on its 14% share: both companies also have shares in the double digits, so it is not that dominant. Sure, Salesforce introduced Mobile Reports and Dashboards, a set of solutions that allowed users to perform business analysis, in response to claims that it was falling behind competitors. Unfortunately, though, these developments only allow users visualization, according to most analysts: true analytic capabilities are still lacking from the platform.
Even recent progress is not too favorable. While the company has done relatively well this year - it is currently at about $58 a share - it has fallen back considerably from its February high of $66 a share. Further, while its market share has grown, its profitability is still lagging.
Add to this questionable atmosphere a CEO who is - at least a little - suspiciously enthusiastic, and pays employees utilizing primarily the company's own stock, and things do not look so optimistic for CRM.
The Algorithmic Perspective
I Know First uses an advanced self-learning algorithm based on artificial intelligence, machine learning, and artificial neural networks to predict the flow of money in almost 2000 markets from 3-days to a year. This algorithm provides traders with a trend they can use to identify when to enter and exit the market; though it may be used for intra-day trading, the predictability of this trend becomes stronger in 1-month, 3-month, and 1-year forecasts; as such, it can - when coupled with traditional analysis and careful reasoning - effectively be used to analyze the value of even such difficult stocks as CRM.
The updated July 4th forecast generated by the I Know First algorithm is shown below (Figure 3). Bright green signifies a highly bullish signal; light green also indicates that the forecast is bullish, but not as strongly so. Bright red, in turn, signifies a bearish forecast; correspondingly, light red indicates a bearish forecast as well, but not as negative a forecast. Each compartment contains two numbers: the strength of the signal itself (represented by the number in the middle of each box, to the right), and its predictability (found in the bottom left corner, this is the approximate level of confidence the algorithm has in the forecast). Taking all this into consideration, the ticker symbol for Salesforce - "CRM" - may be seen as bearish in the 1-month and 3-month frames, and remains strongly bullish across the 1-year frame; this and predictability should be taken into consideration when this algorithmic perspective is used to inform traditional analytic tools.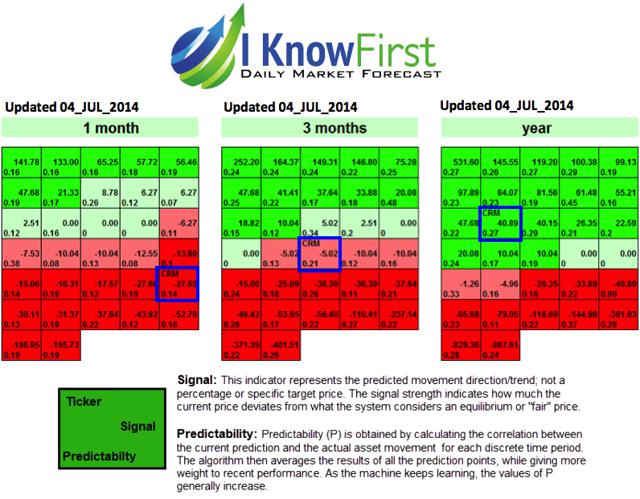 Figure 3. Algorithmic forecast for CRM. CRM appears bearish in the 1-month and 3-month horizons, but gains strength over the year-long time frames, becoming strongly bullish and demonstrating the stock's potential for growth.
The figure below illustrates I Know First's algorithmic predictions in the tech stock field, indicating which stocks had the most bullish one-month signal and advising buyers on the best long investments. The figure on the right shows the performance of the originally selected stocks at the end of the month, indicating a return that is significantly higher than the S&P average, which may prove a good indication for investors to utilize this predictive and highly accurate tool along with traditional methods.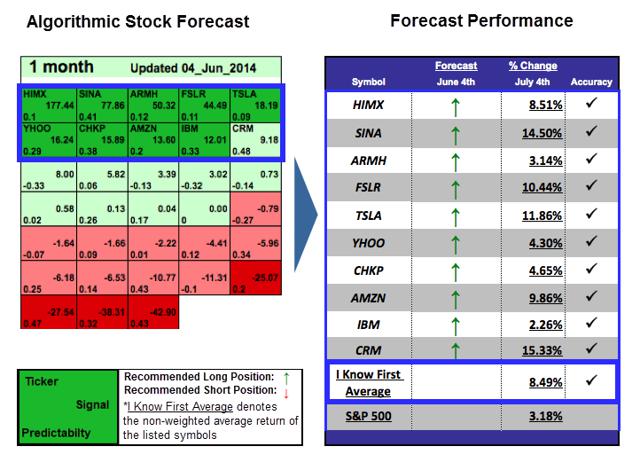 Figure 3.1. Best Tech Stocks to invest in as predicted by the I Know First Algorithm to obtain maximum gain in one month.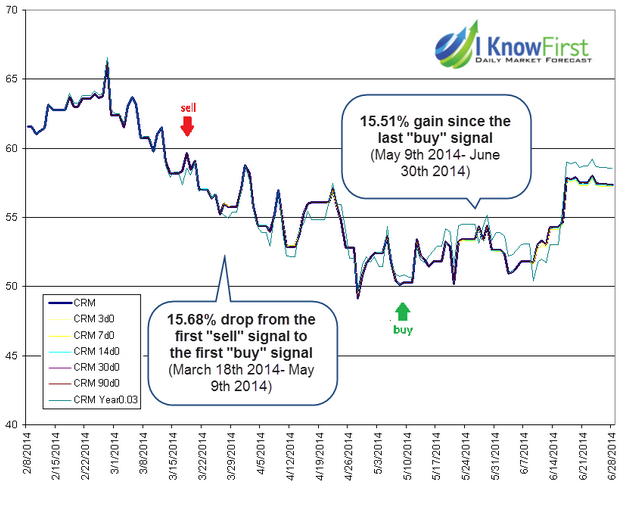 Figure 3.2. The forecast is based on the short and long-term predictions of "I Know First" predictive algorithm.
Conclusion
Albeit that Salesforce has been seen as a volatile, dangerously-strategized stock, and though its acquisition-centered growth has diminished its cash operating profits, it is still a company to watch. Recent expansion of the company's San Francisco-area employment size signals Salesforce's confidence in its success. It has also worked to resolve issues concerning customer data safety by building several European data centers, set to open soon across the UK, France, and Germany. In addition, the company has plans to expand into the potentially lucrative telemedicine sector via a partnership with Philips, which has a chance of bettering its revenue even further as we move towards 2018. Strategic partnerships with Oracle and Microsoft protect Salesforce, if slightly, from its competition; with an outstanding year-over-year growth and a long term, scientifically-informed I Know First forecast that is strongly bullish, Salesforce, volatile though it may be, should be examined carefully by traders.
Business relationship disclosure: I Know First Research is the analytic branch of I Know First, a financial start-up company that specializes in quantitatively predicting the stock market. This article was written by Sophia Glisch, an I Know First intern, and edited by Daniel Barankin. We did not receive compensation for this article (other than from Seeking Alpha), and we have no business relationship with any company whose stock is mentioned in this article.
Disclosure: The author has no positions in any stocks mentioned, and no plans to initiate any positions within the next 72 hours. The author wrote this article themselves, and it expresses their own opinions. The author is not receiving compensation for it (other than from Seeking Alpha). The author has no business relationship with any company whose stock is mentioned in this article.