EP Energy Corp. (NYSE:EPE) -- Sell Recommendation -- Price Target $21.75
Thesis: Wednesday, July 16 marks the conclusion of the 180 day lockup period of EPE. At this time, major pre-IPO shareholders, including private equity and energy firms, as well as EPE's executives and directors, to sell their outstanding shares, likely temporarily depressing EPE's price. With strong pre-IPO shareholders, with the power to dump 208.7 million shares into the market, a temporary short opportunity is likely.
Summary
Wednesday, July 16 will mark the conclusion of the 180 day lockup period, following the January 17, 2014 IPO of EP Energy Corp., allowing major pre-IPO shareholders in the independent oil and gas E&P to sell their outstanding shares.
The largest of these shareholders include private equity firms and energy firms. The firm's executives and directors will also be permitted to sell their shares with the end of the quiet period.
The sudden increase in EPE shares eligible for sale after the 16h will likely lead to brief dip in the price of EPE, possibly creating a short opportunity for aggressive investors.
Performance Post-IPO
EPE's downsized IPO priced far short of the expected range of $23-$27 per share at $20 per share, and the stock saw a disappointing first-day loss of 9.6%. However, the stock has since performed relatively well, albeit inconsistently, and has made gradual gains over the past six months, peaking at $23.23 per share. EPE closed at $22.37 per share on July 2.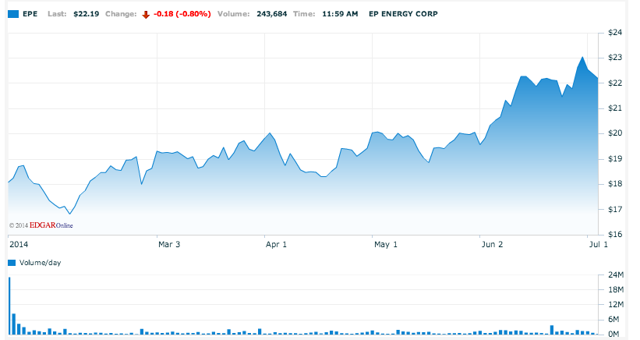 Click to enlarge
(Nasdaq.com)
Share Unlocking: 208.7 Million Potential Sales
The expiration of the lockup period on July 16 will free some 208.7 million EPE shares for sale on the market, dwarfing the 35.2 million shares offered in the January IPO.
The largest EPE shareholder is private equity giant Apollo Global Management, which had previously orchestrated the acquisition of EPE from El Paso Corporation (EP-C) in 2012. Apollo holds approximately 112.6 million EPE shares. The other firms that participated in the 2012 acquisition include private equity firm Riverstone Holdings, international industrial group Access Industries, and Korea National Oil Corporation, an oil and gas firm owned by the South Korean state. Each of these firms holds approximately 31.3 million EPE shares.
These firms may elect to sell off at least some of their shares in the interest of raising capital and moving away from EPE's somewhat unsteady performance.
Likewise, EPE's directors and executives may choose to sell some of their collective 885,755 shares, as they have had no opportunity to do so since the IPO.
Evidence That Lockup Expirations Offer Short Opportunities
Empirical studies by Professors at the University of South Florida, University of Kentucky, and additional institutions have found that, on average, lockup expirations are associated with significant, negative abnormal returns as the sudden increase in public shares (a potential tripling, according to a 2001 NYU study) usually causes a price decline.
A joint study by Duke's Fuqua School of Business and Harvard Business School finds this price drop is 2%.
Our research over the past three years supports these studies.
Business Summary
EPE is an independent exploration and production firm that seeks to acquire and develop unconventional, onshore natural gas and oil properties in the United States. EPE is currently focused on developing low-risk drilling inventory in its four core areas: the Wolfcamp Shale in the Permian Basin in West Texas, the Eagle Ford Shale in South Texas, the Haynesville Shale in North Louisiana, and the Altamont field in the Uinta Basin in northeastern Utah.
EPE has large, contiguous leaseholds in each of its four major areas for a total of 441,000 net acres. The firm has identified approximately 5200 drilling locations across the four areas; the firm has attributes proved undeveloped reserves to 916 of these locations, the equivalent of approximately 24 years of drilling inventory assuming current rates. EPE had proven reserves of 513 MMBoe as of September 30, 2013, and averaged net daily production of 88,149 Boe/d for the three months ended September 30, 2013.
For additional information, see our previous articles on EPE here and here.
Management
Brent J. Smolik serves as the president, CEO and chairman of EPE, and has been with the company and its predecessor since 2006.
He previously served as president of Burlington Resources Canada and president of ConocoPhillips Canada. He also worked as Burlington's chief engineer.
Mr. Smolik received a Bachelor of Science in Petroleum Engineering from Texas A&M University.
Competition
EPE competes with other intermediate and large exploration companies to find and acquire desirable properties, leases, and reserves, as well as personnel and equipment. Competitors include Anadarko Petroleum Corporation (NYSE:APC), ConocoPhillips (NYSE:COP), Shell Oil, Apache Corporation (NYSE:APA), and Exxon Mobil Corporation (NYSE:XOM).
Conclusion: Potential Short Opportunity For Aggressive Investors
Though its IPO was certainly a disappointment to its backers, EPE has managed a fairly successful performance on the market over the past six months, gaining 24.7% overall since its poor first day.
The firm has a lengthy drilling inventory available and is headed by experienced leadership.
Given these factors and the recent success of energy-sector stocks, we believe that it merits continued investor consideration.
With powerful pre-IPO shareholders, who have the potential to unlock 208.7 Million shares, investors should watch for a price decrease and temporary shorting window leading up to and around July 16.
We invite readers wishing to join the discussion on IPO Lockup Expirations to click +Get real time alerts above the title of this article.
Disclosure: The author is short EPE. The author wrote this article themselves, and it expresses their own opinions. The author is not receiving compensation for it (other than from Seeking Alpha). The author has no business relationship with any company whose stock is mentioned in this article.