As many readers on this site will no doubt be aware, bargains in this long-running bull market have been scarce of late. One issue that recently caught my eye on one of my value screens was the small-cap firm, IPG Photonics (NASDAQ:IPGP). Its shares have suffered of late after disappointing guidance, and the stock has come down considerably from its 52-week highs.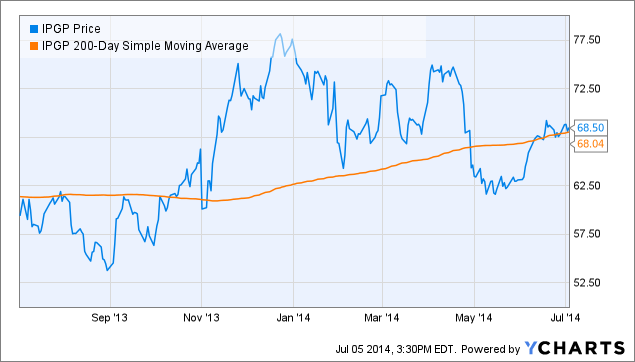 With shares now trading around their 200-day moving average, why might any value investor consider this company? For one, the company has intriguing metrics, with a of PEG 0.86, current ratio 8.00, and 15.7% ROA. For another, the company is underfollowed, with only 9 analysts covering the stock at present. The company also displays some of the growth characteristics of a rapidly expanding company, with EPS growing at a healthy clip over the past decade.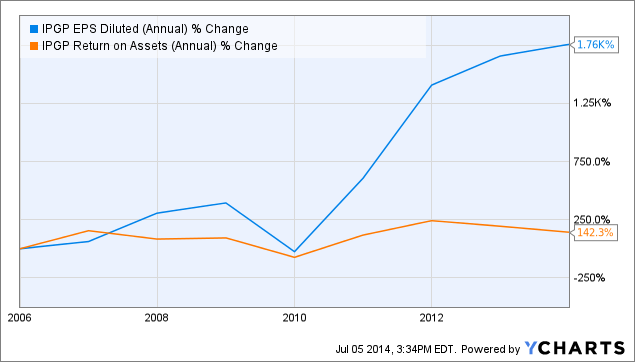 IPGP EPS Diluted (Annual) data by YCharts
With that in mind, here's a look at the stock along with an estimate for a fair value.
What does IPG Photonics do?
IPG Photonics is an Oxford, Massachusetts

-based company that pioneered the development and commercialization of optical fiber-based lasers. A fiber laser is a laser in which the active gain medium is an optical fiber, which itself has been impregnated with rare-earth elements like ytterbium and erbium.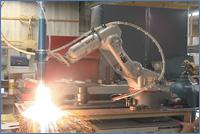 Optical fiber lasers are used in a variety of applications, including materials processing, medical technologies, and telecommunications. Compared to other laser types, optical fiber lasers offer a variety of advantages, including: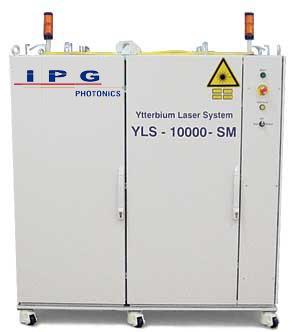 - Flexibility (allowing the lasers to be used in applications requiring a movable focusing element);
- High output power and quality with compact
size (as compared with similarly powered gas or rod lasers); and
- lower cost of ownership.
However, despite these advantages, fiber-based lasers do not dominate the overall laser market. That distinction goes to CO2-based lasers, which commanded almost a 50% share of worldwide laser revenues as recently as 2012: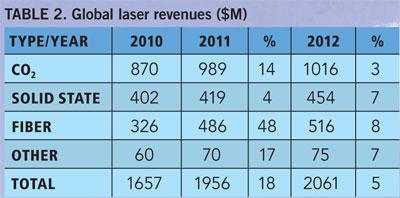 But whereas CO2-based lasers and solid-state lasers have been in use for decades (CO2-based lasers were first developed in the 1960s), optical fiber lasers are a relatively recent development, being first developed in the 1980's, and not really developed for commercial use until the 1990's. The question is, can IPG Photonics leverage this relatively new technology into greater market share of the overall laser market and, with it, greater earnings?
Investment Thesis:
The worldwide market for fiber lasers is forecast by some analysts to grow at a robust 21.9% CAGR until 2018.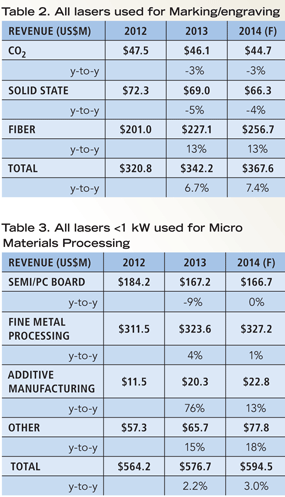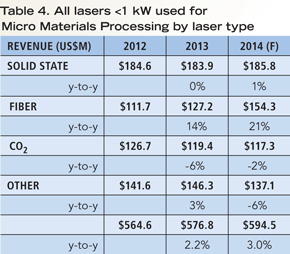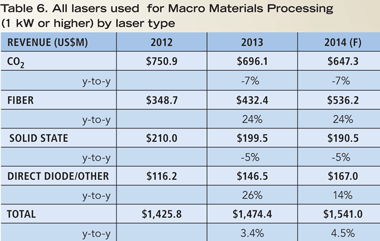 As you can tell from these tables, in recent years, much of the growth of fiber lasers has come at the expense of CO2-based and Solid state lasers, though direct diode lasers have also seen significant gains in market share as well. Overall, the worldwide laser market is relatively mature, and given their application in a variety of settings, global laser utilization is expected to grow in line with world-wide economic growth, at around 3-4% per year. Certain applications, however, are thought to be more resilient to economic downswings than others, including medical applications, aerospace, and agriculture, and it is in these sectors that laser manufacturers are applying the bulk of their energies.
IPG Photonics is now estimated to control about 80% of the total fiber laser market, with cost controls from vertical integration translating directly into fatter margins. The company has dedicated resources not only into cost control and scalability, but also to the development of new and expanded applications for its lasers, particularly by introducing optical lasers that more broadly cover the optical spectrum. The progressive transition of manufacturers from low output to higher power, multiple kilowatt lasers for a variety of applications also plays to the advantages of optical fiber lasers, and IPG's products are even finding their way into niche applications like 3-D printing.
These secular trends have allowed IPGP to post some outstanding numbers over the years. Over the past decade, overall revenue has grown at a 26% yearly CAGR and EPS, leveraged in part through cost controls, have grown at nearly 40% yearly during this time.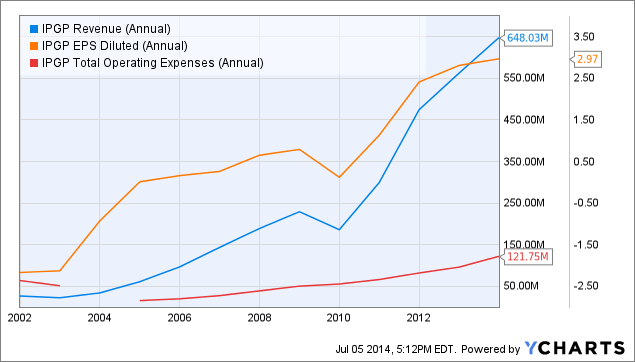 IPGP Revenue (Annual) data by YCharts
Compared to some of its competitors, including Fanuc (OTCPK:FANUY), Rofin-Sinar (NASDAQ:RSTI), GSI group (GSIG), and Coherent (NASDAQ:COHR), some of IPGP's metrics fairly pop off the page. EPS growth, compared to the competition, is fairly obvious: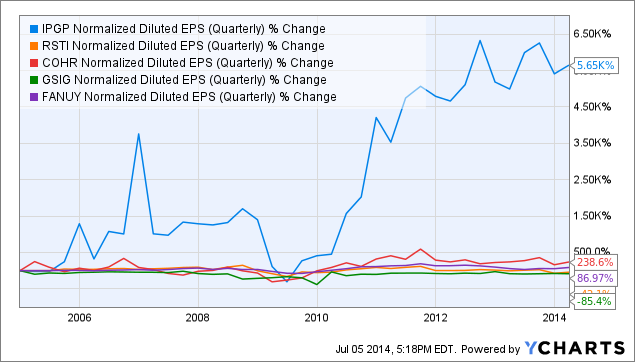 IPGP Normalized Diluted EPS (Quarterly) data by YCharts
And the company's return on assets has remained quietly higher than that of its rivals.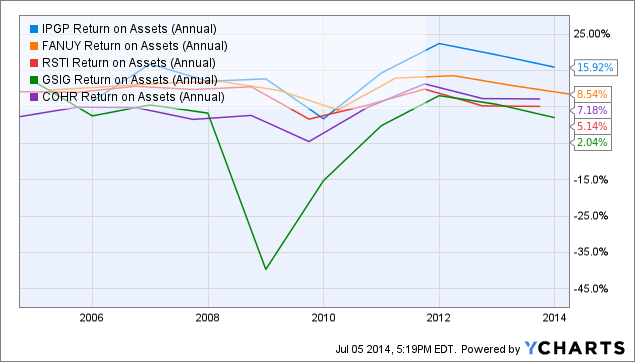 IPGP Return on Assets (Annual) data by YCharts
Despite these relatively strong metrics, IPGP consistently trades at a lower PE multiple than its counterparts.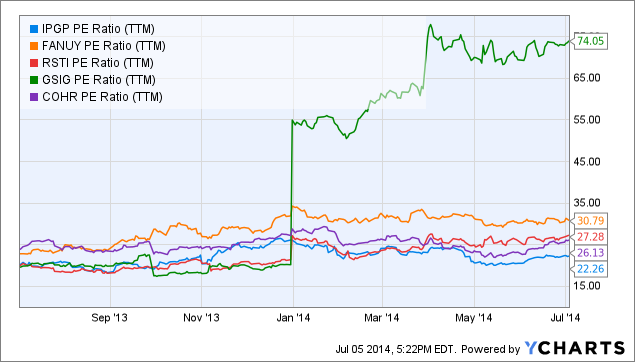 IPGP PE Ratio (TTM) data by YCharts
All in all, IPGP looks to offer highly competitive products with good prospects for growth, with excellent cost leveraging characteristics, all the while trading at a lower multiple than its peers. So who might be interested in this particular stock?
Suitability:
Ben Graham outlines seven criteria for Defensive Investors and Enterprising Investors.
Defensive Investor: Fail
Adequate size of enterprise (>$500 m in sales, >$250 m in assets): PASS
Sufficiently strong financial condition (Current ratio > 2): PASS
Earnings stability (no net loss over past 10 years): PASS
Dividend Record (Dividends paid over past 20 years): FAIL
Earnings Growth (Net income increases by >1/3 on per-share basis over 10 years): PASS
Moderate P/E Ratio (Price < 15x average earnings over trailing 3 years): FAIL
Moderate Ratio of Price to Assets (Multiplier of P/B x P/E < 22.5): FAIL
Based upon these criteria, IPGP doesn't meet Ben Graham's criteria for Defensive Investors.
Enterprising Investor: Pass
Adequate size: PASS
Strong Financial Condition: PASS
Earnings Stability: PASS
Dividend Track Record: FAIL
Earnings Growth > 3%: PASS
P/E in lower 10% of similar stocks: PASS
P/B < 1.2: FAIL
Based upon these criteria, IPGP meets Graham's criteria for Enterprising Investors, failing only on the P/B and Dividend track record criteria.
Risks:
IPGP faces a number of risks, including:
Revenue growth is inextricably linked to capital expenditures in target industries, especially the material processing industry. The latter, which generated 94% of total revenues in 2013, is a particularly cyclical market, and one subject to sudden downturns. Lumpiness in earnings is
Sales growth depends to a large extent on the development of novel applications for fiber lasers, as well as increased penetration of existing markets. Not only must the company seek to cannibalize market share from conventional laser manufacturers, but it must rely upon an intensive research and development process to generate new products.
Though the company's vertically integrated manufacturing core results in operating leverage, it also results in a high level of fixed costs and inventory levels. A sudden drop in demand or failure to properly calibrate supply to market conditions could result in high unsold inventory provisions, which in turn can pressure margins.
Though the company has a sizable advantage in terms of market share, growing competition in the fiber laser market will likely serve to pressure top and bottom line growth.
The company typically only enters into short-term purchase agreements with customers, which significantly reduces earnings visibility. In addition, client concentration remains a risk, as the company's top five customers accounted for 16-21% of revenues between 2011-2013.
In addition, some analysts now see IPGP's growth as potentially slowing. From an article from the Worcestor Business Journal in August 2013:
A slowing of revenue growth may not be obvious from year to year. But it's reflected in the stock holds issued by some analysts when the company reported its earnings for the second quarter of 2013. One such firm was Noble Financial Group Inc. Mark Miller, a California-based analyst for the firm, said the company's revenue growth rate is expected to fall from 15 or 16 percent in 2013 to about 13.5 percent in 2014.

"That's still good growth; don't get me wrong," said Miller, noting that the slowdown is just a sign that IPG has maxed out its growth potential. "You get so big and it's hard to perpetuate high growth."

Miller compared the fiber laser replacing the CO2 laser to the electric car replacing the gas-powered car. Growth potential is limited. He added that IPG margin growth has probably peaked.
On the most recent earnings call, management pointed towards increased competition from Chinese vendors in the pulse-laser sector, and cited a rate of 7% year-over-year revenue growth for the remainder of 2014. This was a disappointment to traders, who sent the stock down promptly 5.7%. Capital expenditures are forecast to come in at $70-80 million for the year, and margins are forecast to be in the 50-55% range.
Valuation:
My fair value estimate for IPG Photonics is $80, approximately a 17% premium to Thursday's closing price of $68.50. I use a Monte Carlo discounted cash flow model informed by historical trends, supported by an analysis of trading multiples. During the 10-year explicit forecast period, the model assumes continued pressure on revenue growth over the next several years before recovering to about 300 basis points below current levels, based upon increased competition in the fiber laser space. With this increased competition, I anticipate some degree of operating deleverage (though the company's vertically integrated systems should preserve margins to a large degree). I model margins being pressured somewhat by about 100-200 basis points over time down to about 50%, which is well below management's currently stated objective of about 55%. Total operating costs have come down significantly of late, but I anticipate operating cost growth to reaccelerate as further investments are made in R&D to combat encroaching competition. I model CAPEX to come in mildly higher than anticipated, around $78 million for this year.
| | | | | | | | | | | |
| --- | --- | --- | --- | --- | --- | --- | --- | --- | --- | --- |
| (all numbers in millions) | 2014 | 2015 | 2016 | 2017 | 2018 | 2019 | 2020 | 2021 | 2022 | 2023 |
| Revenue | 773 | 906 | 1078 | 1321 | 1606 | 1946 | 2352 | 2826 | 3394 | 4041 |
| Gross Profit | 404 | 470 | 559 | 682 | 824 | 1000 | 1198 | 1437 | 1715 | 2022 |
| Net Income | 182 | 208 | 244 | 302 | 365 | 467 | 532 | 639 | 759 | 887 |
| Capex | 78 | 92 | 105 | 127 | 158 | 201 | 244 | 301 | 367 | 442 |
| Free Cash Flow | 187 | 213 | 253 | 303 | 363 | 424 | 500 | 585 | 673 | 773 |
I assume a constant tax rate of 31%, and a WACC of 9.6%. My fair value estimatae implies a forward P/E of 23.20 based upon a forward EPS estimate of $3.46, a free cash flow yield of 1.85%, and a 10-year EPS CAGR of 17.1%. This aligns with application of analysts' consensus estimates of $3.33-3.57 to a 5-year historical P/E of 22.8, which yields a FVE of $76-$81. A reverse DCF analysis at the current valuation of $68.50 suggests that the market is pricing in a 10-year EPS CAGR of only 12.1%, about 500 basis points below the company's historical EPS CAGR of 18%.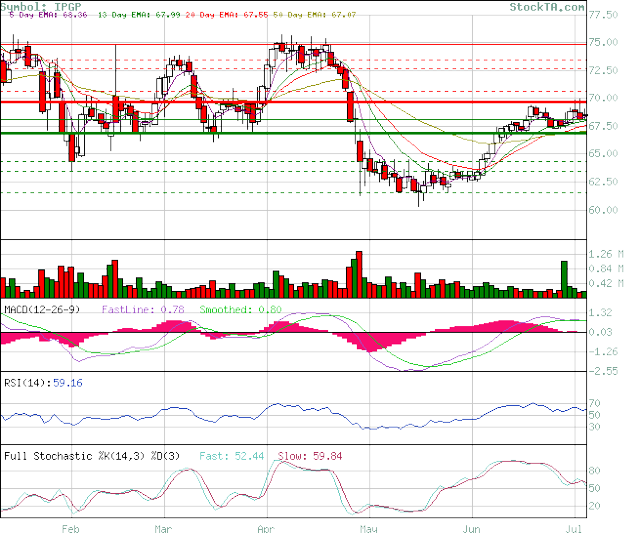 In the short term, looking at the technicals, the RSI is approaching overbought territory, and the MACD suggests weakening upward momentum. The stock has been caught in a downward channel since the beginning of the year, and looks to be trading in the upper part of that range now. Though the stock valuation looks attractive currently, a better entry point may be lurking around the corner.
Conclusion:
IPG Photonics offers a compelling growth story in addition to sound fundamental metrics, and is currently selling a material discount to a conservative fair value estimate of $80. Though its days of torrid growth may be behind it, secular trends favor continued adoption of its products, and the company already dominates the fiber laser marketplace. I believe shares are attractively valued currently but may offer a better entry point in the near future, and would look to initiate a position around $66-68.
Disclosure: The author has no positions in any stocks mentioned, but may initiate a long position in IPGP over the next 72 hours. The author wrote this article themselves, and it expresses their own opinions. The author is not receiving compensation for it (other than from Seeking Alpha). The author has no business relationship with any company whose stock is mentioned in this article.
Editor's Note: This article discusses one or more securities that do not trade on a major U.S. exchange. Please be aware of the risks associated with these stocks.