Discussions have stalled recently between Citigroup (NYSE:C) and the Justice Department to settle an investigation into the bank's marketing of subprime mortgage investments. Apparently, the two sides cannot agree to a settlement figure.
This bodes ill for Citigroup and other major banks, such as Bank of America (NYSE:BAC) and JPMorgan Chase (NYSE:JPM), in that the Justice Department may pursue a lawsuit instead of continuing settlement negotiations. This would represent the first such attempt by Justice to use the courts, and the decision carries risks for both Citigroup and Justice.
Citigroup's Excuses
Citigroup has argued that it sold only a tiny fraction of the risky mortgage-backed securities versus other major Wall Street investment banks. The bank asserts that prosecutors are seeking monetary penalties that far exceed the actual damages incurred by investors. Purportedly, prosecutors are demanding a penalty of $10 billion; however, banking industry analysts calculate a settlement payment of $2 billion, based on the settlement JPMorgan Chase paid after negotiations with Justice.
Both Washington and Wall Street considered the JPMorgan settlement as the template for future negotiations with other major banks over examinations into their risky mortgage investments prior to the housing bust.
However, attorneys for the investment banks have complained privately that the Justice Department has abandoned that template and are demanding greater punitive penalties than paid by JPMorgan.
Tensions Continue Among Peer Institutions
Comparable tensions have stalled discussions between Bank of America and federal prosecutors as well recently, and Wall Street analysts suggest that this increases the probability of lawsuits in favor of negotiations. The pursuit of stiffer penalties comes after Justice faced criticism for allowing lax punishment of the financial firms that were at the center of the 2008 crisis.
In discussions with Justice, Bank of America argued that it is being pressured to pay greater penalties than warranted for the mortgage-backed securities sold by Merrill Lynch. The bank asserts that it tried to drop the acquisition of Merrill Lynch, but that federal regulators pressured it to accept the deal. Apparently, these arguments have not persuaded prosecutors, and it remains murky if Bank of America could have legally backed out of the acquisition.
Citigroup played a much smaller role in the mortgage securities market than other investment banks. In April, Credit Suisse issued an estimate that Citigroup could settle the investigation for $2 billion; however, federal prosecutors are demanding for more than that now.
Citigroup's Lack of Leverage
Unfortunately, Citigroup may have little-to-no leverage in negotiating with Justice to settle for a lesser amount. Prosecutors continue to remind the bank's attorneys that settlements must include a huge punitive payment in order to be meaningful. At the outset of the discussions, Justice asked for a minimum of $10 billion, and Citi promptly rebuffed the demand.
Citigroup Investors Could Be Alienated
Agreement to a large punitive payment may alienate shareholders, who must carry the costs of any punitive settlement.
If negotiations fail completely, the banks could face even greater penalties if they are held liable in subsequent civil lawsuits. Moreover, a prolonged trial adds millions of dollars to attorney fees, could expose potentially damaging testimony from executives and internal documents, and make it extremely difficult for the bank to regain trust from the public and regulators alike.
Citi has faced issues abroad recently, with fraud being exposed in its metal-backed loans. As copper prices dropped on the news, Citibank's exposure created concern, given the bank's deep involvement in the space.
Citi has had an unsteady year, missing expectations for earnings and revenues in two of the past four quarters.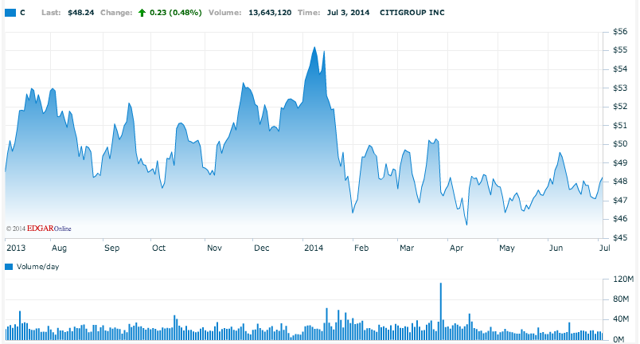 (Nasdaq.com)
The bank has not raised its dividend since 2008.
With earnings on the horizon July 14, we are concerned even a positive result might not outshine the shadow of its enormous, looming penalty - which threatens to dampen operations in an increasingly tough environment for big banks.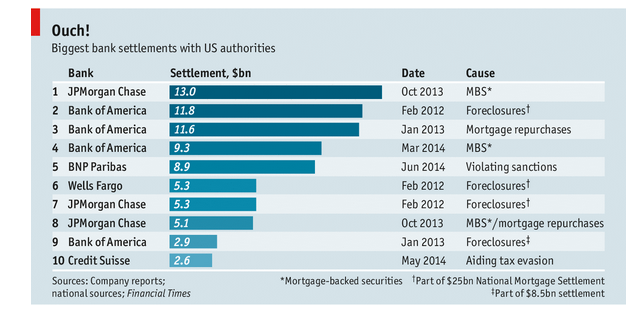 (online.wsj.com)
With regards to trading, CFO John C. Gerspach noted Citigroup's trading revenue could also be down 20 to 25 percent over the next year.
We suggest investors consider take profits in Citi, as the outlook for the rest of 2014 does not look strong.
We invite readers wishing to join the discussion on Citigroup and other mega-banks to click +FOLLOW above the title of this article, and those looking for the latest developments to click the +Get real-time alerts button.
Disclosure: The author has no positions in any stocks mentioned, and no plans to initiate any positions within the next 72 hours. The author wrote this article themselves, and it expresses their own opinions. The author is not receiving compensation for it (other than from Seeking Alpha). The author has no business relationship with any company whose stock is mentioned in this article.