Thursday morning I added Oneok Partners LP (NYSE:OKS) to the Barchart Van Meerten New High portfolio. The stock is a general partnership that owns an interstate pipeline system that transports natural gas from the Montana-Saskatchewan border to natural gas markets in the midwestern United States. This pipeline system connects with multiple pipelines that provide shippers with access to the various natural gas markets served by those pipelines. This is an almost total US play and should not be subject to political Instability or trade tariffs.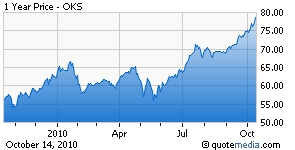 The issue rates a 96% Barchart overall buy signal and hit 14 new highs in the last 20 sessions. The stock has increased by 9.49% last month and trades around 77.81 which is above its 50 day moving average of 71.86. It's not often you find this kind of capital appreciation, a 74.19% Relative Strength Index and a 6.50% dividend while you wait.
The stock is popular with Wall Street brokerage firms who have issued 6 buy and 6 hold recommendations. They look for a 32.10% increase in sales this year and an increase in earnings per share of 16.50% next year.
The stock has a good following on Motley Fool with the CAPS members voting 564 to 11 that the stock will beat the market and the All Stars agree with a vote of 249 to 6.
The stock has several points to consider:
A pure US energy play on natural gas
Recent and positive price momentum
6.50% dividend
Wall Street buy reports published for their clients
A wide and positive general investor following
Disclosure: Jim Van Meerten through Marketocracy Capital Management has an interest in the stocks mentioned in this blog.