John Lipsky, the current First Deputy Managing Director of the IMF, taught me something many years ago when we were colleagues at Salomon Brothers in a conversation then about various countries in Europe that were part of the "Euro Convergence" process. Regarding the extremely high marginal tax rates at that time in some of the socialist economies, for example in Sweden where I believe it was in the 80% range, I recall discussing the seeming disincentive for people to work when only 20 cents on the 'dollar' would stay in their pocket while the rest would go to the government. I suggested that such a situation would likely lead to high levels of unemployment….to which I recall John adding that not only could it lead to higher levels of unemployment currently, but that the longer people stay unemployed the more unemployable they become due to lost job skills, lack of training for new types of work and the like - a potentially economically crippling process known as "hysteresis".
That conversation parachuted back into my mind in recent days, partly due to the recent awful Non-Farm Payroll data, and partly in reaction to the ongoing stratospheric levels of Jobless Claims and related unemployment numbers. But beyond that, it's also partly attributable to some considerations I've had about the overall market activity which has been largely euphoric of late based on hopes for Fed QE2, lower interest rates, more economic growth, weaker USD and higher commodity prices.
Specifically, while I have been, and remain, optimistic on equities for medium and longer horizon portfolios, largely driven by my view of global economic growth in emerged and emerging countries around the world especially in the context of infrastructure build up, I have become much more cautious in putting additional cash to work, and in fact am concerned near term about a meaningful pullback in stock prices.
Why?
For one, increased global market risk and uncertainty. As I wrote last week in "Positioning for the Week Ahead: Navigating the Risks and Opportunities in Choppy Market Waters", the lack of a globally integrated response to the quickly developing global 'currency war' presents the markets with, if nothing else, a significant increase in risk…..risk of unilateral action by countries in defense of their economies a la:
Japan's intervention several weeks ago to devalue the Yen and last week's announcement of lower rates and of a 'QE' type fund, and

Korea's inaction this week by not hiking rates despite inflationary signs thereby choosing to accept a bit of inflation rather than fight it with higher rates which would likely strengthen their currency and hurt exports, and

the US's Fed whose minutes from the September meeting that we got a glimpse of this week clearly showed the Fed team standing on the dock ready to christen the QE2 as it's about to set sail.
Second, my perception that markets have allowed corporate earnings to provide a disguising shadow on the underlying economic weakness that prevails in the US. With little in the way of new economic data this week, most market participants have been rightfully focused on the earnings parade….and some parade it's been. From Alcoa (NYSE:AA), to Intel (NASDAQ:INTC), to CSX, the news both in the rearview mirror and ahead through the windshield has been quite good. And that's perhaps one of the strongest supportive factoids for my still cautiously, patient optimism. But when one considers the depth and breadth of the US economic slump, and when one contemplates the risks of "hysteresis" despite the remarkable flexibility of the US labor force, it doesn't take long to aggressively question the soundness of the logic that has driven current market valuations, the arguably flawed causal relationship of QE>>lower interest rates>>more domestic economic growth>> higher equity prices. Hysteresis could put a serious kibosh on the economic growth link in that chain.
Third, next week's data calendar will probably not provide much news on the economic front to alter the perception of just how deep of a hole the US economy is in. We do get Industrial Production and Capacity Utilization, which together is unlikely to show much improvement especially when you have a look at where we are now vs where we're coming from:
(Source: ChartFacts.com)
click to enlarge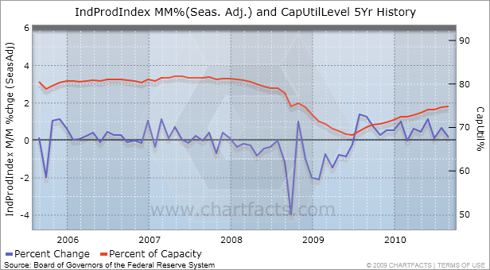 Click to enlarge
We'll also get Housing Starts and Permits…and there too, look at the reality of what "improvement" has to mean in order to make a dent in what is an awful situation.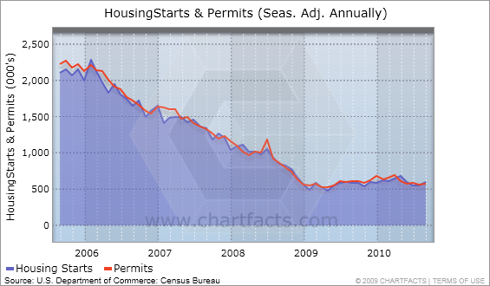 Click to enlarge

Compounding that, of course, has been this week's leap-frogging of the foreclosure fiasco to the front pages. Banks across the land have been freezing foreclosure proceedings, cries are being heard from DC and beyond for full blown investigations of banks that could result in large penalties, and one likely result could be a protracted major headwind for any improvement in the ailing housing industry.
What now?
In the context of open kimono, I've been adding equity exposure for the past several months with a "buy on dip" tactical approach, focusing on companies involved in global businesses with strong balance sheets, good dividend payouts, aggressive expansions into Emerging Markets countries, and in industries that are less likely to fall subject to intense new regulatory regimes. The higher markets have gone, though, the slower I've been to invest on any dips. And at these levels, I'm considering not just a pause in buying, but possibly some profit-taking with the goal of re-entering at lower levels.
Bear in mind, this article is in no way meant to be considered personalized investment advice, but rather a thought-provoking note on issues that investors ought to consider in determining their own investment decisions that are uniquely appropriate for their financial profiles and risk tolerances. It's meant to broaden the dialogue in terms of what should drive investment decisions beyond a simple reflex reaction to QE, whether it will or won't happen, and in terms of including the broader landscape of US economic travails in addition to the global currency and policy tensions.
In sum, despite my longer term optimism, current events have raised my "concern-ometer". To put it colloquially, perhaps next to "Hysteresis" in the dictionary, a simplified, figurative definition could read: the needle that popped the bubble.
Look for updates as things evolve.
Disclaimer: Soos Global Capital Advisors, LLC ("Soos Global") is a New York state registered investment adviser located in Harrison, New York. Soos Global may only transact business in those states in which it is registered, or qualifies for an exemption or exclusion from registration requirements. The publication of Soos Global's opinions on the Internet should not be construed by any consumer and/or prospective client as Soos Global's solicitation to effect, or attempt to effect transactions in securities, or the rendering of personalized investment advice for compensation, over the Internet. Any subsequent, direct communication by Soos Global with a prospective client shall be conducted by a representative that is either registered or qualifies for an exemption or exclusion from registration in the state where the prospective client resides. For information pertaining to the registration status of Soos Global, please contact the state securities regulators for those states in which Soos Global maintains a registration filing. A copy of Soos Global's current written disclosure statement discussing Soos Global's business operations, services, and fees is available from Soos Global upon written request. Soos Global does not make any representations or warranties as to the accuracy, timeliness, suitability, completeness, or relevance of any information prepared by any unaffiliated third party, whether linked to Soos Global's opinions or incorporated herein, and takes no responsibility therefor. All such information is provided solely for convenience purposes only and all users thereof should be guided accordingly. Past performance may not be indicative of future results. Therefore, no current or prospective client should assume that future performance of any specific investment or investment strategy (including the investments and/or investment strategies recommended or undertaken by Soos Global) made reference to directly or indirectly by Soos Global in its opinion, or indirectly via a link to an unaffiliated third party web site, will be profitable or equal the corresponding indicated performance level(s). Different types of investments involve varying degrees of risk, and there can be no assurance that any specific investment will either be suitable or profitable for a client or prospective client's investment portfolio. Historical performance results for investment indices and/or categories generally do not reflect the deduction of transaction and/or custodial charges, the deduction of an investment management fee, nor the impact of taxes, the incurrence of which would have the effect of decreasing historical performance results. Please remember that different types of investments involve varying degrees of risk, and there can be no assurance that the future performance of any specific investment or investment strategy (including those undertaken or recommended by Soos Global), will be profitable or equal any historical performance level(s).
Disclosure: LONG: INTC, AA and various ETFs and stocks in S&P, Europe, Asia and Latin America.