Is fiscal year 2015 Apple's (NASDAQ:AAPL) most game changing year? Yeah, I think so. I believe Apple will be the guy at the poker table ready to clean everyone out with the perfect set of cards this coming year.
But wait, is it just the sign of the times!? Am I this overly optimistic delusional wacko getting sucked into the vortex of the bull market!? Or maybe I'm acting like that guy at the office, who overly exaggerates everything by using words like, "awesome, cool, and fantastic."
No I'm not exaggerating and here's why
Apple will release its first new product category. A couple months before the September launch of Apple's various products, the rumor mill gears up as insiders at Apple and various other companies leak information. This is how we know about the specs, components, who's manufacturing, who are the suppliers, and etc. Many refer to this as channel checking, and in some cases journalistic sources like Bloomberg and Thomson Reuters get their hands on breaking news through people who volunteer information.
In some extreme cases, sources can be extremely inaccurate, a great case study is Ryan Holiday. However in other cases, journalistic sources will buy information from sources, this is referred to as checkbook journalism. Honestly, I don't know if people are leaking information out of voluntary action, or because they're getting paid by journalists. Either way, the information becomes increasingly credible as we get closer to the September/October launch of various Apple products.
Many factors reinforce my buy recommendation
I have reasonable suspicion that Apple will generate pretty huge gains in terms of net income and mid to low-teen revenue growth. And while many on this website, plus other analysts through their notes to clients have cautioned that investor sentiment may be breaking away from reality, I believe that now is a good time to get back into Apple.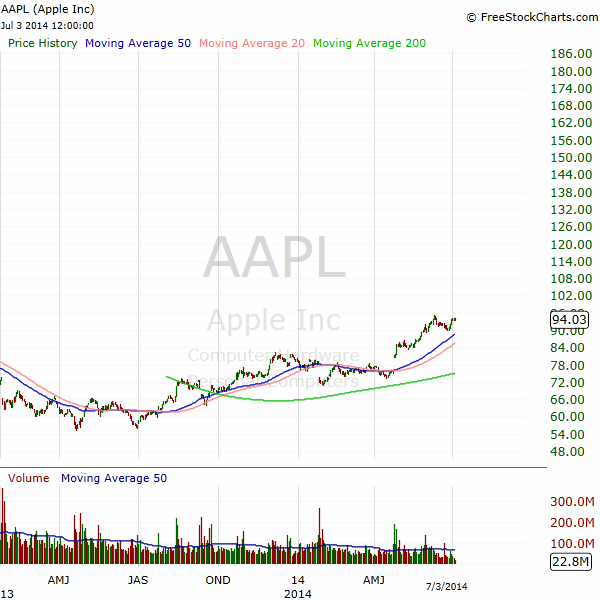 Source: FreeStockCharts
If we look at the volume chart closely in the above figure, we notice that volume has continually trended lower. Look closely at the 50-day moving average for volume, it's declined considerably over the past year.
Also, Apple has been buying back shares for quite a while now. The share buy-backs put upward pressure on the stock price, as it reduces total share outstanding. In a standard supply and demand curve, less supply results in higher prices. Anticipation of higher prices, reduces the number of willing sellers, which puts added upside pressure on the stock price. The two combined continue to push the value of Apple stock higher, but every now and then Apple will get a modest pullback, but on those pull backs buyers invariably jump back-in.
I'm also willing to make the case that low volume is a reasonable indicator of volatility, based on a recent article published by Robert Singarella on SA. While, the article goes into great detail about the distribution of average annual performance of the S&P 500, what really struck out, is that the maximum decline is bigger than the maximum single day gain. Even so, we know that equity markets appreciate over time, which indicates that periods of low-volatility are also correlated with low-volume. Volatility clustering, has a more negative impact on the price of a stock than a positive impact. Therefore, when we see periods where volume declines below a longer-term historical average, it's indicative of incremental appreciation, which is in-line with the daily population of stock movements towards the middle of a standard distribution curve.
However to tie thing together, Apple expanded the massive buy-back program to $130 billion plus. That shaves off a huge chunk of the total free floating supply, pair that with revenue growth and improving margins, and you have a melting pot for explosive price action to the upside.
Two mathematical observations lead to the same conclusion
Yeah, so we get into math. Sorry, this is going to suck. Maybe you'll throw your hands into the air, and skip straight to the conclusion, but don't worry; I'll to make this sound like something you can read on the back of a napkin.
But before I talk about bottom line expansion, I also want to mention that analysts aren't always perfect about how they forecast stock prices, revenue, and net income. The historical trend line that's extrapolated is based purely on history, and because of that fact, I have to factor back in some assumptions.
This is tricky, because now I'm including my opinion into a mathematical model. I have to have very reasonable grounds for assuming that the historical trend line is incorrect, especially if the financial model has a really high correlation to historical data points.
So in a previous article, I calculate average ASP, and use a separate model that projects unit shipment volume for iOS/iMac. I multiply average ASP by projected unit shipment volume, and we get Apple's revenue for fiscal year 2015. Using that method, I was able to calculate that Apple will generate $223.1 billion in sales. Applying a 21.42% profit margin (Apple's current profit margin), I estimate that Apple will earn $47 billion in profit. The reason sales and profits can grow so much is because of higher unit volume growth, paired with stabilizing ASPs. I believe ASPs for iOS/iMac will moderate at around $600-$500 as higher ASP products like the phablet version of the iPhone, plus the overwhelming weight of iPhone 6 at a $600 ASP plus iMac ASP of $1,200 will stabilize the pricing trend regardless of broader microeconomic factors like increasing competition, or lower priced alternatives. Furthermore, the mix from tablets and the potential watch category is small, so I believe that this specific revenue mix is accurately characterized by the average ASP assumption I have for Apple as a whole. You're welcome to review the mathematics by reviewing my previous article. Recently, a Morgan Stanley analyst used a similar method (average ASP projection), to offer better revenue guidance on Intel.
However, in a different model, I break-down how much profit an iWatch will generate. I use the 50 million production figure for iWatch, and estimate that the device will probably sell-out given a $300 ASP. I deduct the cost of revenue, the average variable operating cost, and estimate a 35% tax rate. After factoring all of these conclusions into the financial statement, I estimate that the iWatch will contribute $5.5 billion to bottom line. I add that back into the current analysts consensus forecast for net income, for fiscal year 2015, which totals to $46.79 billion. That's about $300 million less than my other method.
In all actuality, it's pretty crazy that I can arrive at similar outputs using two completely different methods. But in the rare case it happens, I usually think that I'm onto something pretty good.
The bottom line
Two roads point to one direction. Just maybe, Apple will grow net income from $38 billion in fiscal year 2014 to $47 billion in fiscal year 2015. That's 23.67% net income growth over the course of a year. This totally defies the laws of common sense, big number rule. But even so, I believe that it's possible.
With two different case scenarios yielding similar outcomes (using reasonable inputs), I'm pretty convinced investors will have a great year in terms of bottom line growth. Not to mention, I didn't factor back in the EPS impact from share buybacks. Either way, if $47 billion in net income happens, at Apple's current P/E ratio of 15.4, Apple will have a market capitalization of $723.8 billion (stock price of $120). That implies $30 in upside from current levels over the next year and a half. Plus, Apple pays a dividend yield of 2%.
And if I'm right, you're welcome to pick up the tab for me at my favorite local bar! I'll be reading your comments, and chances are high I'll feature some questions in my next article!
Disclosure: The author has no positions in any stocks mentioned, and no plans to initiate any positions within the next 72 hours. The author wrote this article themselves, and it expresses their own opinions. The author is not receiving compensation for it (other than from Seeking Alpha). The author has no business relationship with any company whose stock is mentioned in this article.