One of the big surprises at the halfway point of 2014 is that the best performing sector of the market is the dowdy Utility sector. It has easily outperformed both the S&P 500 and the nine other major sectors of the market.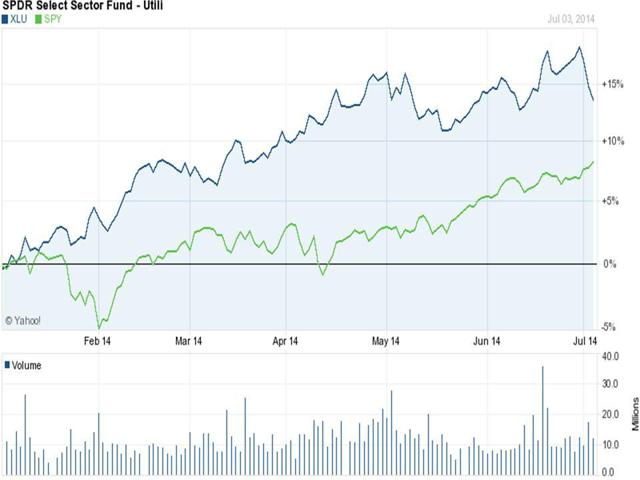 The major driver of the Utility sector outperformance has been the decline in interest rates during the first part of the year which defied the consensus which predicted they would continue their rise from the back half of 2013.
However, this outperformance is coming to an end. After the dismal economic numbers from the first quarter of 2014; both economic and job growth are accelerating again. The June Jobs Report saw almost 300,000 jobs created and the unemployment rate fell to 6.1% about where it was in late 2007 before the economy slid into a deep recession and financial crisis. In response to the stronger than expected Jobs Report, interest rates backed up on Thursday. In response, the Utility Index got pasted over the past couple of sessions which should be a huge warning for investors stretching for yield in this sector (See Chart).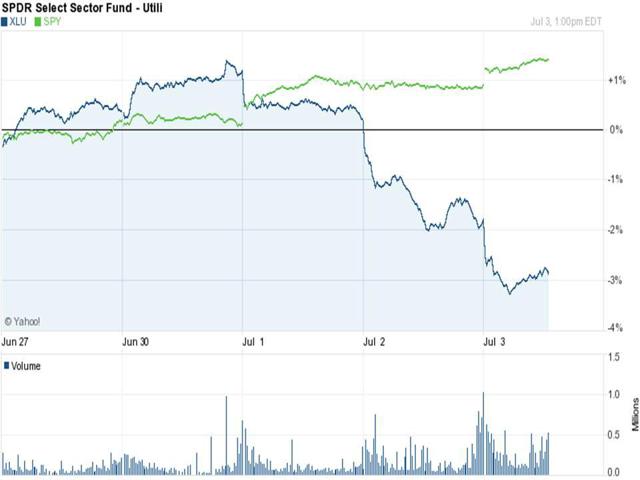 Income investors who have not lightened their exposure to this sector should do so with haste. The holdings in the biggest Utility ETF, Utilities Select Sector SPDR ETF (NYSEARCA:XLU) are only yielding 3.3% right now. This yield is not worth the risk especially given the stretched valuation in the sector and high probability that rates are highly likely to rise from here on improved economic performance.
This stretched valuation can be seen in the stock of Dominion Resources (NYSE:D) one of the top three holdings of the aforementioned Utility ETF. This stock yields 3.4%, should have 6% earnings gains this year on a one percent increase in revenues, and goes for 19.5 times forward earnings. This is not only a 20% premium to the overall market multiple but in deep overvalued territory in my book.
Rather than put or keep funds in low yielding utilities, income investors should consider gearing investments allocated to yield to energy partnerships and real estate investment trusts (REITs). An example of the former is Atlas Resource Partners (NYSE:ARP).
Atlas is a master limited partnership (MLP) active in oil and gas production in the Barnett Shale in Texas, the Appalachian Basin and in the Mississippi Lime in Oklahoma. The entity owns an interest in some 8,600 producing natural gas and oil wells.
Atlas pays monthly distribution payouts and currently yielding a robust 11.5% on an annual basis. Revenue growth is tracking to better than 50% year-over-year gains in FY2014 and analysts project ~20% increases in FY2015. Insiders made some significant purchases in May as did noted value fund manager and billionaire Leon Cooperman.
I have lightened up on my allocation to REITs recently as they delivered significant outperformance on interest rate declines in the first half. One REIT I have held on to and actually added to recently is American Realty Capital Properties (ARCP). Its merger last year with Cole Real Estate Investments (NYSE:COLE) made it the largest single-tenant retail REIT in the country and should produce significant economies of scale. The stock has not reflected this as of yet.
Its longtime CEO recently stepped down which well received given the concern around his total pay package and shares have reacted favorably. The shares trade at a significant discount its two biggest competitors, even though ARCP provides a significantly higher dividend yield which now stands at almost eight percent (7.9%). I believe this discount will continue to narrow over time.
Disclosure: The author is long ARCP, ARP. The author wrote this article themselves, and it expresses their own opinions. The author is not receiving compensation for it (other than from Seeking Alpha). The author has no business relationship with any company whose stock is mentioned in this article.