I am initiating on Baidu (NASDAQ:BIDU) with an anti-consensus Sell rating based on a $172 DCF-backed target price, implying a 10% downside from Friday's close. As the stock reaches its historical high, investors are betting that China's advertising environment will remain healthy and that Baidu's recent entry into mobile payment and Internet finance will accelerate revenue growth going forward.
Under my base case scenario, I expect Baidu to achieve a 20% revenue CAGR in the next five years on improving mobile ad and LBS revenue. However, investments in these areas will likely to continue to be margin dilutive due to increasing competition from Tencent (OTCPK:TCEHY) and Alibaba (NYSE:BABA). With the additional investment required in iQiyi and Nuomi, I do not see near-term margin rebound and forecast an average operating margin of 25% over the next five years. I feel current valuation of 35x earnings is relatively rich given the company's near-term earnings growth is likely to be stagnant and reiterate my bearish view for the stock. For investors who are looking for Internet search/mobile plays in China, I prefer Qihoo (NYSE:QIHU) and Tencent (700 HK).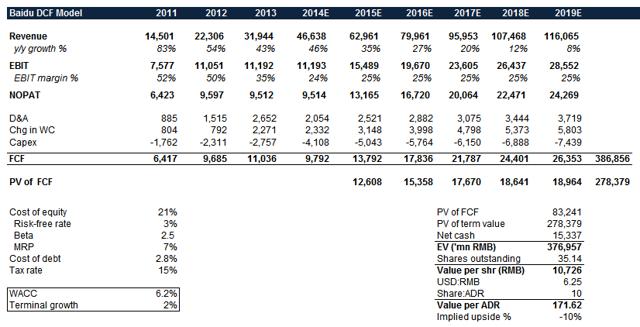 Click to enlarge
My target price of $172 places me near the low-end of the consensus, which has a target price of $213/share, or 12% upside from Friday's close.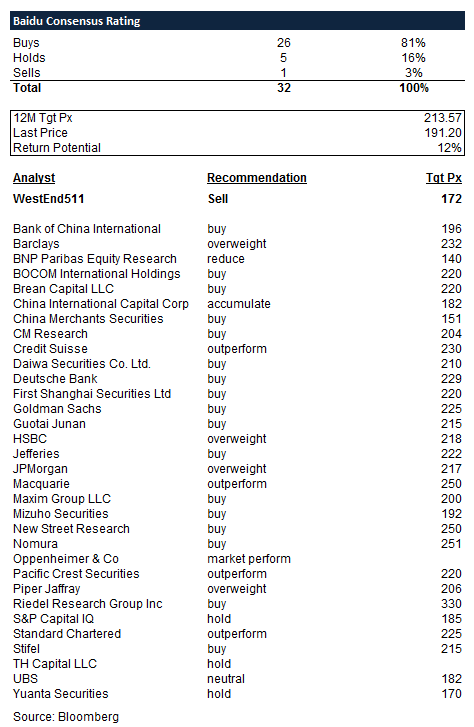 Under a bullish scenario, I derive a target price of $246/share, or 26% upside, under the assumption of a 25% five-year revenue CAGR and a rebound towards a normalized operating margin of 30% on robust mobile search revenue, O2O monetization taking off, and contribution from wealth management products. This assumption is fairly in-line with consensus, which indicates that consensus are overly bullish on the stock.
Under a bearish scenario, I see a 40% downside to the stock to $116, assuming 15% five-year revenue CAGR and a deteriorating 20% operating margin as mobile ad competition heats up and slower O2O growth. Under this scenario, I assume that Baidu's mobile map to be severely hindered by Tencent, which owns 10% of Baidu Map's content provider NavInfo.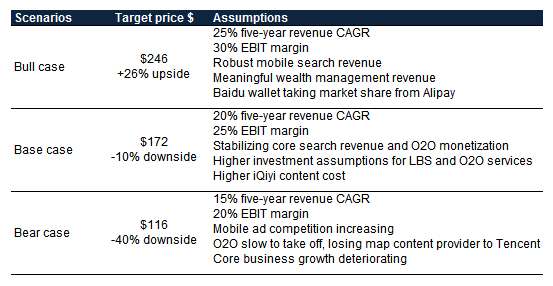 Near-term revenue growth intact; LBS/O2O monetization timing uncertain
I expect Baidu's core advertising revenue growth to be stable in the foreseeable future. My biggest concern is the timing of its mobile LBS and O2O monetization. In Q1, mobile map MAU saw healthy growth of 30% q/q and transaction volume was up 80% y/y. However, the timing of a meaningful LBS and O2O monetization is still uncertain at this point.
Despite the solid user metrics in its map products, both Tencent and Alibaba have made good progress of their own by investing into mobile maps, namely Alibaba's acquisition of AutoNavi (NASDAQ:AMAP) and Tencent's purchase of a strategic stake in NavInfo, which supplies map content to Baidu map. Tencent could be the biggest threat to Baidu map given its engaged WeChat user base. Successful integration of a good map service provider and WeChat could draw users away from Baidu map, in my view.
Alibaba stands to be a threat to Baidu's mobile payment, "Baidu Wallet", with its Yu E Bao product and Alipay, which is comparable to PayPal. Entering a market that is already dominated by Alibaba makes me wonder whether Baidu has a concrete plan on Internet finance or simply wants to take part after witnessing the success of Yu E Bao. Worst of all, I view this move as a strategic distraction which could mean that the core business (i.e. Search) may likely see decelerating growth amid a high investment spending environment so Baidu needs to branch into the "hot sectors" to offset the weak revenue and earnings growth. If this is the case, then my base case of 20% five-year revenue CAGR seems to be reasonable given Baidu's revenue is still predominately search-based.
Investments to weigh in on margins
Baidu plans to aggressively ramping up its mobile investment by expansion mobile product installment base, brand advertising and headcount expansion (potentially R&D and sales). Investment in mobile will likely weigh in on operating margins for the rest of 2014 and possibly into 2015. Investors should remember that Q1 opex was higher than expected due to lower R&D cost. Given Baidu's focus on mobile and O2O, R&D spending is likely to rebound, putting incremental pressure on operating margins. My base-case assumes 25% operating margin and I view this fairly conservative as spending could ramp up further if Tencent and Alibaba decide to ramp up on their own LBS and O2O product offerings.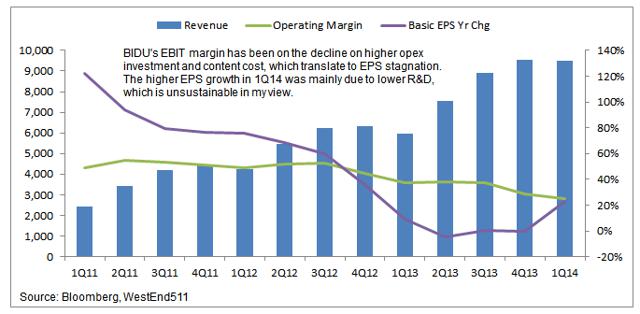 Click to enlargeMy bear case assumption of 20% EBIT margin is not impossible given Baidu's checkered investment track record in mobile. Baidu's earlier attempt to enter mobile was by introducing its own Android fork OS called Baidu Yi, which was an epic failure in that its low-end Changhong (better known for its home appliances) smartphone could not penetrate into the low-end segment and the high-end Dell Streak Pro could not compete against the more advanced Samsung and LG smartphones. Both products ceased production and Baidu's subsequent partnership with ZTE (OTCPK:ZTCOF), Lenovo (OTCPK:LNVGF) and TCL (OTC:TCLHF) all focused on the low-end segment that proved to be ineffective in Baidu's mobile push.
As of now, Baidu is looks to expand its mobile installment base by pre-installing search apps in partnered mobile devices and push its Yun OS among the white-box handset makers, such as 100+ which features handsets selling from RMB768 to as high as RMB1,288.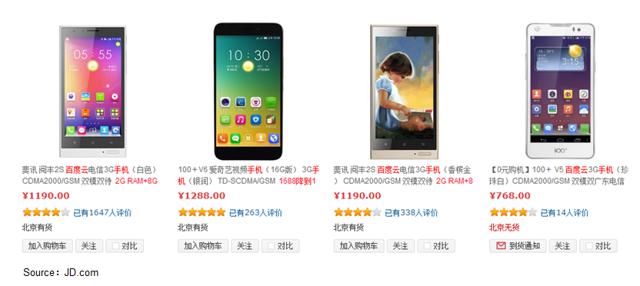 Click to enlarge
Pre-installing mobile apps is a good way to build user engagement but rival Qihoo also rolled out its own mobile search app, which I see is a direct competitor against Baidu, especially when Qihoo's mobile anti-virus software is used by majority of Chinese mobile users and gives them the choice of uninstalling pre-installed apps via root function.
As for partnership with white-box makers, I do not expect Baidu to see meaningful contribution from its mobile OS for the white-box smartphone makers lack the reliability, distribution and brand equity that the Chinese big 4 (Lenovo, ZTE, Huawei, Coolpad) and branded players (Xiaomi, OPPO, Meizu, BBK) have.
Conclusion: Baidu's near-term investment plan could result in longer than expected margin contraction despite steady revenue growth. New growth areas in O2O/LBS and Internet finance will face competition from Tencent and Alibaba, putting further pressure on opex. Investors are better off buying Qihoo to gain exposure in China's mobile Internet/search space.
Disclosure: The author has no positions in any stocks mentioned, and no plans to initiate any positions within the next 72 hours. The author wrote this article themselves, and it expresses their own opinions. The author is not receiving compensation for it (other than from Seeking Alpha). The author has no business relationship with any company whose stock is mentioned in this article.