Big news out of Linn Energy's (LINE) headquarters last week. The energy exploration company, which is engineering a transition to long-lasting mature production assets, announced on June 30, 2014, that it purchased $2.3 billion worth of oil and natural gas production assets from Devon Energy (NYSE:DVN).
The transaction is definitely a good thing for Devon Energy. The exploration company has been eager to sell non-core assets for a while as the energy company intends to use transaction proceeds to bring down its debt load and concentrate more on oil production going forward.
Linn Energy issued a press release on June 30, 2014 laying out acquisition details:
HOUSTON, June 30, 2014 (GLOBE NEWSWIRE) -- LINN Energy, LLC ("LINN" or "the Company") and LinnCo, LLC (NASDAQ:LNCO) ("LinnCo") announced today that LINN has signed a definitive agreement to acquire assets in five U.S. operating areas from Devon Energy Corporation ("Devon") for $2.3 billion. The assets are currently producing approximately 275 MMcfe/d, approximately 80 percent of which is natural gas, with a shallow base decline of approximately 14 percent. Total proved reserves are estimated to be between 1.3-1.5 Tcfe (approximately 75 percent PDP) with total resource potential of approximately 3 Tcfe. The asset package is comprised of approximately 900,000 net acres across the Rockies, Mid-Continent, east Texas, north Louisiana and south Texas regions with approximately 4,500 total wells. LINN has identified over 1,000 future drilling locations and over 600 recompletion opportunities. LINN's acquisition of Devon assets is intended to be financed ultimately through the sale of its Granite Wash assets and other non-producing acreage in LINN's portfolio. Potential excess proceeds from the sale of assets, if any, will be used initially to reduce debt and for general corporate purposes.
Linn Energy's deal with Devon Energy is a good thing for shareholders and could boost Line Energy's share price over the long-term for three reasons:
1. Linn Energy continues to acquire low-decline acreage which will support its goal of portfolio repositioning. The acquired assets have an average base decline rate of approximately 14%, but are as low as 12% in the Rockies. They produce an equivalent of 275 million cubic of gas per day which is a substantial volume to be absorbed by Linn Energy.
2. The deal includes overlap in operations and should lead to substantial operational synergies as Linn Energy capitalizes on its acquisition. I expect that Linn Energy will be able to quantify those synergies at the end of the year.
3. Last but not least, the deal shows, that Linn Energy is still committed to transformational acquisitions. The Devon Energy Deal is the largest deal since the company announced its landmark Berry Petroleum acquisition last year.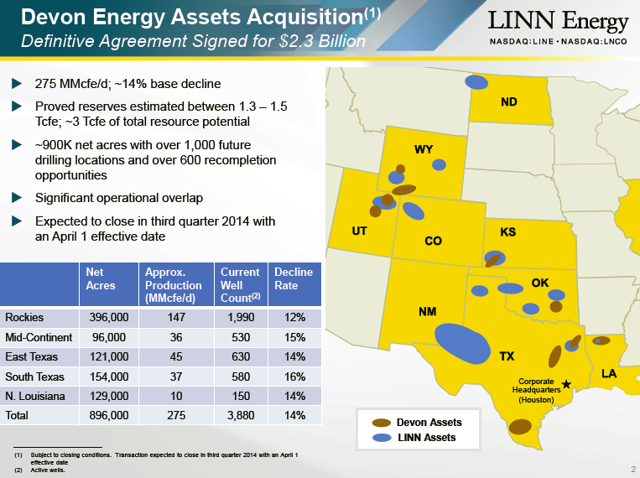 (Source: Linn Energy Investor Presentation)
Chart situation
Shares of Linn Energy haven't really reacted with excitement over the news that the company bought strategic oil and natural gas assets from Devon Energy.
However, Linn Energy had a pretty great run over the last several months: Shares returned almost 14% over the last three months and about 5% year-to-date.
Linn Energy has seen some more interest from yield-hungry investors in June, but shares are now slightly in oversold territory according to the Relative Strength Index.
Investors, therefore, should expect a short-term correction in Linn Energy's share price which could push shares down to the $30 region. At this price level, I would recommend investors to add to their existing Linn Energy positions.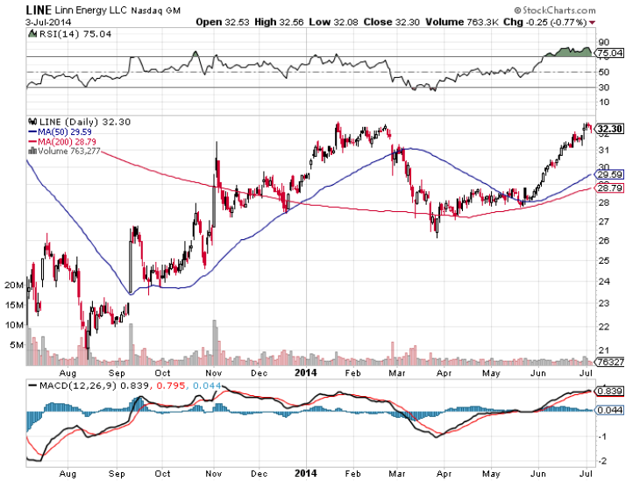 (Source: StockCharts.com)
Conclusion
Linn Energy has pulled off quite a good deal it seems. Devon Energy's assets are a good complimentary fit for Linn Energy and the company should be able to capture significant operational synergies going forward. More importantly, Linn Energy has send a signal to the market, that it is serious about pushing its portfolio repositioning plans. From a strategic, long-term perspective the deal makes a hell of a lot of sense for both Linn Energy and Devon Energy and should particularly strengthen Linn Energy's natural gas market position in the coming years. Long-term Buy.
Disclosure: The author is long LINE. The author wrote this article themselves, and it expresses their own opinions. The author is not receiving compensation for it (other than from Seeking Alpha). The author has no business relationship with any company whose stock is mentioned in this article.