Since going public in 2006, shares of Chipotle Mexican Grill (NYSE:CMG) are up a staggering 1,270%. Over the same period of time, CMG's revenue and income have also increased significantly.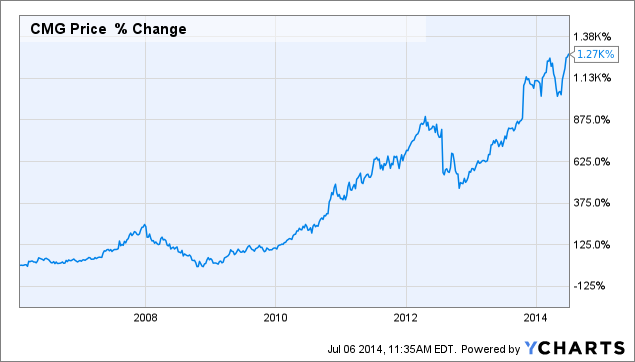 CMG data by YCharts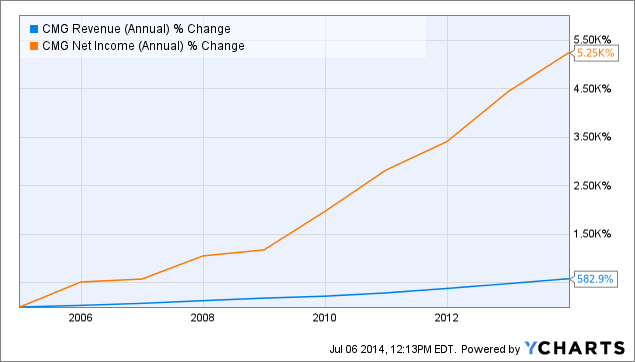 CMG Revenue (Annual) data by YCharts
Chipotle Is A Terrific Company
Without question, CMG is a terrific company with excellent management and a good business concept. CMG opened its first store in 1993 and has grown to over 1,600 locations in just over 20 years. To get a better sense for just how terrific a company CMG is, let's take a look at the company's most recent earnings report:
Revenue increased 24.4% to $904.2 million
Comparable restaurant same store sales increased 13.4%
Restaurant operating margin decrease of 0.4% to 25.9%
Net income increased 8.5% to $83.1 million
44 new restaurants were opened during the quarter
For the remainder of 2014, CMG expects to open 180-195 new locations and high single digit same store sales growth, excluding price increases. I don't doubt that CMG will prove successful in meeting its targets for the rest of 2014. The growth that CMG is experiencing is incredibly strong for a company with so many locations.
Too Expensive
As shown by the chart below, based on either forward or trailing earnings, CMG is a very expensive stock. CMG trades at valuations that are typically characteristic of solar energy stocks, fast growing tech stocks, or biotech stocks. Unlike CMG, companies in these sectors are typically unestablished with massive growth potential. With more than 1,600 locations already open, it is difficult to see how CMG will grow fast enough for the stock to move higher given the current valuation. Even if CMG executes perfectly on its growth plans for the next few years, CMG shares could fall due to the valuation. On the other hand, if CMG results fall short, for any reason, the stock likely has significant downside due to the high valuation. In summary, I believe the risk/reward setup for CMG shareholders is very unfavorable at current valuations.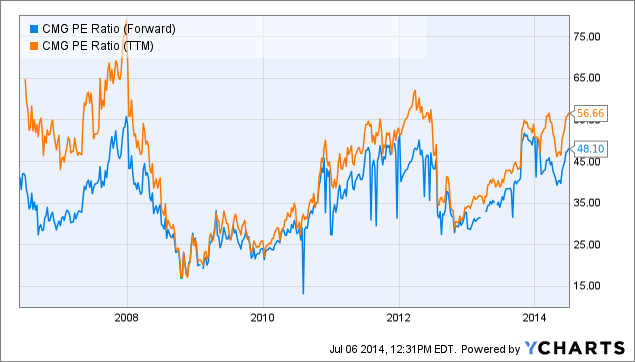 CMG PE Ratio (Forward) data by YCharts
Alternatives
For conservative investors looking to gain exposure to fast food restaurant companies, I believe the most attractive company is the industry leader: McDonald's (NYSE:MCD). MCD currently trades at 18 times past earnings and 16 times forward earnings. Of course, MCD is growing earnings at a very low rate but the stocks rewards investors with a 3.2% dividend yield. For investors in search of a fast growing restaurant company, I would suggest looking at Buffalo Wild Wings (NASDAQ:BWLD). BWLD trades at 36 times past earnings and 27 times forward earnings. For the most recent quarter, BWLD reported a total revenue increase of 20.9% to $367 million, a same store sales increase of 6.6% at company owned locations and a 5% increase at franchised restaurants, and a net earnings increase of 72.9% to $28.3 million. BWLD currently has just over 1,010 locations compared to CMG's more than 1,600. Due to this, I believe BWLD will find it slightly easier to continue growing sales for the few years than its larger rival CMG. Due to this, and the fact that BWLD trades at a lower valuation than CMG, I believe BWLD is a better buy than CMG. That said, I still believe BWLD is trading at a high valuation and has a significant amount of downside if the company fails to meet expectations in the future.
Conclusion
CMG is a wonderful company with a bright future ahead. However, that does not make the stock a good buy. At current valuations, I believe CMG is simply too expensive to consider. Investors looking for a conservative, high quality, investment trading at a reasonable in the fast food industry should consider MCD. Investors looking for a fast growing company at a reasonable price should consider BWLD.
Disclosure: The author has no positions in any stocks mentioned, and no plans to initiate any positions within the next 72 hours. The author wrote this article themselves, and it expresses their own opinions. The author is not receiving compensation for it (other than from Seeking Alpha). The author has no business relationship with any company whose stock is mentioned in this article.