Culturally and commercially, Disney (NYSE:DIS) has long exerted major influence. However, "Frozen" is a movie with the potential to push Disney's influence to a new level of prominence.
Famously, minor children have taken to the film and its music in overwhelming numbers. From first-graders spontaneously singing "Frozen" songs to high-school glee clubs perfecting Disney-inspired harmonies, minors around the world have adopted "Frozen" into their lives.
Successfully Reaching Diverse Audience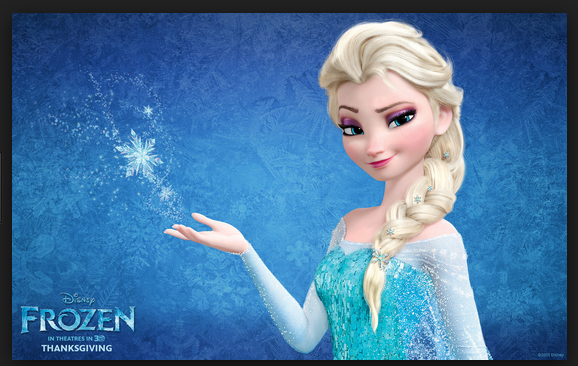 (Photo: sojo.net)
Of course, "Frozen" has inspired fans of all ages. Parents aren't the only adults singing songs from "Frozen" and performing them live. YouTube is full of fans offering up their unique renditions of "Frozen" favorites like "Let It Go." Even people who have never seen the film are familiar with this and other popular "Frozen" tunes.
Observers are divided about exactly why "Frozen" has achieved its unique place in modern popular culture.
However, it is fairly certain that "Frozen utilized old-fashioned storytelling rules that have enthralled audiences again and again over the years. Furthermore, Disney has continued its tradition of releasing films that are intriguing for children and adults alike.
Strategic Marketing
Most commentators agree that "Frozen" largely achieved success through word-of-mouth advertising. Despite what film studios hope and believe, person-to-person advertising is still the most critical component creating box office success.
Psychologists like James Kaufman have methodically attempted to understand precisely why "Frozen" has achieved such stellar success. While corporate marketing can't ensure a hit in and of itself, Disney's shrewd marketing has certainly dovetailed with this film's inherent appeal. Since the beginning of the marketing campaign for "Frozen," Disney has strongly emphasized the unique, boundary-pushing qualities of this milestone movie.
Stock Looks Hot In 2014 And Beyond
Disney's stock is currently performing fantastically well.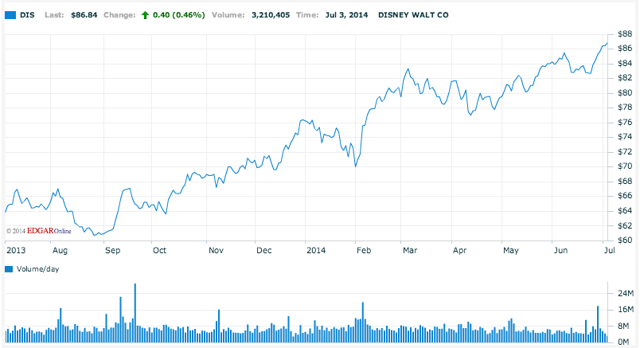 Click to enlarge
Source: Nasdaq.com
It is fair to attribute a good part of this success to the ongoing "Frozen" mania. After generating over $1 billion at the box office and becoming the best-grossing animated movie in history, "Frozen" is continuing to bring in a lot of revenue.
Every day, people eagerly purchase all kinds of merchandise related to "Frozen." Toy licensing alone accounts for much of the profit this film is producing. Of course, the popularity of Elsa dolls only partly accounts for Disney's domination of the licensed toy market.
In the first quarter of 2014, Disney pushed four out of the five best-selling toy franchises. This continues an established tradition for Disney; last year, Disney's "Cars" franchise topped the toy franchise list.
For the foreseeable future, Disney should continue to demonstrate good business sense and a highly marketable storytelling sensibility. The company's upcoming "Star Wars" sequels will certainly provide Disney and its backers with plenty of security. Only time will tell how many profitable films and products Disney is currently developing.
DIS has beat analyst expectations for earnings for nearly 12 quarters in a row; and shows steadily increasing revenues.
Even without Frozen, Disney's diversified business segments, including Media Networks, Parks and Resorts, Studio Entertainment, Consumer Products and Interactive segments; will provide revenue streams from several angles in the years to come.
We invite readers wishing to join the discussion on Disney to click the +FOLLOW button above the title of this article and +Get real time alerts for the latest news.
Disclosure: The author has no positions in any stocks mentioned, and no plans to initiate any positions within the next 72 hours. The author wrote this article themselves, and it expresses their own opinions. The author is not receiving compensation for it (other than from Seeking Alpha). The author has no business relationship with any company whose stock is mentioned in this article.