Currently, there are only a handful of clear-cut event driven investment opportunities in the market. I believe few are as compelling as Herbalife (NYSE:HLF).
The Investment Opportunity
Despite Bill Ackman's huge paper losses since publicly disclosing his short bet on the company, HLF still trades at a healthy 22% discount to its peers' average EV/EBITDA multiple.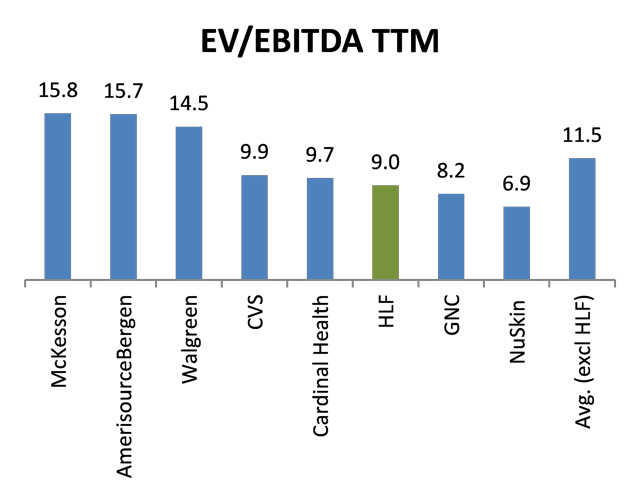 Source: Yahoo Finance
The potential upside looks more appealing if we take into account that a favourable turnout of the FBI's probe against the company could turn into a huge short squeeze, given that 35% of the stock's float is shorted.
Of course the million dollar question is whether or not HLF is a legitimate multi level marketing (or MLM) company or a pyramid scheme. In this article I review some of Bill Ackman's most important arguments against this company and conclude that they are shaky at best.
Bill Ackman's Red Flags
Bill Ackman's original case against HLF (available here) depends on arguing that it is not a "Product Company" but rather a "Business Opportunity" whose lone objective is to attract new recruits.
Ackman's argument is structured as follows:
HLF's best selling brand (Formula 1; a nutrition powder) accounted for 29% of the company's sales as of December 2012 or $1.8 billion. Its sales volume is ahead of better known brands such as Ensure, Slim Fast and Lean Shake, making it "the only ~$2 billion brand nobody has ever heard of".
Formula 1 is priced at a significant premium over similar products. So a cheaper price can't explain its strong sales.
This price premium isn't supported by intellectual property, advertising or R&D expenditures. Formula 1, as the rest of HLF's product portfolio, is a commodity.
Conclusion: HLF isn't a product company. Its strong sales are a result of bundling its products with a business opportunity.
As logical as this string of arguments sound, the conclusion is not straight forward. While probably any nutrition powder does more or less the same job, they are not necessarily commodities. Needless to say that lots of consumer products out there are nearly identical but some brands have the ability to command higher prices (think jeans, sodas, cigarettes, etc.). Of course, the question is how exactly some brands that sell commodity-like products can charge a premium price.
In the case of HLF, Ackman provides only one possible answer. If the company is able to credibly bundle its products as a business opportunity it can attract naive distributors. By later selling its products to its independent distributors it can command price premiums over its competition, regardless of its retail sales.
However, the problem with Ackman's argument is that there are a myriad of equally valid conclusions. In this article I focus on one of them: perhaps legitimate multi level marketing is in some cases better suited than traditional marketing in creating the appearance of value.
MLM Companies can Charge a Premium
The fact that MLM companies overprice is not new and it certainly didn't start with HLF. Amway, an MLM company that was ultimately not considered a pyramid scheme by the FTC, currently commands a similar price premium in its products. While I didn't conduct an exhaustive search and encourage investors to do their own research, I found that Amway's soy protein is priced at 3 times the average price of similar products on a per gram basis.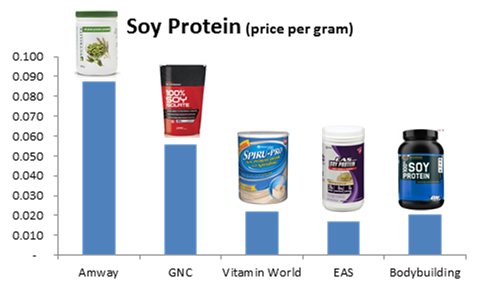 Source: Amway, GNC, Vitamin World, WalMart
To understand the advantages and disadvantages that MLM poses for companies, it is useful to analyze exactly in which industries this type of companies tend to proliferate.
Of the top 25 MLM companies in the US as of January 2013, there were 22 health and wellness companies, only one service company and two technology enterprises.
The MLM industry mix makes a lot of sense if you consider why no travel companies make the list. Air travel is truly a commodity for most consumers. You simply want to get from point A to point B. An insistent acquaintance, how recently joined a MLM travel company as a distributor, cannot credibly push a $500 dollar plane ticket if you can get exactly the same service for half that price.
This same situation is completely different for health and wellness companies. If you are not a doctor, you really have no idea of which vitamin or which protein powder is best for you. If you can be convinced by any means that Formula 1 is better than Ensure, you could not only end up paying 2 or 3 times the price, but actually be content about it.
This uncertainty can be exploited by MLM companies using a very powerful tool: pressure from people you know. A survey conducted in Taiwan to MLM consumers found that the major factors that motivate people to purchase MLM products are "special functions of MLM products" and "pressure from friends and relatives".
I find this explanation at least equally plausible than Ackman's. It is also worth noticing that these explanations are not mutually exclusive.
HLF's Business Practices
Let me be clear, I'm not yet convinced for or against the accusation that HLF is a pyramid scheme. My objective with this article is merely noticing that Ackman's case against the company is flawed and not necessarily true.
Even if my explanation is true, it certainly doesn't absolve the company from exaggerating its products' virtues or even recruiting independent distributors with deceitful claims.
While this type of abuses would unfortunately put it in the same league with a at least some part of corporate America, it doesn't mean that this company is a pyramid scheme that must be shut down.
Conclusion
The ultimate result of the probe against HLF could push the stock to a higher valuation or pave the way for its demise. As an investor I find this event-driven opportunity very interesting. I'm not yet convinced if HLF is a pyramid scheme and consequently have yet to initiate a position with this stock.
Bill Ackman has provided investors with a sound case against HLF in his December 2012 presentation. However, investors shouldn't take his views for granted. I find that his arguments are shaky at best and that other explanations are equally plausible.
Disclosure: The author has no positions in any stocks mentioned, but may initiate a long position in HLF over the next 72 hours. The author wrote this article themselves, and it expresses their own opinions. The author is not receiving compensation for it (other than from Seeking Alpha). The author has no business relationship with any company whose stock is mentioned in this article.