The U.S. Economy
The U.S. Federal Reserve pressed forward with the wind-down of its current Quantitative Easing (QE) program following its June meeting. The policy committee agreed to trim another $10 billion from monthly securities purchases with the cut split evenly between longer-term Treasury securities and agency mortgage-backed securities. July's purchases will total $35 billion, now less than half of last year's monthly buying pace. Assuming that the central bank continues with the current tapering trend, this third round of QE should end roughly mid-way through the fourth quarter. During the meeting the Fed also decided to leave benchmark interest rates unchanged as well as reduce its forecast for economic growth this year. Previously the committee expected real GDP to rise in the range of 2.8% - 3.0% during 2014, but ratcheted that outlook back to 2.1% to 2.3%.
The market consensus is confident in its forecast that U.S. QE will not extend into 2015, however, several recent data points suggest this may not be a foregone conclusion. Consumer price inflation (NYSEARCA:CPI) figures for May and the third estimate of first quarter growth in U.S. gross domestic product (GDP) gave conflicting signals that policymakers will need to examine and digest in the weeks and months ahead.
On inflation, the headline index accelerated to a 2.1% year-over-year pace during May. This is the fastest reading on annual inflation since October 2012. Growth in the core measure which excludes food and energy prices also quickened on a year-over-year basis to 2% from 1.8% in April. The annual advance in both headline and core CPI metrics has hastened in each of the past three months.
The Fed's preferred inflation measure is the personal consumption expenditures (PCE) index, and that too has advanced more quickly on a year-over-year basis during recent months. PCE including food and energy prices grew 1.8% in the year through May as compared to a 1.6% rise in April. Core PCE also moved up to 1.5% growth over the twelve months through May versus 1.4% through April. The PCE index clearly accelerated during the second quarter, but growth remains below the Fed's annual inflation target of 2%.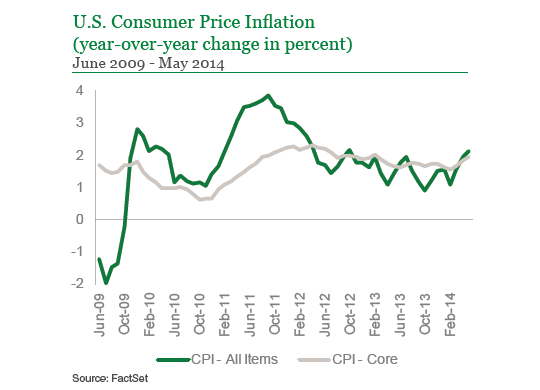 Fed Chairwoman Yellen might have ruffled a few feathers when she seemed to gloss-over the recent lift in inflation, referring to the data as "noisy" in a post-meeting press conference. Investors are keenly focused on inflation because they worry that once it begins to take hold, the Fed may struggle to control it. Yellen's statement does not instill a lot of confidence in this regard, although we agree with her insofar as a couple short-term data points do not make a trend. Moreover, the Fed has been battling deflationary forces for a period of years now and one could argue that the pickup in inflation is a signal of success in those efforts.
In its defense, the Fed must tackle the daunting task of balancing indications of price acceleration against new information showing the domestic economy contracted much more than anyone expected during the first quarter. The Bureau of Economic Analysis now estimates that U.S. GDP shrank at an annualized rate of 2.9% from January through March. The bulk of the downward revision was driven by adjustments to the consumption component related to spending on health care. As we mentioned last month, however, indications are that growth rebounded during the second quarter and should remain in positive territory for the foreseeable future. The question is if the bounce-back will be enough to satisfy market expectations.
Global Economy
In a widely anticipated move meant to help reinvigorate flagging economic growth and ward off deflation in Europe, the European Central Bank (ECB) recently announced its decision to reduce interest rates along with a series of other stimulative measures. The ECB's main refinancing rate dropped to 0.15% from 0.25%, a new historic low, and the rate it pays on overnight deposits kept at the bank fell from zero to minus 0.1%. Among other actions taken by the central bank was to begin offering low cost loans referred to as targeted longer-term refinancing operations (TLTROs). In aggregate, the TLTRO commitment from the ECB will be up to €400 billion and directed at improving the flow of credit to small businesses.
In our view, the initiatives to support lending to the real economy are the most noteworthy element of the ECB announcement. It has been clear to us during recent years that the main issue continuing to weigh upon the European economy is the insufficient flow of credit to small and medium sized enterprises. Overall liquidity in Europe remains ample, but changes were necessary to help drive funds toward the areas that need them the most. To the extent that these actions reignite credit growth akin to the success the Bank of England's "funding for lending" program has had, they could also ultimately provide comparable benefits to the Eurozone economy.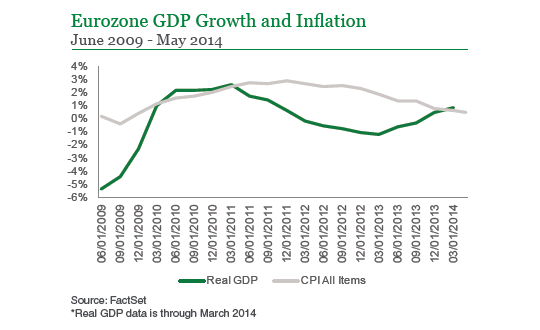 Beyond Europe, Iraq has been thrust back into the spotlight after a group of militants, referred to as the Islamic State in Iraq and Syria (ISIS), took control of several major cities. The situation is destabilizing for Iraq's already fragile governing structure, and importantly, poses a threat to the orderly functioning of oil production in the region. So far, conflict has been centered in northern parts of the country, somewhat removed from the oil-rich southern tier. The impact on global financial markets has also been largely negligible, save for a several percentage point rise in crude oil prices. In our view, the extent to which oil prices continue to drift higher and become a headwind to countries that are heavy oil importers such as India and Japan is the primary risk this situation presents to the global economy.
Our Perspective
While valuations in the broad domestic market remain elevated as compared to recent years, we see the risk of a meaningful correction in stock prices as quite low. The economic, sentiment, and valuation indicators we scrutinize continue to show little evidence of the types of extremes that typically lead to large and lasting selloffs. That being said, there are signs of complacency in the market that we are monitoring closely. Volatility could return if data or developments run counter to investors' generally optimistic outlook. In this environment discernment and flexibility are critical.
In portfolios geared toward investors that need capital growth, our main focus is on identifying companies that can grow in an otherwise growth-challenged global economy. We are looking for businesses that have control of their own destiny and are taking share in large established markets or are creating new markets on their own. The goal is to identify companies trading at attractive valuations relative to their growth potential. In our view, reinvestment rate risk remains the key challenge facing long-term investors that need capital growth. Investing in companies with good fundamentals and tailwinds at their back should help investors combat this risk.
For fixed income investors and investors with a shorter time horizon or current income needs we continue to focus on opportunities we are seeing in investment-grade corporate bonds. A selective approach to the below investment-grade corporate space is helping us find value there as well, however opportunities are becoming more scarce as investors reach for yield. With regard to government debt, we continue to favor Agencies over Treasuries. In an effort to limit the sensitivity of clients' fixed income investments to a rising rate environment, portfolios are tilted toward shorter duration securities. In our view, short-term and income-oriented investors should also explore equities that display stable fundamentals and are trading at attractive valuations. We believe companies that generate strong, stable cash flows, and pay an attractive dividend could be compelling options for these types of investors in the current environment.