Rumors continue to swirl that media mogul Rupert Murdoch is interested in buying Time Warner (NYSE:TWX). Given Murdoch's history of high profile deals, I would not be surprised to see Murdoch make a play for TWX. That being said, pulling off a deal to acquire TWX would be challenging due to the company's $63 billion market cap.
Time Warner Valuation
As shown by the chart below, based on both forward and trailing pe ratios, TWX is trading at a slight discount to peers Viacom (NYSE:VIA) and CBS (NYSE:CBS). Perhaps more interestingly, TWX is trading at a significant discount to Murdoch's 21st Century Fox (NASDAQ:FOX).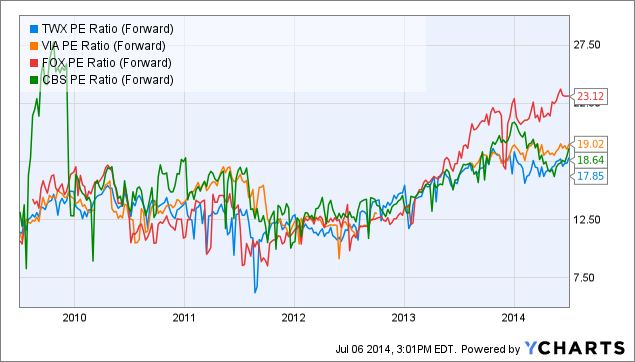 TWX PE Ratio (Forward) data by YCharts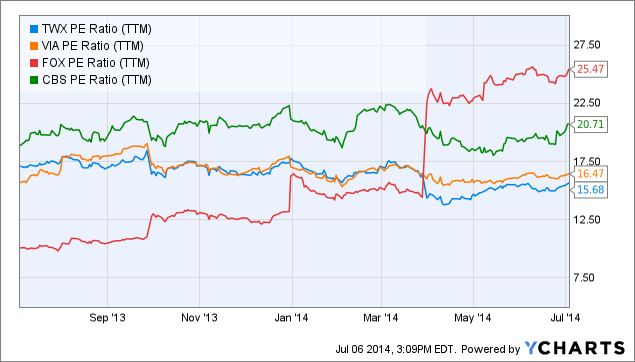 TWX PE Ratio (TTM) data by YCharts
The valuation disparity between FOX and TWX is critical because FOX could likely acquire TWX in way such that the deal is immediately accretive to earnings. In order to approach TWX shareholders with an offer they can't refuse, Murdoch would likely need to offer close to $85 per share. Given TWX's current EPS of $4.54, Murdoch would be paying about 18.5 times trailing earnings for TWX. While this valuation is a significant increase over TWX's current valuation, the deal would be accretive to FOX earnings because FOX currently trades at 25 times trailing earnings.
Fox Likely To Receive Cash For BSkyB
BSkyB is currently in talks to buy European media assets from FOX. FOX is likely to receive a significant cash payment from BSkyB is the not too distant future. Some estimates put the amount of cash that FOX will receive from BSkyB at as much as $14 billion. If Murdoch is interested in buying TWX, the cash that FOX receives from BSkyB could be used to help finance the transaction. Any offer that FOX makes for TWX would likely come in the form of a combination of cash and stock with FOX also agreeing to assume TWX's $20 billion in long-term debt.
Conclusion
A merger between FOX and TWX makes a lot of sense for a number of reasons. Perhaps the biggest benefit of a combined company is the increased negotiating power than the entity would have with distribution partners such as Comcast and Dish. A combination of FOX and TWX could also lead to significant savings via cost reductions due to synergies. While the size of TWX makes it a difficult target, I believe Murdoch has the resources to make a run at TWX if he desires. The idea of buying TWX on takeover speculation alone would be a mistake given the lack of confirmed interest at this point. However, in my view, even if a deal does not materialize, TWX is a good investment at current levels. TWX is currently trading at a discount to its peers. TWX has some of the best media assets including HBO, Turner Broadcasting, and Warner Bros. Finally, the idea that Murdoch is expressing interest in TWX at these levels suggest that the markets may be overlooking the true value of TWX properties.
Disclosure: The author has no positions in any stocks mentioned, and no plans to initiate any positions within the next 72 hours. The author wrote this article themselves, and it expresses their own opinions. The author is not receiving compensation for it (other than from Seeking Alpha). The author has no business relationship with any company whose stock is mentioned in this article.