It can be a profitable venture getting on board with teen and young adult trends. However, more often than not, the trends tend to be short-lived fads. MySpace was one of those trends that was all the rave, but quickly saw its end as younger people turned to the then-latest new fad: Facebook (NASDAQ:FB). Facebook creator, Mark Zuckerberg, had different plans and ways to keep social media users coming back. Several years down the line, Facebook has evolved into a service much like cell phones and certainly has its place in American culture. Unfortunately, the company's future was questioned after a botched IPO and sinking stock price in the months that followed. Since sinking into the mid-teens, Facebook's share price has rebounded and has been a top performer. This was not all just by accident, however, with falling cost of revenue and internet ad sales closing the gap on TV ads, Facebook continues to provide good earnings. Additionally, Facebook's new counter Snapchat program, Slingshot could open the door to a whole new area of ad revenue. Facebook's purchase of WhatsApp for $19 billion was initially criticized, but investors are beginning to see the major growth the purchase could end up adding to Facebook. The social media giant continues to focus on mobile, which has been and will continue to be a key to the company's continued success.
Several years back, investors were cautious on Facebook because they did not see how the company would continue to make money and certainly there were thoughts that Facebook was merely a fad. However, several high level acquisitions have once again put the company on the map and back on Wall Street's good side. One of the first acquisitions was Facebook's purchase of Instagram for $1 billion back in April 2012. WhatsApp was purchased earlier this year for $19 billion, with the intent on continuing to be the leader in messaging on phones and the internet. However, Facebook went outside the box with the acquisition of virtual reality gaming company, Oculus VR for $2 billion. Zuckerberg explained what type of product Oculus will become;
"Imagine enjoying a court side seat at a game, studying in a classroom of students and teachers all over the world or consulting with a doctor face-to-face - just by putting on goggles in your home,"
Facebook is betting on the future growth and direction of social media. It continues to position itself in a positive light by trying to create new innovative products and services for its users. Facebook has over 1.5 billion monthly active users of its platform and acquisition apps, any ideas or notions that Facebook is a fad are overblown. The company's core source of revenue comes from "text and display ads," which accounts for over 84% of the share price, and an estimated $10 billion of the company's revenues. As Facebook continues to acquire heavy-user apps such as WhatsApp and Instagram, advertisers are going to be more likely to continue their ad campaigns as their ads now reach millions more potential buyers of their product or service. That being said, Facebook is still in the process of monetizing WhatsApp and Instagram's monetization was recently just completed. This provides a positive outlook because earnings do not currently reflect these acquisitions, and investors could see a nice bump once monetization campaigns are completed. While Facebook still is facing the costs of its acquisitions, the company's cost of revenue has fallen 10% between Q1 2013 and Q1 2014. This is very positive and shows that the company is able to continue to retain more of its earnings due to lower costs and higher efficiency.
Mobile advertising continues to be in an uptrend, but still lags behind TV ads. In 2013, total TV ad revenue came in just above $150 billion, while internet ads saw total revenue of just above $100 billion. By 2018, the gap between TV ad revenue and internet ad revenue is expected to close to only a few billion dollars a part. This is highly positive for companies like Facebook that rely on the mobile revolution.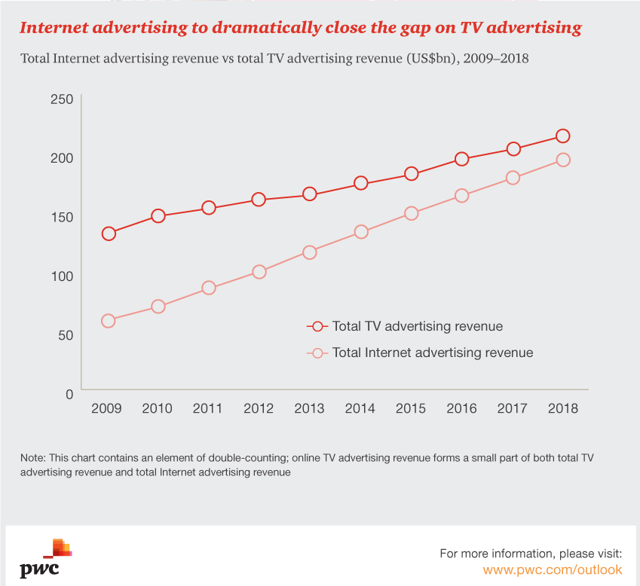 Source: pwc Global Outlook Internet Advertising
Competitors Twitter (NYSE:TWTR) and Google's (NASDAQ:GOOG) Google Plus social media platforms have not been able to reproduce Facebook's success. Facebook's business plan and growth plan are not objectives that can easily be replicated. Google has implemented a strategy that has driven artificial growth of its social platform by tying all its other services and product users into Google Plus by automatically creating an account, regardless of the user's knowledge. Social network competitor Twitter seems to also disclose users at an unrealistic view of the actual active users. Twopcharts monitors Twitter activity and recently concluded the following;
The total number of registered Twitter accounts is 883m, leaving 651m Twitter accounts unused and unloved. This essentially means that 36% of Twitter's registered users are active on a monthly basis
Facebook investors should take into account that the two largest competitors don't even come close to the actual active users that Facebook generates, and users that advertisers are concerned with. Facebook's monthly active users reached 1.23 billion as of last year, with 757 million daily active users.
The bottom line here is that Facebook is standing on solid ground right now. Despite the stock having some overvalued valuation ratios, such as a price to earnings of 85, Facebook has a bright future and certainly is positioning itself as the continued leader of social media. Additionally, the continued trend of internet advertising is not expected to reverse course. Once Facebook is able to fully monetize its latest acquisitions, earnings will likely see a nice boost as investors wait to see what Zuckerberg and company has in store with virtual gaming and the future of social media.
Disclosure: The author is long FB. The author wrote this article themselves, and it expresses their own opinions. The author is not receiving compensation for it (other than from Seeking Alpha). The author has no business relationship with any company whose stock is mentioned in this article.