Followers of Dendreon (NASDAQ:DNDN) may have noticed that since May, the stock has halted its downward march toward zero, finding support at $2. These are the same shares that traded as high as $56 after FDA approval in 2010, and boasted a market capitalization of over $6 billion. A number slightly larger (~16x?) than the current $360 million market capitalization (according to Wolfram-Alpha; why most financial sites don't use market cap for stock charts is a discussion for another time).
Dendreon stock has now approached the upper trendline of a two-year long, $3 tall, falling wedge (weekly chart shown). A break of this pattern would indicate an initial target of $5.30-$5.50 (130% gain).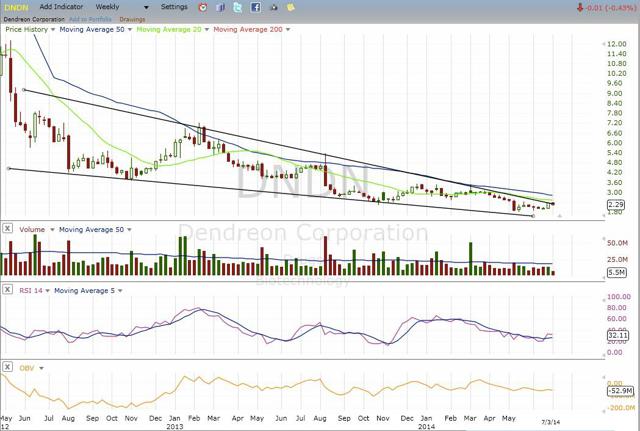 Click to enlarge
Option trading in DNDN has seen some accumulation of July 2.5 calls, August 2 and 2.5 calls, and November/January (2015) 2s and 3s. There's nothing extraordinary volume-wise yet, but picking up nonetheless. One interesting note: The stock's options are on the May-August-November cycle, so July's options were added as the second month when June began trading. That being said, there is still a modest amount of open interest on the July 2.5 line.
I have pieced together some events on a timeline that could indicate a major trend reversal in DNDN shares is upon us. Taken together with the fact that 27% of DNDN shares are short, and it is now positioned to break out of a long-term trend (above), this break could be strong and fast.
February 2014
Back in February, after the GU-ASCO conference, the Prostate Oncology Specialists, directed by Dr. Mark Scholz, associate professor at USC, acknowledged that Xtandi data looks promising. However, he goes on to say that, "There seems to be broad consensus that Provenge should be first in line. The real question then is, 'What should come second, Xtandi or Zytiga?'" He also observes what will be presented in more detail shortly -- that Provenge alters immune function irreversibly, to the body's advantage, after administration (full article here).
April 2014
In the April 2014 issue of the Canadian Journal of Urology, Drs. Gomella, Hammerschmidt, and Kundavram at Thomas Jefferson University's Kimmel Cancer Center, published an article titled "Practical Guide to Immunotherapy in Castration-resistant Prostate Cancer: The Use of Sipuleucel-T Immunotherapy." In a nutshell, they concluded that we are just really beginning to understand how immunotherapy works. They also said, "the use of Sipuleucel-T (Provenge) will benefit many men with minimally symptomatic, or asymptomatic mCRPC."
May 2014
Shortly thereafter, May's issue of the journal Clinical Advances In Hematology & Oncology, Dr. Charles Drake of JHU was interviewed about his recent study of "Antigen Spread" in prostate cancer patients treated with Sipuleucel-T, which targets a specific tumor protein, prostatic acid phosphatase (PAP), that is specifically expressed on 90-95% of prostate tumors. They found that after treatment with Provenge, not only did those patients produce antibodies to PAP, but they also produced antibodies to other oncogenic proteins (KRAS, ERAS, KLK2, LGALS8, TSPAN13, LGALS3, ECE1, ANPEP, CACNG1, and FBXO6).
Why is this important? Basically, it provides more targets for the body's foot soldiers, antibodies, to recognize and attack the tumor (think: giving them infrared goggles). Theoretically, it should increase the body's chances of fighting the cancer -- and this was seen in the data. Dr. Drake's team made a few interesting observations. First, the presence of PAP antibodies alone did not mean the chances of survival increased. There was no correlation. However, they did notice that when PAP antibodies and antibodies to one of the other oncoproteins were present, the hazard ratio was 0.35. It was even lower, 0.20, when antibodies to PAP and two other oncoproteins were present.
As Drake and colleagues explain, this new insight may prove to be very useful to doctors when deciding whether or not Provenge may be working for their patients, and whether or not to petition the FDA for re-treatment with it, which is currently not approved. It could also help doctors gain further insight into how Provenge might be used as a component of a more efficacious, combination treatment, targeting several of these oncoproteins, and/or immune mechanisms.
July 2014
During last week, July 1st to be exact, Allergan (NYSE:AGN), which is currently in a heated battle of their own to stay independent, registered the domain name "Sipuleucel-T.com." Allergan, according to an article by Carly Helfand at FierceBiotech on July 1st, may look to stave off a sale to Valeant Pharmaceuticals (NYSE:VRX) via acquisitions of its own, and "could borrow up to $10 billion and not affect its credit rating." Allergan could combine Provenge with their existing urology program.
Conclusion
One thing is for sure: Provenge has not lived up to expectations thus far. Dendreon's management of it was not successful, despite scientific data that showed, and continues to show it works. Provenge may end up being combined with other immunotherapies in development, whose preliminary results have been encouraging, in combination.
In my opinion, as a standalone asset, Provenge is extremely undervalued (using Dendreon's stock price as a measurement). Recent articles suggest doctors continue to view Provenge to be of great use to patients suffering from prostate cancer. In the right hands (AGN?), Provenge could still become an extremely valuable asset in the fight against prostate cancer, and it seems that a few have noticed.
Will Provenge/DNDN ever be worth $6 billion again, or $40/share (using the current number of outstanding shares)? Maybe not, but at $360 million, or $2.30/share, the risk/reward ratio seems awfully attractive. Even at a valuation of one-third of $6 billion, DNDN would be nearly $14.
Disclosure: The author is long DNDN. The author wrote this article themselves, and it expresses their own opinions. The author is not receiving compensation for it (other than from Seeking Alpha). The author has no business relationship with any company whose stock is mentioned in this article.